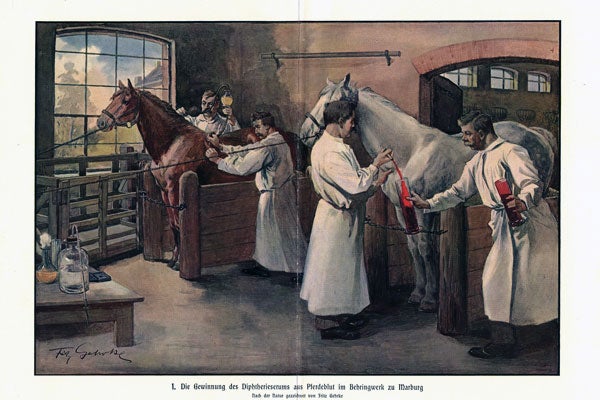 The public's health: symposium invites community to discuss the history of health and wellness
High school students mentored by U of T grad students to present their findings
"White Poison": Public Health and the Pasteurization of Milk in Toronto; The Power of the Needle: For Good and Evil; Drugs, Diseases, and Dollars: Public Health History is Now.
These are just a few of the talks to be delivered at The Public's Health: a symposium on public health histories March 5 to 7 across the downtown campus of the University of Toronto.
The event, presented by U of T's Health History Partnership, is a one-of-a-kind, interdisciplinary conference offering diverse perspectives on the history of public health. 
"What's cool about this symposium is the various disciplines involved – it's not every day that you can hear from public health officials, historians and medical scholars in one place," said Riiko Bedford, a PhD candidate in the Institute for the History and Philosophy of Science and Technology who is also participating in a collaborative project culminating on the symposium's final day.
The symposium features a roundtable discussion, an academic day with a series of peer-reviewed sessions on public health histories, an evening reception and a public half-day with a discussion on definitions of public health.  
The public day will also include a collaborative public health history presentation, the product of a six-month project in which U of T grad students were paired with local high school students to help their younger peers sharpen their critical thinking and research skills.
Inspired by U of T's Summer Mentorship Program in the Health Sciences, six grad students guided nine high school students through an independent research project.They led five workshops from October through February on such topics as archival research, material culture and online research.
"We're helping our mentees develop a set of research skills that will serve them well in health sciences research and in the workplace," said Bedford, who is studying heredity in the late 19th century for her PhD.
"Historical knowledge gives me a critical framework. This knowledge can help us untangle contemporary debates by looking at their historical origins, for example, or help us understand why popular attitudes toward a particular medical procedure are one way or not the other." 
Although Bedford has been a teaching assistant for several years, this is her first one-on-one mentoring experience. She's mentored Tselot Tessema, a grade 12 student from Markham, guiding her through a research project that will be presented on March 7.
"Public health history is everywhere and can take you many places," she said.
Tessema, her student mentee, is researching the history of food guides for her project. The project will explore how the different food guides evolved over time and the interplay between scientific, political, economic and other pressures, which both Bedford and Tessema agree is fascinating. For example, during WWII, the recommendation of certain meats was removed, due to wartime shortages.
Tessema hopes to become a family physician.
"Part of being a good doctor is being up to date on medical advances," Tessema said. "Public health history helps build perspective on medical issues and develop an independent outlook. 
"I've thoroughly enjoyed being a member of this project. It has given me access to the wealth of resources and support available at U of T."
Anyone interested in learning more about the history of public health in Toronto, Ontario and Canada is welcome to attend the event. (Read more information about the event or register here.)
Nicole Bodnar is a writer with the Dalla Lana School of Public Health at the University of Toronto.