From public housing to medical school: U of T grad hopes others take inspiration from her story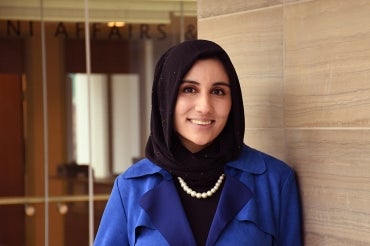 Rehona Zamani recently became the first woman in her family to receive a university degree.
"I'm very proud of that," she says. "This is a big milestone for my family."
The daughter of refugees from Afghanistan, Zamani graduated from the University of Toronto with a double major in global health and nutritional sciences, and a minor in immunology. 
A degree from the Faculty of Arts & Science is just the latest of Zamani's many honours. She has received Toronto Community Housing's Investing in Our Diversity Scholarship, a Terry Fox Humanitarian Award and the Annie L. Laird Prize in Nutritional Sciences.
Zamani, a student at Victoria College, has made a point of giving back to the communities and organizations that are important in her life. She was a mentor in the Big Brothers Big Sisters program until her third year and continues to be a mentor and youth leader at Toronto Community Housing.
What's next? Zamani was recently accepted into U of T's Faculty of Medicine.
Writer Chris Sasaki at the Faculty of Arts & Science caught up with Zamani prior to her convocation to find out more about her U of T experience and what the future holds.
---
What sparked your interest in global health and nutritional sciences?
I became fascinated by how health care was administered in different parts of the world – for example, how in one part of the world people struggle with diseases like tuberculosis and chicken pox that we don't see at all in Canada. I asked myself: why is that?
I also saw how physicians have to deal with diseases that could be prevented with proper nutritional care. For example, in North America we have an issue with obesity while in other countries there is the issue of malnutrition. So, I wanted to learn more about the role nutrition plays in preventative care and the role it plays globally.
What's more, I was born and raised in Toronto and I grew up in Toronto Community Housing in the High Park area. There were a lot of people in my community who were near-poverty level. There were immigrant families, refugee families and people of low economic status.
I saw first-hand the social determinants of health and how they affect the health of individuals and entire communities. And I saw how nutrition, food security, low income and poor housing conditions were critical issues that affected health.
You've remained active in the TCH community. Why?
I used to be ashamed of growing up there and, as a kid I wouldn't tell people where I lived. People would label you and once you got labeled you'd start to think your own goals, your dreams, your ambitions were foolish. A lot of my friends in TCH felt like that. They thought, "Why even have goals? We won't achieve them because of where we live." It really perpetuates a negative cycle. Your parents struggle and you struggle and your kids will struggle and on and on.
But you have to find a way to break through it. As I got older, I became more comfortable with where I lived and came to see the community as an important part of my story. Now I'm proud of where I grew up because it taught me so much about the issues we faced faced as a community. And I saw that a lot of these issues can be alleviated when people work together.
I learned that no matter where you live, whether you have a mental health issue, or whatever your religion or culture – you shouldn't let someone else dictate your story. You choose. Realizing that has played a big role in me breaking down the barriers I faced as a Muslim, as a woman, as a low-economic status student.
Victoria College has been another of your communities. What has that experience been like?
I think of Victoria College as one of my most important communities. The university is big, so the college has played an important role for me. The clubs I belong to and the people I interact with on a daily basis are from the college. The dean of students and her staff do a great job fostering a community here.
For example, Humanities for Humanity is a program run by Victoria and Trinity colleges. It brings together community members and undergraduate students. Speakers come in and give lectures. And my father took part, which was amazing because I presented him with his certificate for completing the program. He had been to so many of my award ceremonies, so it felt good to acknowledge him for once.
 
What are your plans now?
I recently had a research experience in the Faculty of Medicine in nutritional sciences where we looked at fortified food products and the amount of micro-nutrients in them. It was a really great experience that showed me research could have a great impact on public health. So I see myself doing more research in community health – focusing on under-served communities in Toronto, but also branching out to other communities.
Having been accepted into U of T's medical program, I'm grateful that my hard work has paid off. I'm excited for this journey and relieved to be one step closer to my ultimate goal of working to improve health care. And I hope others find inspiration in my story – a young woman from public housing entering medicine.
I'm the first female member of my family to enter medical school and my family was incredibly proud and grateful when they heard I'd been accepted. Many of them cried, especially since they knew how important entering the field of medicine is to me. We're all incredibly excited.
Arts & Science