Psychiatric disorders share an underlying genetic basis, says landmark paper with U of T research
Nine researchers from the University of Toronto's Faculty of Medicine contributed to a major international study, published in the journal Science, showing the underlying genetic similarities between mental illnesses like schizophrenia and bipolar disorder.
The team, led by Harvard University's Broad Institute, determined that psychiatric disorders share many genetic variants, while neurological disorders such as Parkinson's or Alzheimer's appear more distinct.
The study takes the broadest look yet at how genetic variation relates to brain disorders – and highlights the power of large international collaborations to amplify Canada's investment in research.
The results indicate that psychiatric disorders likely have important similarities at a molecular level, even though they have always been considered separate diseases.
"Because these diseases look and act differently, we've always assumed they were different genetically too – that there would be a gene, or group of genes, for schizophrenia, and a gene or a group of genes for autism, and so on," says Russell Schachar, a professor in U of T's department of psychiatry and a co-author of the paper.
"A cake and a flan have similar ingredients, but the result is different because of the way they're put together. We didn't expect psychiatric disorders that are so different to have such similar 'ingredients.'"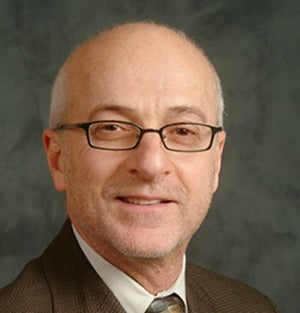 Only about five years ago, scientists started to see significant genetic overlap between psychiatric diseases, says Schachar (pictured left). Understanding what a broad spectrum of mental health conditions share might hasten better treatments in particular for the most intractable and serious diseases, like schizophrenia.
U of T contributors to the paper include Alzheimer's researchers Professors Peter St. George-Hyslop and Ekaterina Rogaeva; Tourette syndrome researchers Professors Cathy Barr and Paul Sandor; ADHD researcher Assistant Professor Jennifer Crosbie, OCD researcher Associate Professor Margaret Richter, autism researcher Professor Stephen Scherer, along with Professors Jacob Vorstman and Schachar, who study the confluence of ADHD and autism.
The unprecedented scope of international co-operation could be a model for Canadian researchers, says Scherer, because the vast landscape of interconnected scientists in this country, could one day produce the next landmark genetic research of grand scale. Scherer is director of U of T's McLaughlin Centre and a senior scientist at the Hospital for Sick Children (SickKids). 
"It showed the capacity of scientists around the world to work together," says Scherer. "We hope Canadian funding agencies might decide to fund population-scale cohort studies, instead of us shipping our samples and data to the USA. Toronto can and should be a central hub for this kind of work going forward."
For the current study, international consortia pooled their data to examine the genetic patterns across 25 psychiatric and neurological diseases. Because each genetic variant only contributes a tiny percentage of the risk for developing a given disorder, the analyses required huge sample sizes to separate reliable signals from noise.
The researchers measured the amount of genetic overlap across the disorders of 265,218 patients and 784,643 controls. They also examined the relationships between brain disorders and 17 physical or cognitive measures, such as years of education, from 1,191,588 individuals.
The final results indicated widespread genetic overlap across different types of psychiatric disorders, particularly between attention-deficit/hyperactivity disorder (ADHD), bipolar disorder, major depressive disorder, and schizophrenia. The data also indicated strong overlap between anorexia nervosa and obsessive-compulsive disorder (OCD), as well as between OCD and Tourette syndrome.
In contrast, neurological disorders such as Parkinson's and multiple sclerosis appeared more distinct from one another and from the psychiatric disorders – except for migraine, which was genetically correlated to ADHD, major depressive disorder, and Tourette syndrome.
According to the researchers, the high degree of genetic correlation among the psychiatric disorders suggests that current clinical categories do not accurately reflect the underlying biology.  
As a hypothetical example, a single mechanism regulating concentration could drive both inattentive behavior in ADHD and diminished executive function in schizophrenia. Further exploration of these genetic connections could help define new clinical phenotypes and inform treatment development and selection for patients.
Additionally, within the cognitive measures, the researchers were surprised to note that genetic factors predisposing individuals to certain psychiatric disorders – namely anorexia, autism, bipolar disorder, and OCD – were significantly correlated with factors associated with higher childhood cognitive measures, including more years of education and college attainment. Neurological disorders, however, particularly Alzheimer's and stroke, were negatively correlated with those same cognitive measures.
"We were surprised that genetic factors of some neurological diseases, normally associated with the elderly, were negatively linked to genetic factors affecting early cognitive measures," says Verneri Anttila, a postdoctoral researcher at Harvard's Broad Institute, the paper's first author. "It was also surprising that the genetic factors related to many psychiatric disorders were positively correlated with educational attainment. We'll need more work and even larger sample sizes to understand these connections."
The consortia have made their data accessible online.
With files from Karen Zusi, Broad Institute of MIT and Harvard. 
Medicine