Province at U of T to announce funds for mental health services in colleges and universities
As part of the 2017 budget, the province is increasing funding for mental heath services and supports for post-secondary students by $6 million per year, for the next three years.
Deb Matthews, Ontario's minister of advanced education and skills development, and Eric Hoskins, minister of health and long-term care, highlighted these initiatives in an announcement at U of T's Koffler Centre on Wednesday morning. 
The budget also includes measures to improve access to psychotherapy services and develop a new province-wide psychotherapy program for people with conditions such as anxiety and depression. In addition, children and youth under 24 will receive free pharmacare.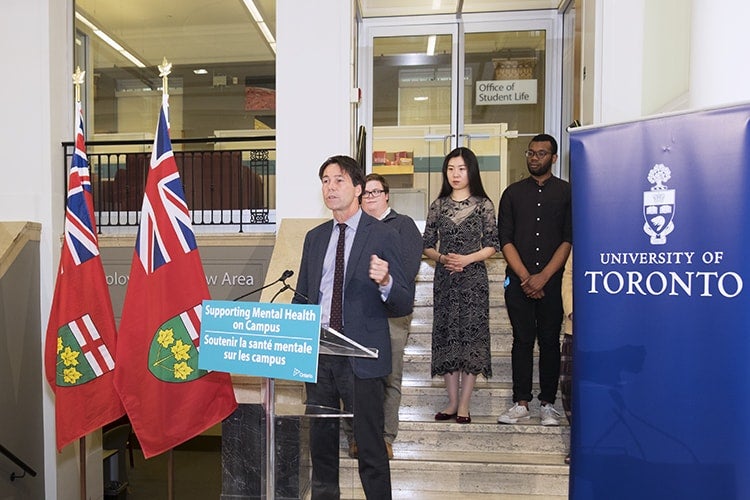 "We know that starting a new chapter in post-secondary education can be an exciting but also challenging time," said Ontario Health Minister Eric Hoskins (photo by Geoffrey Vendeville)
"We know that if we're going to be successful in institutions of higher learning and supporting our students, we can only do that through partnerships with the health-care and mental health-care systems in the community," said Cheryl Regehr, U of T's vice-president and provost.
Speaking on behalf of front-line mental-health workers, Andrea Levinson, U of T's psychiatrist-in-chief, said the new funding "will certainly have a positive impact on all students and their mental health across the province."
About "three quarters of lifetime mental disorders" have their first onset in between the ages of 18 to 24, she added, which makes university and college resources all the more important.
Matthias Memmel, the president of U of T's student union, acknowledged the "shared responsibility" of the government, university and student groups to look after students' mental well-being. He welcomed the news.
"At universities across the province, there is a desperate need for better, more accessible mental-health resources at universities across the province," he said.
Where to go for help: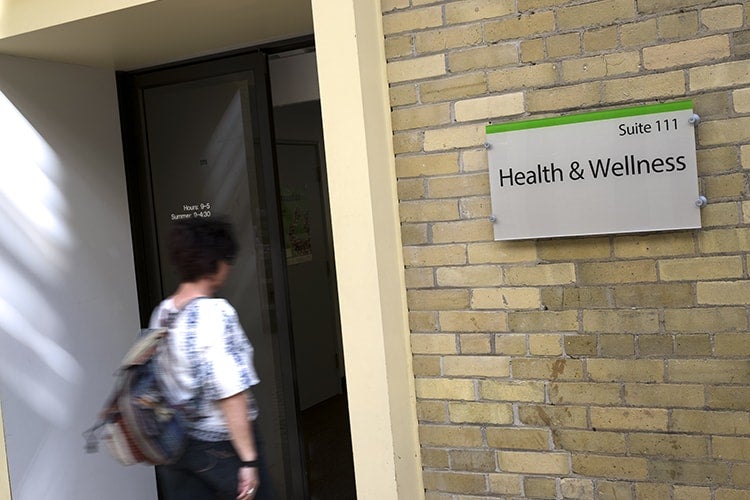 The Health & Wellness Centre on the downtown Toronto campus offers a variety of mental-health services for students (photo by Geoffrey Vendeville)
Promoting the mental health of students so that they can succeed is a top priority for the university, Regehr said. U of T offers a wide range of mental-health services and programs, across all three campuses. 
The Health & Wellness Centre on the downtown Toronto campus offers individual counselling for adjustment and transition issues or coping with depression, anxiety, relationship/family issues and more. As of last year, the university also has embedded counsellors in particular departments, colleges, the Faculty of Dentistry, the Faculty of Applied Science & Engineering and the John H. Daniels Faculty of Architecture, Landscape, and Design.  
The Health & Wellness Centre at U of T Scarborough provides personal counselling and group therapy.
At U of T Mississauga, the Health & Counselling Centre offers students individual or group counselling for help with a host of issues, from exam anxiety to coming out and family conflict. 
UTC