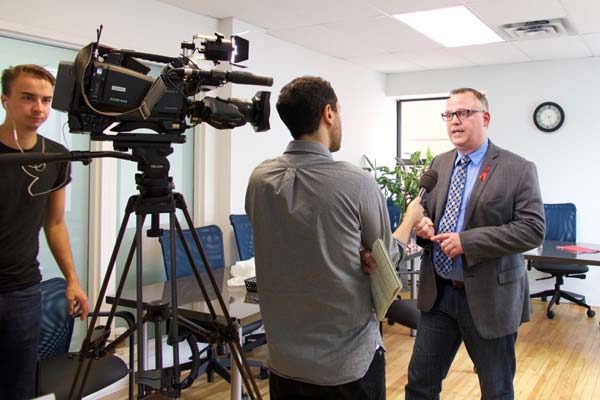 Province should fund HPV immunizations for boys in Grade 8: U of T researcher
Ontario could save up to $28 million annually with step towards health equity
The province should consider publicly funding immunization against the human papillomavirus (HPV) for all boys and young men, says U of T social work researcher David Brennan – particularly when considering the long-term health of gay, bisexual, other men who have sex with men and those living with HIV.
"HPV poses a serious health problem for males and particularly for gay men, causing 80 – 90 per cent of anal cancers, 40 – 50 per cent of penile cancers and 35 per cent of oral cancers," says Brennan, a professor at the Factor-Inwentash Faculty of Social Work and an Ontario HIV Treatment Network Applied HIV Research Chair in Gay and Bisexual Men's Health.
"Right now, the HPV vaccine is provided free to girls in Ontario schools. We believe that all boys in Ontario as well as adult men at high risk for contracting HPV should receive the vaccine as well."
Brennan's call for the province to fund boys' HPV immunization is part of a campaign whose supporters include 60 Ontario physicians, academics and community groups, as well as 13 U of T researchers.   
In an interview on CBC Radio's Metro Morning this week, Brennan said an HPV immunization administered to boys in Grade 8 would save the province $12 – 28 million annually as it reduces the cost burden of treating HPV-related cancers later in life. 
"Evidence here and in other countries clearly demonstrates the cost effectiveness and fundamental equity in providing the HPV vaccine to boys and young men," says Brennan.
"The government is only saving money in the short-term and will pay down the road to treat cancers that can now be avoided."
Brennan explained the HPV campaign to U of T News.
What prompted your campaign calling on the province to extend HPV coverage to men and boys?
As an Ontario HIV Treatment Network Applied HIV Research Chair, I am part of a coalition of people committed to addressing the health disparities facing gay and bisexual men. HPV is one of the most urgent preventable health disparities. Importantly, it is one disparity that we have within our reach to address immediately! 
The current policy to vaccinate only girls is based on out-dated science. HPV is now known to be associated with cancers other than cervical cancer, including oral, penile and anal cancers. The current policy is actually discriminatory to gay and bisexual men because it does not protect men who have sex with other men. 
There are already high rates of HPV-related cancers among gay men. We cannot assume that 8th grade boys will know if they are to be at risk for HPV later in life. So it makes sense to vaccinate all boys. 
It is also important to note that there are just as many HPV related cancers among men as women. Men are four times more like to have oral cancers that are HPV related than women.
Why would we not vaccinate boys?  If it were the other way around, we would be very concerned about leaving girls vulnerable.
Why is the need for vaccinating boys against HPV such an important issue?
The HPV vaccine is not just about cervical cancer anymore. We now know that HPV causes specific cancers in men. Half the population at risk for HPV related cancers are not getting a proven, safe, and effective vaccine to prevent those cancers. We can save lives and promote health, as well as save money in the future, if we act now.
What led you to focus your research on social work and sexual health in the LGBT community?
I came out as a gay man in the early 80s as HIV was gripping the gay community. I was terrified. I dealt with that by getting involved in HIV work. As a social worker, I am very proud of my profession's commitment to addressing issues such as social justice, diversity and health disparities. Because most of our sexual health education and information is focused on heterosexual sex, non-heterosexual people have limited ways to understand sexual health.
It is hard enough for young people to learn good information about sexual health, but for non-heterosexual young people there are even less resources and it is even more complicated.
Does a young man ask his mom, dad, minister, priest, teacher or older sibling about how to have healthy sex with other guys? Where should he go to get good information to protect himself and his partners? Social work must be at the forefront of ensuring equitable sexual health education for all.
Research shows significant health disparities affect the LGBT community when compared to the wider population. What can we do to address this?
Urgently, we need to support better more comprehensive sexual health information for our young people. If you had a teenage child who you did not know was gay, how would you want them to learn about having healthy sex? From an online website? From you? From a friend? From school? 
We must support comprehensive sexual health education so that we are protecting Ontarians from long-term effects of sexual risk. Making useful, accurate and relevant resources accessible so that young people have a variety of ways to get good information is a great starting point. But it is only a starting point.
Secondly, we need to address how we deliver health care to LGBT people. Many LGBT people are not 'out' to the primary providers because of homophobia and so may not be getting culturally competent care. Or they may be 'out' to providers who may not know the best information about how to address the specific health care needs of LGBT people. Better training on these issues for health care providers is critical.
Along with publically funded HPV vaccinations for boys, what do you hope will happen as a result of your campaign?
I sincerely hope that we can continue to build coalitions that work to develop a stronger, smarter and more effective health care system for all Ontarians. I am working with partners to consider ways in which we can integrate health care systems for LGBT people so that LGBT people in the province have access to relevant, culturally competent and adequate health services.
We often think that equity is about treating everyone the same. This is not true. Equity is about providing an opportunity for everyone to have the same health outcome.
This means sometimes we have to treat some people differently in order to ensure they get quality care. In this case, young gay men who have not had the benefit of having their sexual partners vaccinated over the last six years should still get access to the HPV vaccine.
While we may give the vaccine to all girls and boys in eighth grade, we should still provide it to gay men of any age until gay men can get caught up with the elimination of this virus. That is equity.