Prospective U.S. students check out U of T in record numbers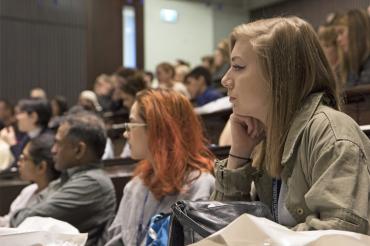 When Marshall Hildreth was applying for universities, he only had one school in mind – University of Toronto.
"I was looking for a really good school off the bat," said Hildreth, who lives in Fonda, a town close to Albany, New York. "I wanted some place that not only allowed me to grow, but grow in a direction I really wanted to go in – not just academics. U of T has 800 clubs. Chinatown is right next door. The diversity here – it's just a well needed breath of fresh air if you're from a small town."
Hildreth, who has never before visited Toronto, said he accepted his U of T offer and is looking forward to studying international relations this fall in the Faculty of Arts & Science.
He was one of 79 students who attended a recruitment event at U of T's downtown Toronto campus on Saturday for U.S.-based students who have received offers of admission from the university – more than double the number of students who came to a similar event last year.
Students from 16 states were in attendance, from New York to California. Organizers said 74 per cent of them have already accepted their offer.
"There's been growing interest from people around the world in coming to this great university and this great city," said Ted Sargent, U of T's vice-president, international, to the group of prospective students and their families attending the event.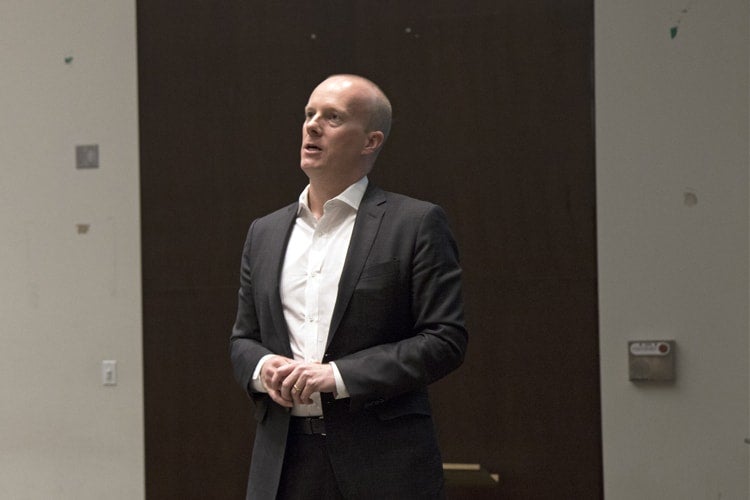 "The rate of students accepting our offers has gone up at an even higher rate than the application and the admission rate," said Sargent (photo by Romi Levine)
There has been an 80 per cent increase in U.S student applications to U of T, compared to the year before, Sargent said.
"Students tell us that coming to the University of Toronto is choosing to go to a city and a campus that is safe, that is vibrant and growing, and that is diverse," said Sargent.
Richard Levin, executive director, enrolment services, and university registrar, talked with students about U of T's famed ghost stories, some of the quirky courses available and the Hogwarts-like architecture.
"One thing about U of T is there's an incredible diversity of spaces and places," he said. "There are still places I haven't discovered."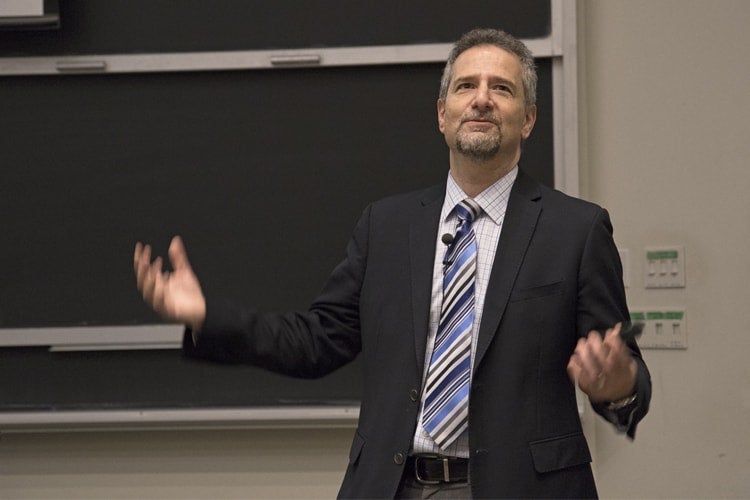 Beyond academics, there are a lot of fun things to do and see at U of T, Levin said (photo by Romi Levine)
Anna Jasinska, who was accepted into the architecture program at the John H. Daniels Faculty of Architecture, Landscape, and Design, said she likes the way the university is very much a part of the city.
"I visited Toronto last year and fell in love with the city, and I liked that the university is right at the centre," said Jasinska, who came from a suburb of Chicago.
Other students cited U of T's top-notch academic reputation and the opportunity to experience something new in a different country.
One student – Nanami Sumimoto – who is originally from Japan but lives in Cupertino, California, was excited about the prospect of being on a snowy campus.
"In California, there's no snow so the first thing I noticed is that it's really cold," says Sumimoto, who would like to eventually study neuroscience.
Many of the parents in attendance were incredibly supportive of their children's desire to study in Canada.  
"I think it's wonderful for many reasons – mostly because it's safer on this side of the border and also because she would get a more global perspective," said Kathryn Sitter, from Pittsburgh, Pennsylvania. Her daughter, Kyra Bingham, has received an offer of admission from the Faculty of Arts & Science.  
Saturday's event gave students a taste of campus life. They got to check out residences, tour their future colleges, peek into classrooms and explore the surrounding downtown neighbourhoods.
Hildreth said U of T will be a new beginning in a place where he feels that he fits right in.
"Being here for the first time, and that excitement of being in a new country and a new campus, really mixed well to bring an atmosphere of home," he said. 
UTC