Progress and the path ahead: How U of T is working towards reconciliation across its three campuses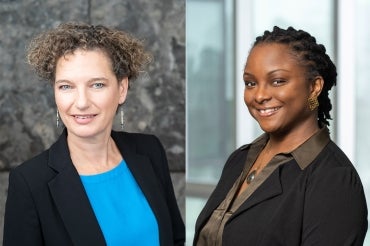 It has been five years since the University of Toronto was entrusted with the U of T Truth and Reconciliation Commission Steering Committee's final report: Answering the Call: Wecheehetowin – and progress is being made in addressing its 34 calls to action. 
Tasked with reviewing the Truth and Reconciliation Commission of Canada's final report and making recommendations that fall within the U of T's mission and mandate, the steering committee issued calls to action that span six categories:  Indigenous spaces; Indigenous faculty and staff; Indigenous curriculum; Indigenous research ethics and community relationships; Indigenous students and Indigenous co-curricular education; and institutional leadership/implementation. 
In response, U of T created the Office of Indigenous Initiatives to guide and support the implementation of the calls, report on institutional progress, and serve as a central resource for learning, consultation and support to the U of T community.  
Shannon Simpson, senior director, office of Indigenous initiatives, and Jodie Glean, executive director, equity, diversity, and inclusion, spoke to U of T News about their work and the university's progress in fulfilling the steering committee's recommendations to date. 
---
If there were one or two key things you would want people to know about the university's work so far in response to Answering the Call: Wecheehetowin, what would they be?   
Simpson: Establishing the Office of Indigenous Initiatives was a huge and important first step to guide and support this work. This office is a touch point for our communities to connect with before beginning this work. Indigenous Peoples should be engaged with and brought into the conversation and, at the same time, we need to ensure there is a large enough team to support the work. 
The focus on Indigenous hiring is also key. We now have Indigenous staff and faculty across all three campuses, and there are opportunities for growth and different roles across different portfolios, which is really exciting. The number of Indigenous faculty who have joined U of T over the past five years has also been amazing. Dedicated funding for bringing in Indigenous staff and faculty speaks to the commitment to ensure we're getting Indigenous people into positions and makes the university a place Indigenous Peoples want to be part of. 
Glean: I also want to highlight the efforts being taken across the tri-campus focused on decolonizing curriculum, and the initiatives that are being implemented as a result of intentional work taking place in this area. We must ensure that our commitments outlined in Answering the Call: Wecheehetowin are front of mind at all times. They need to be visible and be a part of orientation for new folks joining the university – students, faculty, staff, librarians and leadership.  
In the past five years, what feedback have you heard from the U of T community about the progress made so far?  
Simpson: Like anything, the feedback we hear depends on the individual's relationship with the university. Those who have been here for a long time can see the positive progress. The Indigenous community here has grown and there is so much interest in other departments, divisions and units that didn't exist before. People are starting to realize and recognize their responsibility to do something and are more aware of what those things are.  
Some individuals with a newer relationship with U of T are very attuned to what they want to see and want things to happen quite quickly. This can be challenging, as the process of change requires patience at times. 
From my end, I like to consider how I can better communicate what is being done. How can I connect in different ways with students, for example, so they understand what is happening, how we are listening, and how we hear what they want? 
Glean: The increase of Indigenous community members over the years is a direct result of the hard work and advocacy of Indigenous Peoples and community partners at the university – while recognizing that there is still much work that lies ahead in our reconciliation efforts.   
As we look to the next five years, what are the key priorities or challenges you want to focus on addressing?  
Simpson: I think one of the biggest challenges is keeping this in the forefront, keeping people thinking about how they're going to move forward, what they're going to do next, how they're going to keep progress happening. Remembering that this work is not really ever going to be done – the work will continue to build and be a continuation of what we've accomplished.   
We've seen a lot of Indigenous faculty and staff hired, and we want to see more. We want people to not be the only Indigenous staff in their department. We want there to be spaces – indoor and outdoor – that are dedicated, intentional Indigenous spaces. Making spaces that benefit all students, but also ensure that Indigenous students see themselves here, have amazing experiences here, get to work with Indigenous researchers, and participate in really important work.  
Glean: The EDI team will continue to work with our Indigenous partners across the tri-campus. Deepening our relationships with Indigenous communities will be critical to ensure EDI work is serving the efforts to advance reconciliation. As an institution we must continue investing resources in enhancing the experiences and resources available to Indigenous Peoples at the university. We will continue working to strengthen our resolution supports for people experiencing anti-Indigenous racism and provide support in ways that are culturally relevant and responsive.  
This interview has been condensed.
PSEC