Principals in First Nations schools find support through U of T's new online course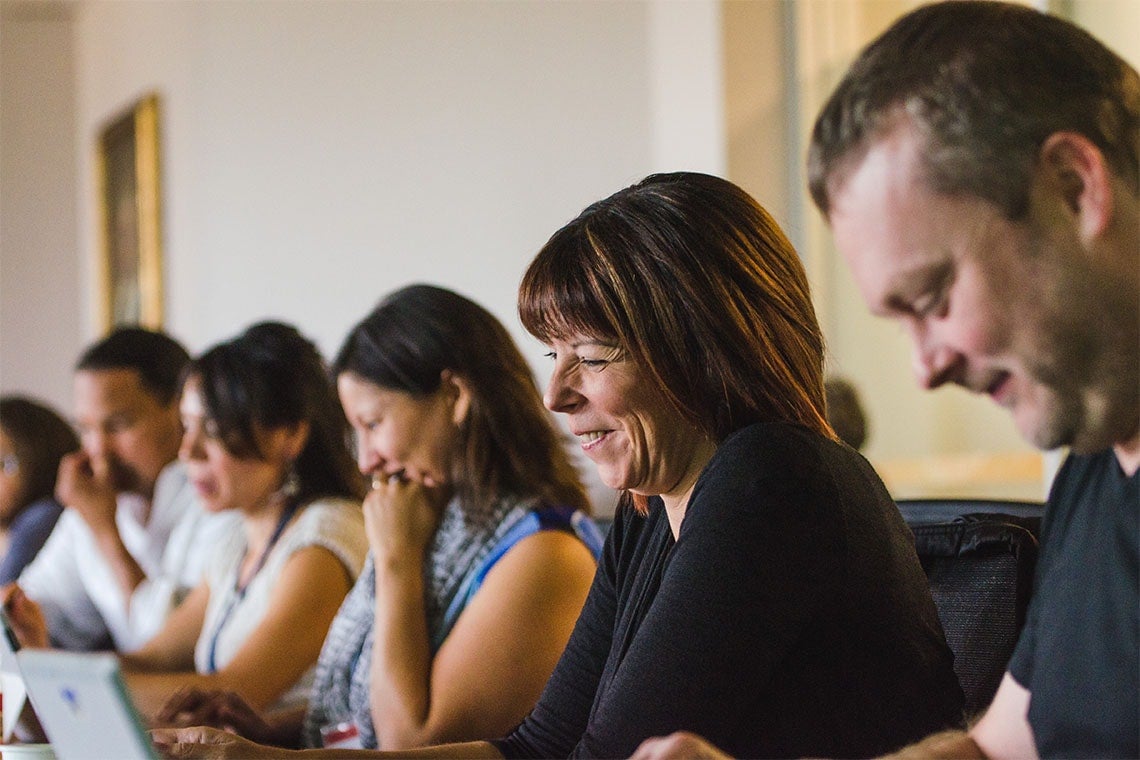 Isolation, lack of adequate funding, limited resources, complex social issues – these are just some of the challenges principals face while working in First Nations schools.
"I always say that these principals are the loneliest people in Canada," says Carlana Lindeman, one of the key people behind a new professional development course for principals in First Nations schools, offered by U of T's Ontario Institute for Studies in Education.
"They don't have a network, they don't have, in many cases, a school board type structure. They're one-school communities, and the buck usually stops at the principal's desk," says Lindeman.
That's why OISE's Continuing and Professional Learning program started the First Nations Schools Principals' Course. The e-learning class addresses the specific needs of principals, vice principals and aspiring school leaders working in band-operated First Nations schools.
The 10-month, 200-hour course is the result of a partnership of the Martin Family Initiative, OISE scholars with expertise in Indigenous education, and an advisory board made up of First Nations leaders and educators from communities across Canada.

The pilot group for the First Nations Schools Principals' Course gathered at OISE last September to celebrate completing the course. Many have become course mentors and instructors (photo by Robert Huang, OISE)
Lindeman, education program director at the Martin Family Initiative and a U of T alumna, says research shows that principals have the most effect on student success. But band-operated schools don't have the same type of professional development, funding and access to networks that are available in provincially funded schools, she says.
Over the length of this course, principals can build a professional network, people they can turn to for support.
Fay Zoccole, a principal at Marten Falls First Nation – a fly-in community in northern Ontario – says she jumped at the chance to participate in OISE's pilot program, which wrapped up last June. She was one of 20 school leaders to test the curriculum and give feedback.
Jean-Paul Restoule, associate professor of Aboriginal Education at OISE and a member of Dokis First Nation, worked with Associate Professor Joseph Flessa and Lecturer Coleen Scully-Stewart, a program coordinator at OISE, to design the professional development course. They consulted the advisory panel of First Nations educators and community leaders to ensure the course was culturally relevant and meaningful.
"We were looking at ways to design it so that it was relevant for people whether they were in an island First Nation in B.C., northern Ontario or an urban reserve such as Membertou in Sydney, Nova Scotia," says Restoule.
The course also teaches principals how to effectively work with Chiefs, Band Councils and Elders in the community, says Restoule.
Zoccole, who moved to Marten Falls First Nation in February 2016 to take her first job as a principal, says the course gave her the support she needed to do her job effectively.
"It taught me about going into the classroom to become more of an instructional leader," she says.
Restoule says the course includes a 30-hour practicum for principals to work on something that will remain in the community, such as writing a new policy for responding to a crisis situation or implementing a plan to help with leadership in the school.
Zoccole not only keeps in touch with colleagues, but she also volunteers time as a peer mentor for future cohorts of the professional development program.
"It is very lonely sometimes!" says Zoccole. "Those connections are so helpful. It helps me remember that I'm not alone.
"Now, I've got really good friends, and we can share."
UTC