President Meric Gertler receives honorary degree from Shanghai Jiao Tong University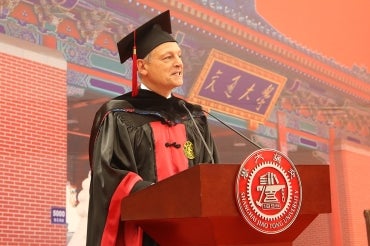 President Meric Gertler has become one of the few North American scholars to receive an honorary degree from Shanghai Jiao Tong University, one of the oldest and most prestigious universities in China.
He received the honour Sunday from the public research university at a commencement ceremony for students receiving advanced degrees. It was part of a six-day international trip that took him to Belfast, London and through the streets of Shanghai on a rented bike. Those who keep an eye on his Instagram account were also treated to an explainer on how best to enjoy XiaoLongBao steamed dumplings.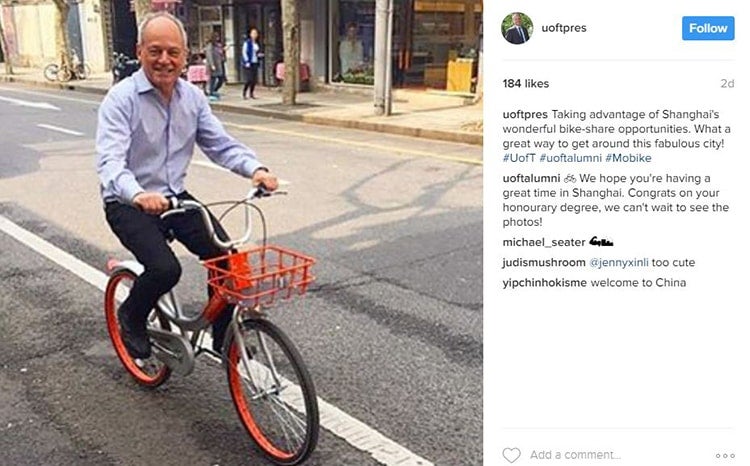 Previous recipients of an honorary degree from Shanghai Jiao Tong include Thomas Rosenbaum, president of Caltech University, Peter Salovey, president of Yale University, and Junichi Hamada, president of the University of Tokyo.
At the ceremony, President Gertler talked about the partnership between the University of Toronto and Shanghai Jiao Tong University, and he quoted alumnus and Governing Council member Mark Rowswell – known in China as the popular entertainer Dashan.
"He said, and I quote, 'I didn't go to China to be a comedian, but a bridge between East and West,'" President Gertler told students and their families. 
"The partnership between our two universities – and indeed our two countries – is a bridge that truly spans the globe," he said. "It supports a bustling, two-way traffic of talent, enabling the flow of ideas and the generation of solutions to some of the most important, shared challenges of our time. 
"It fosters a deep appreciation of the power and necessity of international cooperation, in a period of history when some other countries are retreating to within their borders."

President Meric Gertler at the commencement ceremony on Sunday (photo courtesy of Shanghai Jiao Tong University)
The president pointed out that scholars at the two universities have co-authored 524 publications in the past five years alone.
"This kind of collaboration is fostering global prosperity by generating and transmitting new ideas – and the innovations that come from them – as never before in our history," he said.
This was the president's fourth trip to China since he took office in 2013. During his second trip, in December 2015, he toured various Chinese universities and gave a talk at the Canadian embassy in Beijing on the role of leading universities and their host city-regions in driving prosperity.
He continued to build on that theme throughout this trip, when speaking to alumni in London on March 21 and in delivering the Eaton Lecture in Belfast on March 23. The latter is an annual event hosted by Queen's University Belfast and funded through an endowment from the Eaton Foundation.
"In regions around the world – from Boston to Beijing to Belfast, to my own home in Toronto – the partnership between research-intensive universities and their host city-regions is a fundamental, mutually beneficial catalyst for innovation, resilience and prosperity," he said.
"Universities help create urban dynamism. They are recognized as sources of well-educated talent, creativity, entrepreneurship, resilience and the capacity for places to reinvent their economies. They also bring long-term stability to their host regions, while at the same time connecting these places to the wider world. They have emerged as major drivers of local, national and international prosperity."
UTC