President Meric Gertler on the future of global research collaboration: Times Higher Education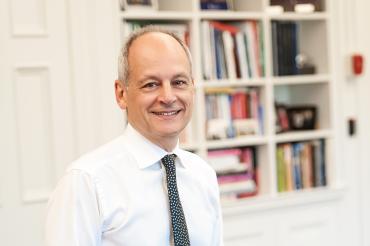 Global research collaboration has been on the rise for decades, delivering positive outcomes for researchers and societies alike – but an unstable geopolitical landscape is now putting such partnerships at risk, says University of Toronto President Meric Gertler.
In an op-ed published by Times Higher Education, President Gertler says events such as the war in Ukraine and rising tensions between U.S. and China threaten to undermine international collaborations by fracturing the research world into groups of "like-minded" partners. "These developments will have profound effects on the pace and direction of scientific advances, and the geography of international cooperation," he writes, noting that the power of global research collaboration was "strikingly demonstrated" by the rapid response to COVID-19.
However, President Gertler – who is in New York this week to attend the annual Times Higher Education World Academic Summit alongside other U of T community members including Cheryl Regehr, U of T's vice-president and provost, and Wisdom Tettey, U of T vice-president and principal of U of T Scarborough – also writes that some countries, including many in Africa, remain unaligned, offering potentially exciting opportunities.
"As the geopolitical environment becomes more challenging, it is likely that universities will be increasingly lonely champions for global research collaboration," he says.
UTC