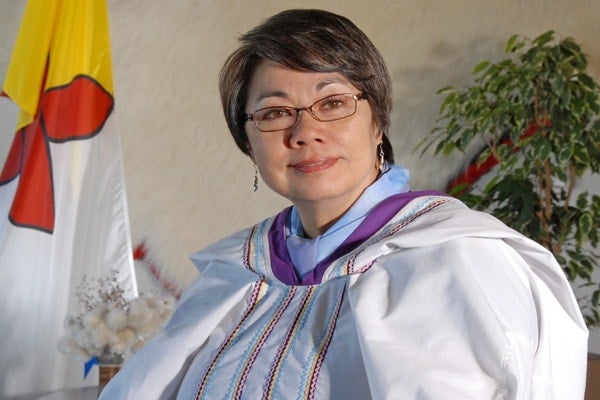 Premier of Nunavut eager for full territorial powers
Addresses audience at U of T's Munk School
The first decade of Nunavut's existence  was spent setting up a government and public services and implementing a land claim infrastructure.  But the territory's premier says now it's ready for more independence from the federal government.   
Premier Eva Aariak of Nunavut visited the St. George campus Nov. 3 for a Munk Gordon speaker series talk about issues affecting her territory, such as infrastructure, climate change, economic development and territorial devolution.
She told the audience that, despite the Nunavut Land Claims Agreement of 1993, Nunavut still does not have ownership or control over the land and water in its territory.  According to the premier, this is a critical issue for Nunavut's self-reliance and economic future.
"The next chapter of Nunavut's history will be to take back the control through the devolution of ownership and authority," she said.
The Government of Canada supports the idea of devolution of power to the territories.  In fact,  it has signed agreements with the Yukon and Northwest Territories. However, it has not undertaken a similar agreement with the people of Nunavut. Some believe the federal government is concerned about Nunavut's capacity to take on the task of administering the resources of this vast territory, in particular recruiting and retaining personnel with the right skills and experience.
Graham White, professor of political science and a member of the Gordon Foundation's Northern Advisory Circle, thinks the issue of capacity is a legitimate one, but believes there are other matters at play.
"They do have a capacity problem; is that a good enough reason not to proceed with devolution? I don't think so," said White. "The [federal] government hasn't even named a negotiator. The process hasn't even started."
Aariak pointed out that her government already exercises provincial like powers in the judicial, health care and social services areas.
"It simply doesn't make sense that, while Nunavut struggles to develop and fund priorities like education and training, that the royalties earned from selling off rights to our land flow directly to Ottawa," she added.
In 1999, Nunavut became the newest territory in Canada. It is the only jurisdiction in the country where the original peoples make up the majority. "Eighty-five per cent of Nunavummiut are Inuit," said Aariak.
Since then, this young government has adopted many of Canada's parliamentary traditions, but it has no political parties. Nunavummiut elect their Legislative Assembly; following the election the assembly members gather to choose a premier from their ranks.
The decision to opt for a public government is about "fostering good spirit by being open, welcoming and inclusive," said the premier. "This is a clear example of a modern form of government built on the oldest of Inuit values."
The Arctic Security Speakers Series is co-sponsored by the Munk School of Global Affairs  and the Walter and Duncan Gordon Foundation.