Powering up: U of T startup brings portable, renewable electricity to rural areas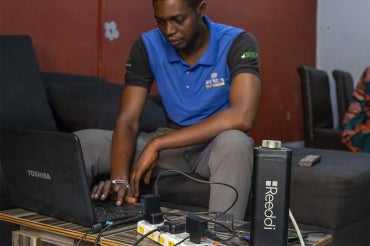 Only two years after its creation, University of Toronto startup Reeddi is well on its way to fulfilling its mission to bring sustainable, affordable electricity to places where reliable power is hard to come by.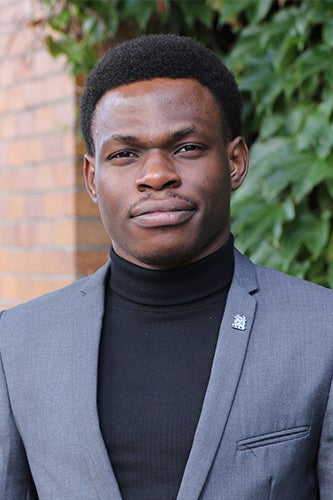 "Right now, our technology serves a combined 600 households and businesses monthly in Nigeria," says Faculty of Applied Science & Engineering alumnus Olugbenga Olubanjo, who is Reeddi's founder and CEO. "We have plans to increase that number."
In 2017, Olubanjo's first year at U of T, he would make phone calls to family and friends in Nigeria, where he grew up. But often these calls would be disrupted by power outages in the African country.
For those who can afford them, diesel generators offered one potential solution. But the units and the fuel needed to run them are costly, and they produce harmful emissions, including greenhouse gases.
Olubanjo knew that the cost of solar power had plummeted in recent years and wanted to make the technology more accessible to rural Nigerians. The solution he hit upon was a solar-powered "electricity bank," where portable power packs could be rented on a short-term basis.
In its current iteration, a Reeddi bank contains 20 capsules, each of which holds about 250 Watt-hours of energy – enough to charge three mobile phones or power a laptop for four hours. Capsules are rented for 24 hours, after which they can be returned to the bank to recharge in the sun.
Olubanjo developed the company with support from U of T's entrepreneurship ecosystem, including The Entrepreneurship Hatchery at U of T Engineering. He quickly started attracting attention: in 2019 alone, Reeddi won awards at the Cisco Global Problem Challenge, the MIT Clean Energy Prize competition and the IEEE Empower a Billion Lives competition.
The past year has brought even more accolades. Last summer, Olubanjo and his team placed in the top three at ISHOW USA, a competition organized by the American Society of Mechanical Engineers. The win netted them a $10,000 seed grant, as well as the $1,000 "fan favourite" prize.
"We benefitted from fantastic insights from the ASME judges," says Olubanjo. "We are equally excited to explore the potential networking and advisory opportunities that come with the prize to scale our venture for global impact."
Olubanjo and his team have enrolled in Third Derivative, a technology accelerator focused on clean energy. The team also received a $25,000 award from the Nigeria Off-Grid Energy Challenge and are currently among the finalists for the Royal Academy of Engineering's African Prize. They have presented their innovation to a World Energy Council Panel group and at the Africa Energy Indaba conference.
"Our current efforts are directed at upscaling local operations and manufacturing more Reeddi capsules for our customers in Nigeria," says Olubanjo. "The future is bright."
Engineering