Portugal's president commemorates 75 years of Portuguese language program at U of T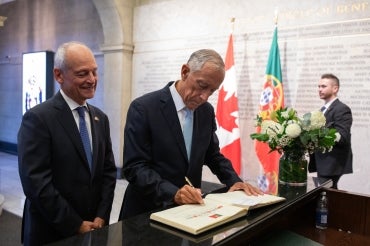 The University of Toronto welcomed Portuguese President Marcelo Rebelo de Sousa to the St. George campus last week to commemorate 75 years of the Spanish and Portuguese language program in the Faculty of Arts & Science.
Rebelo de Sousa's visit was part of a five-day trip to Canada that coincided with the 70th anniversary of the arrival of the first significant wave of Portuguese immigrants to the country.
Addressing U of T students and professors, as well as high school students and teachers, Rebelo de Sousa said "it's an honour to me, my country and my people" to visit the university and acknowledged U of T's early commitment to Portuguese language scholarship.
"That's something I would call perspective," he said. "We are very grateful for it."
U of T President Meric Gertler welcomed the president, his delegation and attendees and said that U of T is honoured to play a part in expanding the ties between Canada and Portugal.
"The Portuguese community has deep roots here with business, cultural and community organizations contributing to Toronto's rich cultural landscape," he said, noting that Portuguese is fifth-most prevalent language spoken in Toronto, excluding English and French.
Rebelo de Sousa, for his part, highlighted the significance of Portuguese as a language of business, science, culture, and education.
"For all those who don't speak Portuguese, learning the Portuguese language is now more than an exercise in intellectual curiosity," he said. "It's a safe investment in personal and professional development."
The Portuguese delegation – which included senior government leaders and António Leão Rocha, Ambassador of Portugal to Canada – were welcomed by President Gertler, Anna Kennedy, chair of Governing Council, Professor Melanie Woodin, dean of the Faculty of Arts & Science, Professor Ana T. Pérez-Leroux, chair of the department of Spanish and Portuguese, and other U of T senior leaders.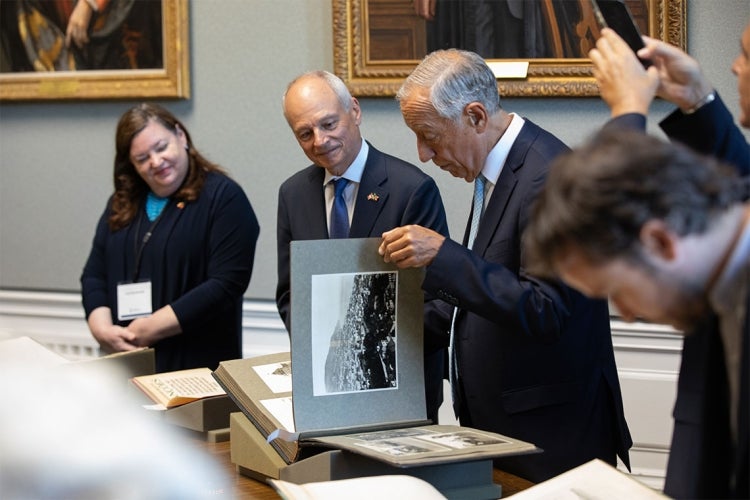 During the event, two students from the Faculty of Music performed Portuguese folk songs and Pérez-Leroux moderated a question-and-answer session with students in the audience. There was a signing of memoranda supporting a continued agreement between the Camões Institute and the department of Spanish and Portuguese at U of T.
"U of T is fortunate to play a vital role in promoting and preserving the Portuguese language," Woodin said.
"The Faculty of Arts and Science is proud to be home to the department of Spanish and Portuguese – a place where students can explore these major languages and literatures and appreciate the influential societal, artistic and intellectual history of Ibero-America."
Toward the end of the event, President Gertler accompanied Rebelo de Sousa to the boardroom to view artifacts from the Portuguese collection at U of T's Thomas Fisher Rare Book Library. They included: a first edition of a selection of shipwreck narratives called Historia tragico-maritima that was originally published as news flyers and sold in the streets of Lisbon; a collection of poems or romances by Bernarda Ferreira de Lacerda, one of the earliest women writers in Portuguese; and two works of poetry by António Botto and Judith Teixeira that are now considered key publications in Portugal's LGBTQ history.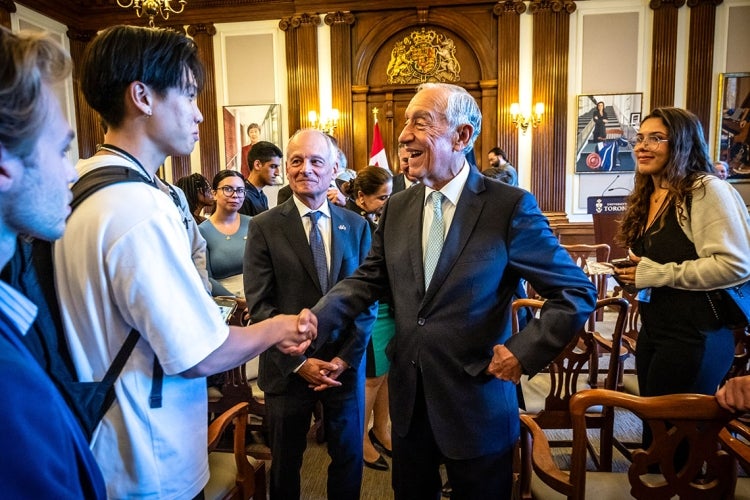 Luis Antunes, a computer engineering student in the Faculty of Applied Science & Engineering and president of the University of Toronto Portuguese Student Association (UTPA), said that as a recent immigrant to Canada, he noticed that not many young Portuguese people speak Portuguese. 
"I moved here two years ago, and I think it's very important for us to maintain our cultural heritage and for future generations to still speak Portuguese," said Antunes, adding that he admires the president's professional career as a former law professor, journalist and political commentator.  
"I've had family members who were his students when he was a professor. It was an honour to be able to meet him and share this moment with the rest of the UTPA members."
UTC