From portable solar generators to race cars: U of T student makes the world his classroom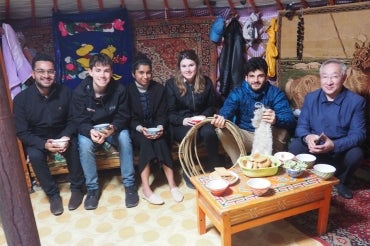 Engineering can take you places. Just ask fourth-year University of Toronto student Ben Sprenger, who spent two weeks in the summer of 2019 talking to Mongolian nomads about portable solar generators.
"I wanted to apply the skills that I had learned through classes and extracurriculars to solving important global problems," says Sprenger, who studies mechanical engineering in the Faculty of Applied Science & Engineering. "I was also really interested in the opportunity to work in a multidisciplinary team with people in other fields, such as [Faculty of] Arts & Science students."
The Mongolian project was co-ordinated by the Reach Alliance from U of T's Munk School of Global Affairs & Public Policy. Working in a team that included fellow U of T students Hannah Rundle, Tanvi Shetty and Rushay Naik, Sprenger conducted interviews to better understand the impact of the Mongolian government's 100,000 Solar Ger (Yurt) Electrification Program.
Launched in 2000, the program provided electricity to nomadic families in the form of portable solar home systems. After a decade of operation, it had surpassed its target, reaching more than 70 per cent of nomadic herders across the country.
The U of T team wanted to better understand the key innovations that led to the program's success.
"I will never forget driving through the steppe – not a road to be seen for what felt like a million miles, an endless expanse in front of us completely unmarked by human activity," says Sprenger. "I loved meeting the local herders, and they welcomed us into their gers. I hope that the information we gathered will be useful for future projects, both in Mongolia and elsewhere."
The trip wasn't Sprenger's only journey abroad during his degree program. As the team lead for the University of Toronto Formula Racing Team, he oversaw all aspects of the team's entry in two international competitions: one in Brooklyn, Mich. and the other in Most, Czech Republic.
"I am an obsessive motorsports fan," says Sprenger. "The sheer ingenuity and innovation that comes out of the sport is staggering, and its inventions have changed the world more than you could imagine."
The obsession is more than a hobby. In August 2019 Sprenger moved to Oxfordshire, U.K. to take up a 12-month work placement with Williams Advanced Engineering, one of the world's 10 Formula One teams. The job was facilitated through U of T Engineering's Professional Experience Year Co-op Program.
"I wanted to push myself in a very competitive and fast-paced workplace and learn about the  inner workings of what makes a winner," he says.
Founded by Williams Grand Prix Engineering, Williams Advanced Engineering was contracted by Panasonic Jaguar Racing to design and build its vehicles for the Formula E championship, the world's only all-electric racing series.
Sprenger contributed to both the 2020 and 2021 vehicles and says one of his proudest moments was when the team placed first at the ABB FIA Formula E Championship, held in Mexico City in February 2020. Later, the team would also win the 2021 Diriyah E-Prix, taking the lead in the constructor's championship.
"Seeing all the hard work that everyone on the team did pay off in a race win was inspirational," says Sprenger. "It was such a thrill seeing the car cross the line on TV, knowing that there were parts that I designed on there."
Apart from the work itself, Sprenger says that moving to a new continent for a work term was one of the highlights of his degree.
"I was able to travel all around the U.K. and Ireland on weekend trips, and have made great friends with people from across Europe," he says. "Being away from Canada for a full year has allowed me to grow so much as a person and helped me do things that I never thought I would be able to do."
Sprenger will be graduating in June and he'll soon be jetting off again after securing an internship in California with Tesla, where he will work on battery development.
"Engineering is truly a global discipline," says Sprenger. "It has become increasingly clear to me that developing an understanding of the unique cultures of the world has become an essential part of the engineering ethos. I'm thankful that U of T has given me the opportunity to explore this at such an early stage in my career."
Engineering