(photo by AsiaVision/Getty Images)
With a few pushes of a button or a swipe of your fingers, you can trade stocks, hail a ride, order a pizza or find a date. But what are the implications of these gamified apps on human behaviour and the law?
Law students in the University of Toronto's Future of Law Lab explore these questions in a new research report that focuses on how current laws should respond to gamification – the introduction of elements of play and gaming across activities and aspects of life. 
"My research interest is in securities law, so gamification really captured my attention with the whole meme stock craze, and speculation about how online trading apps might have fed into it," says Doug Sarro, a doctoral candidate at the Faculty of Law.
"By gamifying investing, did online trading apps lead their users to trade too frequently in assets that were too risky for them? I looked around and saw gamification raises issues in other areas of law, too. For instance, when ridesharing apps use gamification to influence when and where drivers work, does this mean these drivers ought to be considered employees rather than independent contractors?
"I thought the Future of Law Lab would be a fantastic place to explore gamification and gain a broader view of the challenges it poses to law." 
The lab established a co-curricular working group led by Sarro and 16 JD students to research the implications of gamification in four areas: online trading; ridesharing and food delivery; employee productivity; and dating.
First-year law student Nikée Allen, who has a bachelor's degree in psychology with a minor in sociology from Ryerson University, looked at how dating apps can internalize and propagate racial biases among users. 
"There are many – especially young – users, including vulnerable members of marginalized communities, who are being ranked by the people who are swiping on them," Allen says. "If racialized users are being swiped on less, they are ranked lower, and they're being seen by fewer people."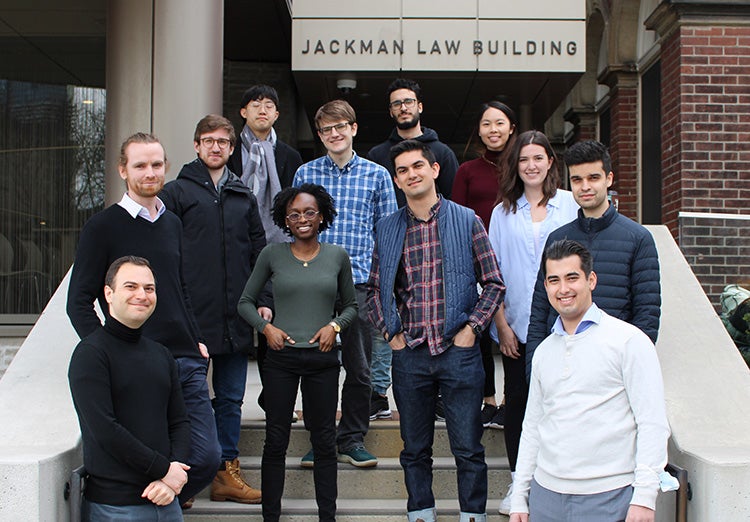 The Future of Law Lab team that worked on the gamification report (photo by Nina Haikara)
To better understand how the apps worked, Allen downloaded a dating app, made a profile and refused potential matches.
"I kept track of the kind of push notifications I was receiving: 'You would have more matches if you did this on the app.' 'You should buy a boost; more people will be able to see you.'"
Allen says people who don't know how the algorithm works are being induced to engage in a particular behavior, which can have unexpected legal consequences.
"The coercive element comes in when users are being told to use the app more. If no one is seeing them, then they must pay to increase their visibility and it's only temporary," Allen says. "So, you keep paying to get equal access to the same service that others can access for free."
The potential for legal injury will only grow as dating apps become more popular, Allen says. 
Fellow first-year law student Samir Reynolds, for his part, studied the design techniques of ride-sharing apps. 
"There's been a lot of press coverage about whether drivers are employees, independent contractors or another classification," says Reynolds, who has a bachelor's degree in knowledge integration, math and political science from the University of Waterloo. "However, these apps can nudge drivers to work at specific places over specific times. If we think of them as effectively telling their drivers to do that, then the drivers start to look more like employees rather than independent contractors."
Reynolds adds that, although consumers see prices surge when drivers are in high demand, that doesn't mean the drivers are paid more during peak hours.
"These apps also tend to set artificial goals. Someone will be driving and after a ride is done, they will receive a notification they're only $6 away from making $80 on their shift. But then after you make that, it will switch to only $7 away from $90." 
Reynolds came to U of T Law after working in the technology sector for two years. 
"One of the defining problems of this generation of lawyers is going to be figuring out how law and policy, both from the court and from policy-makers, can evolve and adapt with technology, which is inherently going to advance faster than the law," he says.
The Future of Law Lab was established in 2020 – thanks to a gift by Hal Jackman, a former U of T chancellor and lieutenant-governor of Ontario – as a co-curricular program to bring together students, academics, lawyers and other professionals to explore the intersection of law, innovation and technology.
"The Future of Law Lab provides students with an opportunity to learn about legal problems from a holistic perspective. Law does not exist in a vacuum and, in our context, legal problems are often business problems," says lab director Joshua Morrison, a lawyer and graduate of the faculty's global professional master of laws program with a concentration in innovation, law and technology. 
"We ask our students to consider the strategic, operational, marketing, privacy and technology aspects of a particular situation. We're encouraging them to be innovative and solutions-oriented, while encouraging collaboration among professionals of different disciplines." 
The researchers say a digital choice environment that leads people to situations where there are risks of harm should be treated the same way as a business that creates a physical choice environment that leads to the same consequences. 
"Law is always trying to catch up to innovation," Sarro says. "One of the ways it keeps up is by staying flexible. And we can leverage that flexibility to respond to many of the challenges posed by gamification." 
"If you're using gamification to influence people to work where you want them to work, and for how long, law can say that's a form of control, and so we factor it in when assessing whether these workers ought to be deemed employees. If you're a business that profits from guiding people to engage in behaviour that creates risks of harm to themselves or others, law can impose a duty to mitigate those risks," Sarro says.
"Anti-discrimination law has a flexible set of principles that can be used to encourage apps to reflect on the effects design choices have on different groups of people and whether those design choices are helping to mitigate risks of discrimination or are amplifying those risks." 
Allen sees the research project with the Future of Law Lab as good training for a career in technology law following graduation.
 "The Future of Law Lab is the best place to set myself up for success," she says.