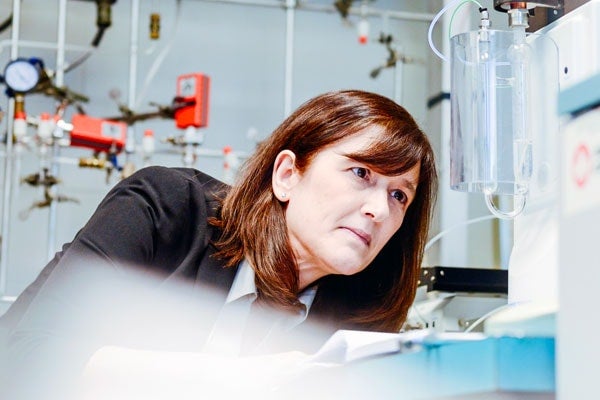 Polanyi Prize awarded to Barbara Sherwood Lollar
Research into billion-year-old water may hold clues to ancient life on Earth and Mars
Barbara Sherwood Lollar, University Professor in earth sciences, has won the prestigious NSERC John C. Polanyi Award for her pioneering research into billion-year-old water and the clues it may provide to ancient life on Earth and Mars.
The award, named for the University of Toronto's Nobel laureate, honours an individual or team whose Canadian-based research has led to a recent outstanding advance in the natural sciences or engineering.
Sherwood Lollar was one of five U of T scholars receiving major NSERC prizes on Feb. 16. Professors Shana Kelley and Ted Sargent received the Brockhouse Canada Prize for Interdisciplinary Research in Science and Engineering and Professor David Sinton and Associate Professor Stephen Wright both received E.W.R. Steacie Memorial Fellowships.
Sherwood Lollar and colleagues grabbed headlines around the world with their discovery of ancient waters bubbling out of rock fractures in mines more than two kilometres underground in Timmins, Ontario and South Africa. Their analysis of this billion-year-old water showed it contained biologically useful chemicals and much more hydrogen gas than previously thought – conditions similar to those found near deep sea vents, which host thriving microbial ecosystems.
"The joy of discovery has been at the heart of this work by our team – opening our eyes to the understanding that even here on Earth there are regions of our hydrosphere and biosphere still unexplored," Sherwood Lollar said.
Sherwood Lollar has surmised that similar deep chemical processes may exist on Mars, where NASA has already found rocks of comparable age and geology.
The research represents a quantum shift in our conception of how old groundwater can be and expands our understanding of energy-producing chemical reactions that sustain deep microbial life, particularly in the Precambrian rocks, like those of the Canadian Shield, which globally make up more than 70 per cent of the Earth's continental crust.
The findings could also prove useful for a future Mars expedition and in understanding the geochemical processes at play in waste disposal and groundwater cleanup.
Sherwood Lollar's work is recognized internationally for its contribution to deep subsurface microbiology and hydrocarbon geochemistry, as well as astrobiology and space exploration.
The graduate of Harvard, Waterloo and Cambridge universities has earned many awards, including a Steacie, a Killam and the Eni Award for Protection of the Environment, as well as recognition from the American Geophysical Union, Geological Society of America and Helmholtz Foundation. In 2013, Canadian Geographic selected her as one of their "Ten Canadians Changing the World."
"We are very grateful to NSERC and to Canada for this award, as there is no higher honour than to receive a recognition that bears the name of our U of T colleague and Nobel laureate, the icon John Polanyi," said Sherwood Lollar.