'A poet of place': Jamaica's Poet Laureate Lorna Goodison receives U of T honorary degree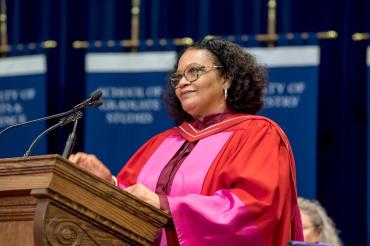 Lorna Goodison may now be a world-renowned poet, but she did most of her early writing in secret while growing up in Kingston, Jamaica. 
Goodison wrote her first pieces of poetry in the shadow of an older sister, who also happened to be a talented writer. She hid them from her family and even went so far as to publish her work anonymously in the Kingston Gleaner newspaper.
Goodison eventually went on to pursue painting and work in advertising and as a teacher. But she couldn't ignore the pull of poetry.
"I'm a poet, but I didn't choose poetry – it chose me … it's a dominating, intrusive tyrant. It's something I have to do – a wicked force," she said in an interview with The Guardian that's cited in her book of poetry, I am Becoming My Mother.
When the urge finally became too strong to fight, and with some encouragement from family friend and fellow poet Derek Walcott (who would win the Nobel Prize in Literature in 1992), Goodison began publishing poetry under her own name and went on to earn numerous awards and honours.
She is currently a professor of English language and literature at the University of Michigan, and has previously taught at the University of Toronto as a visiting professor.
Today, she returns to U of T to receive a Doctor of Letters, honoris causa, "for her excellence in the arts, as an internationally admired poet, performer, and storyteller."
Watch Lorna Goodison deliver her remarks:
Goodison's rise to prominence as a writer involved publishing over 15 works of poetry, short stories and non-fiction, including Tamarind Season and I am Becoming My Mother.
She received wide acclaim for her memoir From Harvey River: A Memoir of My Mother and Her People, a finalist for the Charles Taylor Prize for Literary Non-Fiction (now the RBC Taylor Prize) and the Trillium Award, and winner of the B.C. Award for Canadian Non-Fiction.
Painting also continues to play an important part of Goodison's creative life, having illustrated many of her own book covers.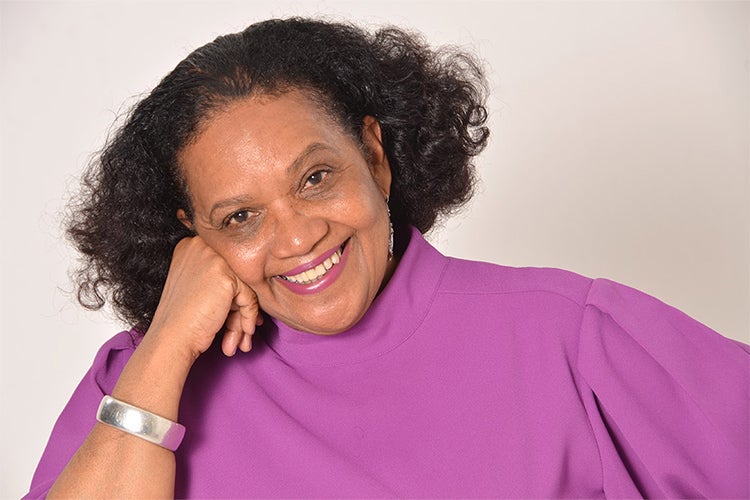 (Photo by Hugh Wright)

Though Goodison splits her time between the U.S. and Canada, she maintains strong ties with her home country, where she was named Jamaica's poet laureate in 2017 – the second person to hold the title, and the first woman.
Jamaica is the thread that runs through much of Goodison's writing.
"I am definitely a poet of place. Even when I am not writing about Jamaica, it is always on my heart," she is quoted as saying to the Jamaica Observer.
In her poetry, fiction and non-fiction, Goodison captures the people, culture, language and history of Jamaica – from personal stories about her family to times of struggle in the country's past, including the slave trade and the cultivation of sugar.
With her birthday falling on Jamaica's Emancipation Day holiday on Aug. 1, Goodison has said she feels a responsibility to tell the stories of her ancestors.
"I will carry a burden about what they endured and how they prevailed until I die," she told BBC World Service.
Speaking in the Toronto Star, Goodison offered valuable advice for aspiring writers:
"I've had my share of rejection as a writer. I always tell my students, 'If you are going into this to get your ego stroked, you are in the wrong business.'"
UTC