Playground superheroes: U of T research shows kids overestimate physical abilities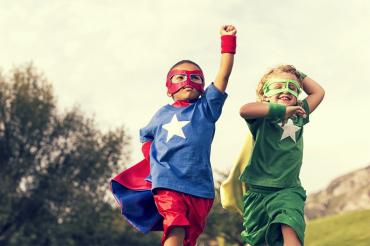 If your child fearlessly flies through the air like a superhero or leaps over large obstacles like an extreme athlete, new research from the University of Toronto shows that young children often overestimate their physical abilities. 
It's a finding that could not only help exasperated parents deal with daredevil children, but it could also create new guidelines for sport training and help children with movement disorders.
"In this study, we measured how accurately kids and young adults could imagine their movements and how well they could perceive what actions were possible for them to perform," says researcher Tim Welsh, a professor at U of T's Faculty of Kinesiology & Physical Education. "We found that adults tend to estimate their abilities fairly accurately while young children will overestimate these same abilities."  
Welsh and his team studied how well 45 individuals between the ages of 7 and 25 imagined, perceived and executed a specific movement. The study was recently published in the Journal of Motor Behavior. 
Past research has shown that the more times a person performs a task the better they become at estimating their abilities to perform that task in the future. Younger children haven't had as much experience moving, and this may be why their perception of what is possible could be less accurate.
The findings may influence approaches to training athletes. 
"Athletes often use visualization as a training tool, and they also learn by watching others and imagining how they would perform the task themselves," says Welsh. "We're trying to understand how this mental practice works so we can help shape learning and coaching environments."
Emma Yoxon, a graduate student at KPE and lead author of the study, has already incorporated some of these findings into practice as a synchronized swimming coach.   
"We use visualization a lot because access to the pool can be limited and we want to avoid overtraining. While imagination is an important tool for many athletes, it might not be as effective for younger children – now I try to get kids moving more."
Such mental practice might not only benefit high performance athletes, but it might also help people with movement disorders recover their abilities.  
Welsh and Yoxon are currently working with scientists at the Movement Disorders Clinic at Toronto Western Hospital, University Health Network. They want to understand how well these individuals could use their imagination to train while resting as opposed to stressing their systems through constant physical performance. 
In the future, the team plans to run the same studies in individuals with autism, who may face challenges observing and executing actions. 
"Now that we know people imagine, perceive and execute actions differently, we're trying to understand the different brain areas involved," says Welsh. "We're excited to be breaking new ground in this area to hopefully help a wide range of people – from children to elite athletes and those simply wanting to pick up a glass of water." 
KPE