Plastics: this U of T ecologist is working to save the world's oceans and lakes from garbage
"The next generation is ultimately going to inherit our lakes and oceans, so I hope to inspire them to protect it better than we have in the past and present"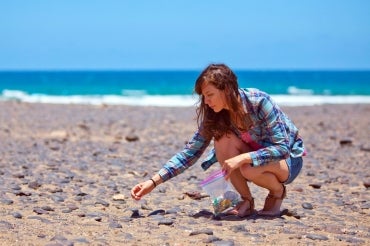 One of the most memorable and defining moments in Chelsea Rochman's career occurred during her first research expedition to see what has been referred to as the garbage patch in the North Pacific Ocean.
After five days at sea the expedition reached the area where plastic accumulates. It was a calm day, and on deck two of her colleagues were counting large pieces of plastic as they floated by the boat. All of a sudden the duo called down to Rochman and others for assistance.
"There was suddenly more plastic floating in the ocean than they could count but it was an accumulation of many small pieces," said Rochman, a new assistant professor in the department of ecology and evolutionary biology in the Faculty of Arts & Science at the University of Toronto. 
Although she expected to see large piles of floating garbage, Rochman was shocked by what she was seeing. 
"When I looked over the bow of the ship, it looked like someone had sprinkled confetti all over the surface of the ocean," she said. "The plastic pieces were the size of a pencil eraser and smaller.
"We quit trying to count and stood there stunned," said Rochman. "I sank down to the ground and reflected on the moment."
As an ecologist, the significance of what she was witnessing was striking.
"Now I could see that plastic debris was not just available to large animals, plastic debris was available to all animals in the food chain. That day it was also clear to me, this debris could not be cleaned up from the middle of the ocean, but only prevented from getting worse."
Rochman's research at the School of Veterinary Medicine at University of California, has shown that fish that ingest plastic debris from the ocean suffer a "double whammy" – the plastic itself combined with the pollutants absorbed by the plastic while it has been floating in the sea.
"We found some toxic effects associated with the ingestion of clean polyethylene plastic, but we also found even greater impacts when the plastic had been in the ocean where it accumulated other chemical pollutants," said Rochman. "This means that plastic debris acts as a multiple stressor."
Her other work has found that plastic that made its way into oceans is finding its way up the food chain. In one study, Rochman found that one in four fish purchased from fish markets in Indonesia and the USA had anthropogenic debris, including plastic and microfibres in their guts.
"We were certainly surprised to have found debris in so many fish and no pattern among species," said Rochman. "We were interested in whether the mismanagement of our waste had come back to us in our own food chain. I think demonstrating that opens up many questions about health and food security."
Rochman shared her scientific evidence at the Our Ocean conference last week in Washington DC.  The conference brought world leaders together to learn about key issues in ocean conservation and to make real commitments to help conserve ocean resources. 
She says it's important that scientists be included in policy-making discussions, so that scientific findings reach an audience outside academia.
"I have found that when I put myself out there and make my work accessible to policy-makers, they are eager to hear what I have to say," said Rochman. 
"I fear that if I do not take that extra step to reach out and share my work more broadly, and that if others don't do the same, the scientific evidence may not be used in decision-making simply because it is less accessible." 
In addition to teaching and research at the University, Rochman has also created an outreach program about plastic debris, which she shared with young people around California during her graduate studies and her postdoc. She plans to do the same here in local communities. 
"The next generation is ultimately going to inherit our lakes and oceans, so I hope to inspire them to protect it better than we have in the past and present," said Rochman.
At U of T, Rochman is planning new projects related to microfibres entering the Great Lakes from our washing machines, plastic in seafood, microplastic in the Arctic and designing environmentally and ecologically relevant experiments to ask questions about how microplastic pollution impacts populations and communities of wildlife.
Thinking back to that day on the ocean, Rochman says there are actions everyone can take today and in the future to mitigate the effect of plastic in the environment.
"Solutions are diverse," she said. "Some examples include the production of more sustainable and safer plastics, reduction in the use of single-use plastic products, more advances and regulated waste management systems globally and to clean up litter on beaches and in the streets."
"We can reduce our use of single-use plastic by refusing to buy products with plastic microbeads, carrying a water bottle, using tupperware and bringing our own bags to the grocery store," said Rochman. "We can also carry around our own cutlery and refuse the use of plastic straws. Cleaning up litter in the streets or on the lakeshore helps prevent debris from entering our local watershed."
Rochman says that even though many of us don't live near a lake or ocean, that we are all connected to water. Every time we run our sinks, use a toilet, or wash our clothing we are contributing to what goes into our watersheds. She says it's important to understand how we can protect our local and faraway waterbodies, as they provide major resources to everyone.
"Aside from beauty and recreation, lakes and oceans provide food, energy and even medicine," said Rochman. "Taking care and thinking about our oceans and lakes is a priority for assuring we have the resources we need to sustain our growing population. As we try to figure out how to feed the people on this planet, food from the sea is often considered as one of the major solutions."