Plastic not just a problem in our oceans, also affecting the Great Lakes: U of T research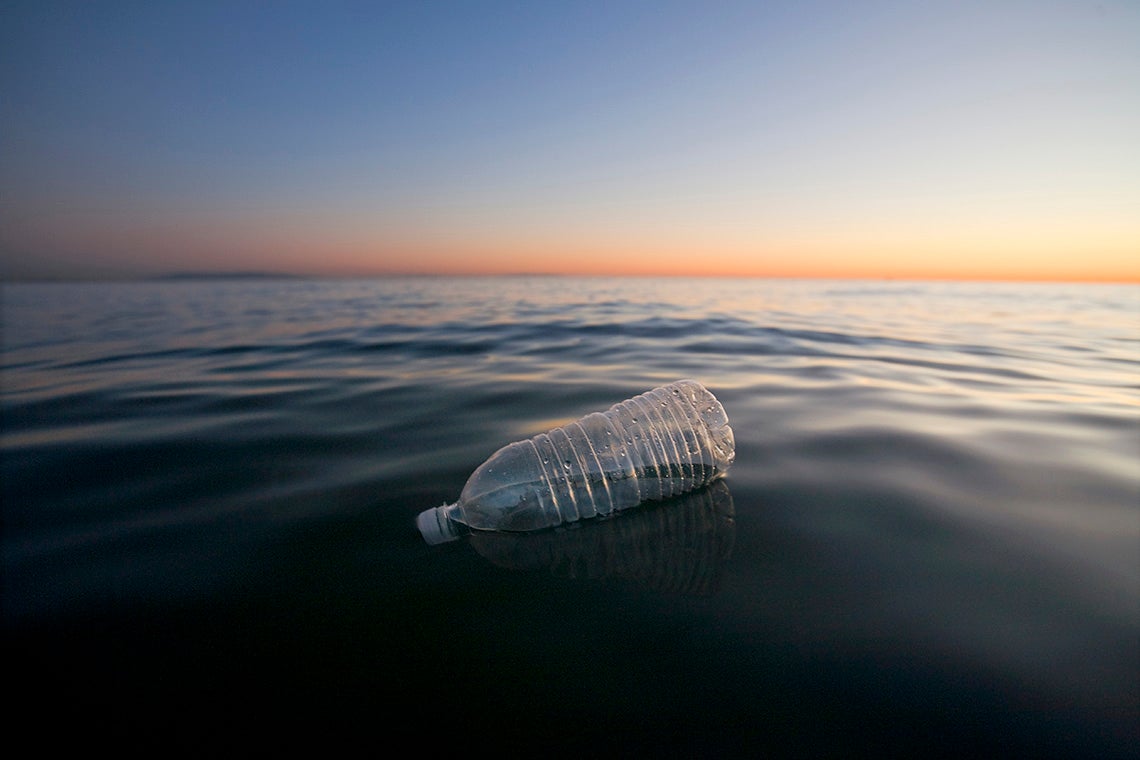 When it comes to plastics polluting our water, it's not just the world's oceans that should keep us concerned.
Chelsea Rochman, assistant professor of ecology and evolutionary biology at the University of Toronto, says we should be paying close attention to what's taking place closer to home in the Great Lakes. 
"The contamination in the Great Lakes and other bodies of freshwater from plastics and microplastics is ubiquitous," says Rochman, who looks at plastic debris and its associated chemical contaminants.
Pollution from plastics is just one of many environmental issues to be explored during the annual conference of the International Association for Great Lakes Research (IAGLR), taking place June 18 to 22 at U of T Scarborough. It's the largest scientific event held in the Great Lakes area with more than 800 participants from countries all over the world, and will feature more than 50 scientific presentations.  
Rochman points to published research, in addition to work in her lab and with colleagues, that finds the concentration of plastics in parts of the Great Lakes are equal to or greater than those reported in the ocean. Their work in Lake Ontario, Lake Superior and Lake Huron has also found microplastics (particles five millimetres and smaller) in nearly all fish collected.
This shouldn't come as a surprise, says Rochman. Canada and the United States discard about 22 million pounds of plastic into the Great Lakes annually and unlike oceans, which get flushed out by global currents, the lakes are less diluted.
Most plastics end up in the Great Lakes from stormwater runoff through rivers or streams, from wastewater treatment plants or litter blown directly into the lakes. Other sources include agricultural runoff and maritime debris like fishing gear. Rochman's own research on microplastics has uncovered pollution from tiny bits of tire dust, microfibers from clothing, glitter, plastic bottles and microbeads found in face wash. 
"Toxicity tests show that microplastics can be harmful to wildlife, impacting growth, feeding behaviour, survival and reproduction," she says.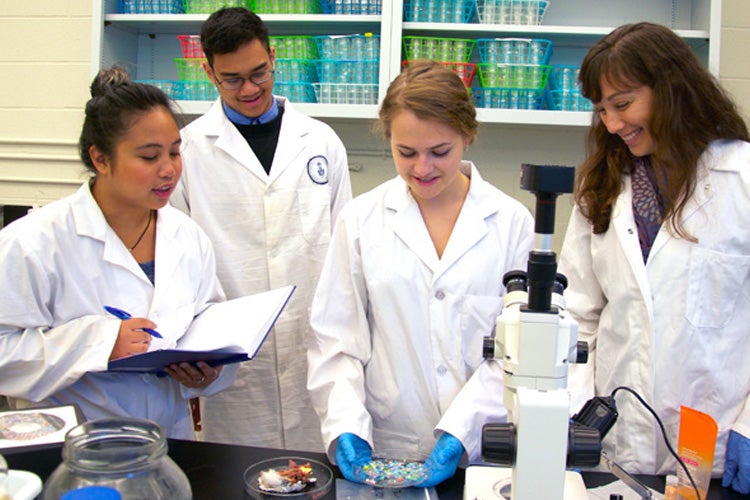 Assistant Professor Chelsea Rochman (right), an expert on water pollution from plastic contaminants, says the concentration of plastics in parts of the Great Lakes rivals those in the oceans

Rochman says a lot of the research on plastic pollution in the Great Lakes is still in its infancy, but it's becoming a hot topic of environmental research. One line of her lab's current research is focusing on how plastics move through Great Lakes food webs, and how this contamination may affect local aquatic wildlife.   
"It's exciting to be part of a group of researchers that are really moving the needle on microplastics in freshwater," she says. "I think the research we will see in the next few years will be eye-opening." 
The Great Lakes basin is home to 43 million inhabitants in Canada and the U.S. It accounts for 58 per cent of Canada's economy, while $311 billion of Ontario's annual exports derive directly from its natural resources, including municipal and industrial water supplies, fish harvesting and land uses. 
"There's no question it's an invaluable economic resource, but it's also home to numerous natural aquatic habitats that, in many ways, remain under threat," says Professor George Arhonditsis, chair of the department of physical & environmental sciences at U of T Scarborough and co-chair of the conference.
In addition to pollution from plastics, there's also the threat from parasites, invasive species, algae blooms, habitat loss and various other forms of pollution. The conference will be looking at developing effective environmental policy to protect them. 
"We will have leading experts covering important environmental issues facing the Great Lakes, the important scientific research being done in the lakes as well as sessions on governance and environmental policy," adds Arhonditsis, an expert in food web ecology and biogeochemical modelling.
Arhonditsis and fellow conference co-chair Mathew Wells, an associate professor of physical & environmental science at U of T Scarborough, both note the significant work done over the past few decades in cleaning up the Great Lakes.
"Just 20 to 30 years ago, you couldn't safely eat the fish in the Great Lakes because toxic PCB levels were so high," says Wells, an expert on environmental fluid dynamics. 
"Much of that has changed because the water quality has improved, and much of it comes down to good science and environmental agreements made between Canada and the United States. Problems exist, but in many respects there are great news stories about the work that's been done."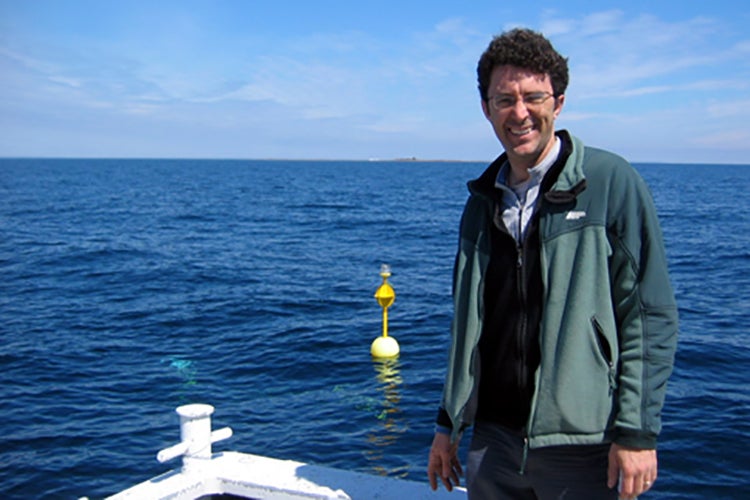 Associate Professor Mathew Wells an expert on environmental fluid dynamics does much of his research in the Great Lakes
UTSC