A pizza 'experience' with your prof? U of T law school promise auction raises money for Indigenous causes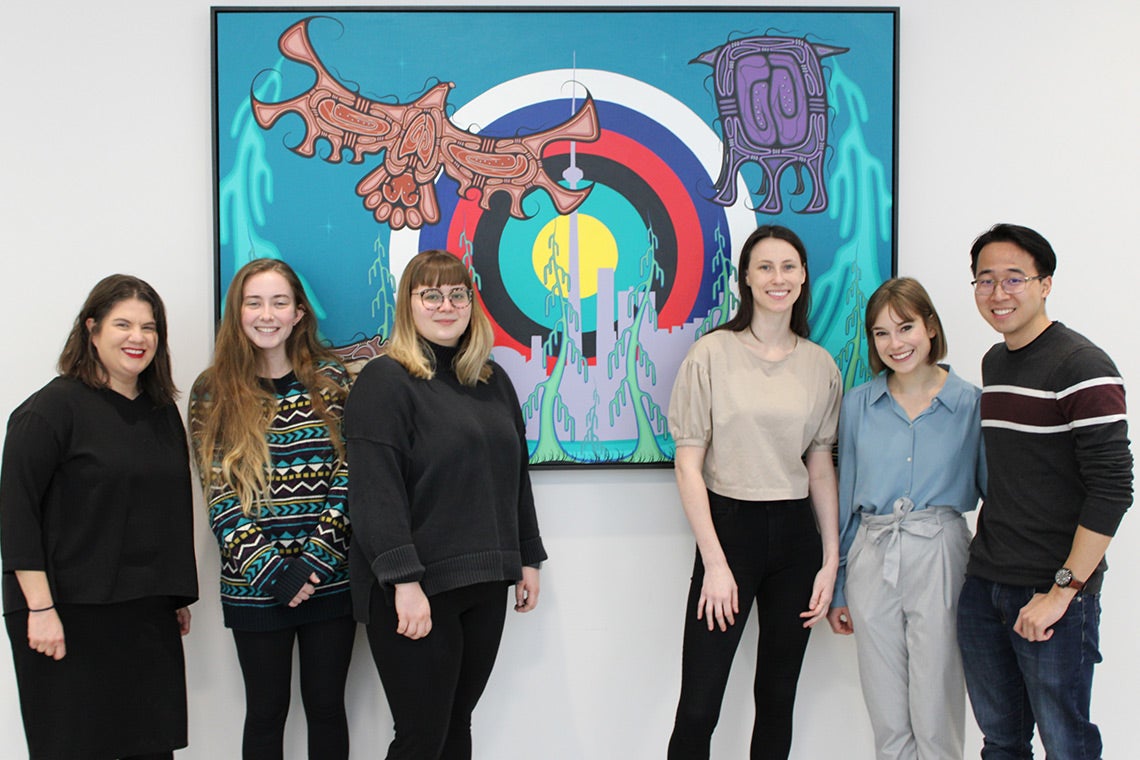 A newly knitted scarf, a cake decorating lesson – or how about a personal cover letter consultation? Going once, going twice. Sold!
The University of Toronto's Faculty of Law's annual promise auction showcases the interests and talents of students, staff and faculty – with all proceeds benefiting the Native Women's Resource Centre of Toronto and the First Nations Child and Family Caring Society.
"The promise auction is a really special event," said Lilly Gates, a second-year law student who plans to one day practice Aboriginal law. "Not only does it raise money for two fantastic organizations, but it also brings students and faculty together to promote reconciliation within the law school."
Gates organized this year's event with second-year law student Madeline Stewart in collaboration with the faculty's Indigenous Initiatives Office and law student volunteers.
"This year, we really reached out to professors to get some big-ticket promises," said Gates.
The first promise auction was held in 2012 and, with few exceptions, has been held annually since. Members of the U of T Law community are asked to donate "promises" to be auctioned-off during a live event in addition to a silent auction held throughout the day.
Professor Jim Phillips, an expert in legal history, enjoys sharing his passion for cycling and promised to lead a cycle-path tour of the city for all those who made a minimum bid. 
"I have donated the bike tour of Toronto bike paths every year there's a promise auction," said Phillips. "I give because the causes supported are excellent ones – and I donate a bike tour because I cannot give dancing lessons, make cupcakes or do any of the other things the students offer."
Associate Professor Christopher Essert teaches and researches private law, property and tort theory, as well as legal and political philosophy. But his students also know him as the resident pizza authority. He promised the winning bidder and two friends an exciting "pizza-based experience," where they would get to sample different styles of pizza while talking about pizza.
The promise fetched $155 from second-year law students Daiana Kostova and Emma Brown.
"He's an awesome prof and I think it's going to make for a very fun lunch," said Kostova. 
In fact, this year's live auction bids surpassed the total raised overall last year. The committee sought to raise a total of $2,000 and ended up surpassing its goal.
Maggie Wente, a partner at Olthuis Kleer Townshend LLP and a member of Serpent River First Nation, supported the event as guest auctioneer.
Wente shared further background on the Caring Society since she works on their case on behalf of the Chiefs of Ontario.
"Primarily [the Caring Society] are involved in the advocacy of equality of funding for First Nations children in the child-welfare system and for families who are involved in the child-welfare system," she said.
Wente is a graduate of U of T's joint program in law and social work from the Faculty of Law and the Factor-Inwentash Faculty of Social Work. She was a commissioner at the Ontario Human Rights Commission from 2006 to 2015.
Other promises included a jiu-jitsu self-defence seminar, a Korean barbecue lunch with Professor and Blue J Legal co-founder Benjamin Alarie, a tarot card reading, and more.
"Year after year, students choose to support Indigenous organizations through their promise auction efforts. It's one of many ways that U of T Law students recognize – through action, not just words – their commitment to social justice," said Amanda Carling, manager of the Indigenous Initiatives Office.
"As a Métis woman, it also means I have a community of allies who are going to graduate and, I believe, do better for Indigenous people and Indigenous communities."
Law