Pilot project uses VR simulations to help newcomers learn English
Would you be more confident in a job interview if you had a chance to practice first? For newcomers to Canada, the answer is often a resounding "yes."
With the help of virtual reality (VR), a pilot project at the University of Toronto is helping those who are new to Canada learn English by giving them a chance to practice their skills in simulated scenarios such as job interviews, shopping or ordering food at a restaurant.
The approach has been shown to not only to improve learners' comprehension and speaking skills, but also their confidence.
"In VR, it is more hands-on to learn the language – it's a very interesting experience," says Baian Alkailani, who is one of the students involved in the pilot. "Learning it in a more fun and interactive way is very helpful to improve language skills."
Alkailani says the VR simulation helps her practice real-life scenarios like shopping, banking, or ordering a coffee. "I think this is what we need," she says.
The three-year pilot project is funded by the Ministry of Immigration, Refugees and Citizenship Canada and the university. It was developed by U of T Mississauga's language studies department in conjunction with the Syrian Canadian Foundation (SCF). 
"They're super motivated and we see an increase in self-confidence," says Paul Alexander, the assistant principal investigator on the project who oversees the technical elements related to VR.
"This is a new iteration with the technology," adds Liz Coulson, an assistant professor, teaching stream, in the department of language studies and the education studies undergraduate program co-ordinator who oversees the research elements in the project.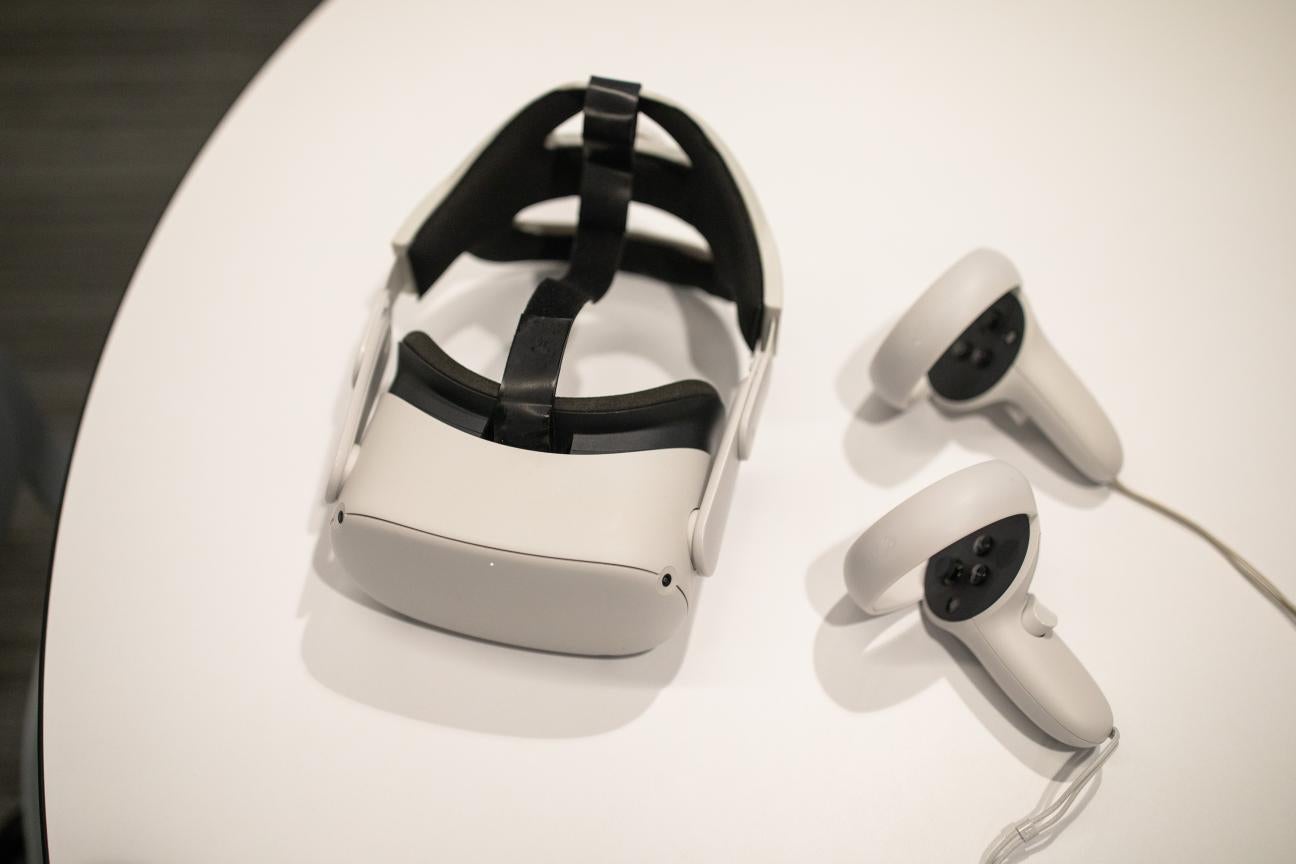 The pilot project uses VR equipment to help newcomers learn English by giving them the chance to practice in simulated scenarios such as a job interview (photo by Nick Iwanyshyn)
Coulson has been involved with U of T Mississauga's language classes for past last five years through the department. But it's only this year that VR and artificial intelligence were introduced to the lesson plan through the help of partnerships and collaborations.
The language program is eight weeks long, running every Saturday at U of T Mississauga. This fall, the university is holding two VR classes per week. There are 12 students per class, but close to 50 students total for the whole project. Classes are divided between standard language classes (without VR) and VR classes. Over a three-hour class, teachers will give a lesson before students use VR headsets in "role-play" segments with newly learned material.
The project uses Oculus Quest or Meta Quest headsets, which are standalone VR headsets capable of displaying different environments and settings.
"For the most part, all the students are first timers," Alexander says.
For now, the project remains focused on refugee and newcomer populations. U of T Mississauga's work with the Syrian Canadian Foundation began five years ago, which is when Coulson took on the initial language program before VR and AI were implemented.
"I took it on wholeheartedly because I think it's such an important project," says Coulson, who applauds the work done by the foundation. "It was their inspiration at the beginning and partnership that has led to all this. It's just an incredible team on that side." 
The team includes Coulson, Alexander, Ji-young Shin, Ilan Danjoux, a group of teachers who are graduates of the education studies program, teaching assistants and U of T Mississauga students, including two that went on to work with the foundation because of the language studies program.
"This turned into employment opportunities for lots of students," Coulson says, noting the department also works with the Ontario Institute for Studies in Education (OISE). "It's really a family unit of UTM, OISE and department of language studies people." 
Coulson and Alexander are also monitoring the pedagogical effectiveness of using VR to teach, pointing to the opportunities it offers beyond language studies.
The current program wraps up later this month and resumes in January.
UTM