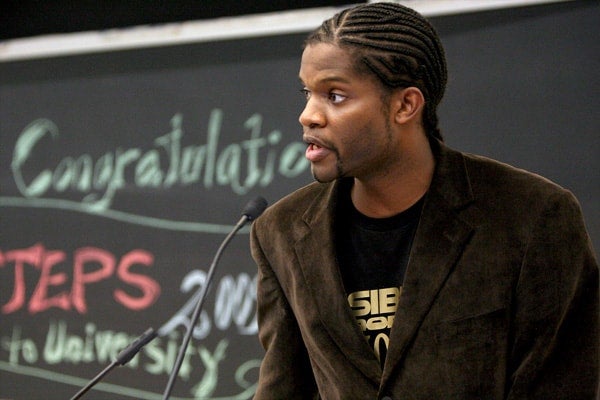 Picture yourself here: the HSBC Steps to University Program
When CJ Cromwell-Simmonds, a talented high school student from Toronto's east end, was selected for an educational outreach program he had no idea it would change his life forever.
"My parents didn't go to university and I didn't have anybody in my immediate family who had gone either," says Cromwell-Simmonds. "I had no idea what university was for or what it offered."
But all that changed when Cromwell-Simmonds enrolled in the HSBC Steps to University Program.
The program, which HSBC recently renewed with a contribution of $375,000 as part of their almost $1.3 million contribution to U of T's Boundless campaign, is designed to help youth who are not expected to pursue a university degree. Through the program, students in their final year of high school can take a first year Arts and Science course at the University of Toronto. The result: students receive both a high school credit and a first year credit that is recognized at all Canadian universities.
The outreach program is one of U of T's most successful educational access programs, boasting an 81% retention rate and 79% success rate. Since 1991, more than 2,400 students have successfully completed the program; students who otherwise may never have enrolled in higher education.
"Before the Steps program I had a completely different mindset," says Cromwell-Simmonds, who spent most of his time on the basketball court while growing up in Toronto's under-resourced east end.
"I didn't have a real goal or sense of direction."
His success in the HSBC Steps program convinced Cromwell-Simmonds his true calling was off the court and in the classroom. Enrolling at the University of Toronto, he received his bachelor's and master's degrees and is now pursuing his PhD in sociology.
Along the way, Cromwell-Simmonds also discovered a love of photo and videography. After seizing every extra-curricular opportunity to experiment and upgrade his skills, he now heads TOportfolio, a media company that provides photo and videography services to a range of clients. 
"Obviously, being able to take advantage of the resources at the University was so important," says Cromwell-Simmonds. "But being there to make friends and connections and build self-confidence were all equally important."
Today, Cromwell-Simmonds balances his academic life with a demanding work and volunteer schedule, working with several not-for-profit organizations in his community and heading up his own media company.
"It's crucial to advocate for programs like the Steps to University Program," said Cromwell-Simmonds. "The Steps program led me to university and I was the first person in my family to get a university education."
"The experience has changed my thinking and ultimately, my life."