In photos: U of T pays tribute to the fallen during snowy Remembrance Day ceremonies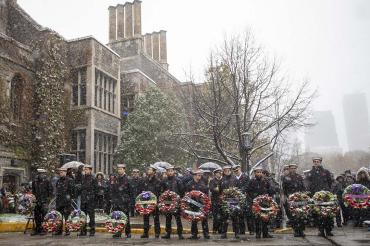 Undeterred by freezing temperatures and the first major snowfall of the season, hundreds of people made time to attend Remembrance Day services across the University of Toronto's three campuses on Monday.
At the St. George campus, Soldiers' Tower – constructed 95 years ago as a memorial to those who served during the First World War – served as the centrepiece of the annual Service of Remembrance.
Foreign Affairs Minister Chrystia Freeland, former Australian prime minister Kevin Rudd and U of T President Meric Gertler laid wreaths in honour of the fallen, as did James O'Brian, a retired flight lieutenant and veteran of the Second World War, and representatives of U of T students, faculty, alumni and families.
The ceremony featured solemn memorial prayers from the Christian, Jewish and Muslim faiths; a powerful recitation of the wartime poem In Flanders Fields, written by U of T alumnus Lt.-Col. John McCrae, who perished in the battlefields of France towards the end of the First World War. There was also a moving reading that recounted the sacrifice of flying officer Robert Lesley Edwards, a Victoria College graduate who was the first member of the Royal Canadian Air Force to lose his life in Second World War combat.
The service started and ended with the playing of the Soldiers' Tower carillon, and was punctuated throughout with hymns performed by the Hart House Chorus.
U of T Mississauga, meanwhile, held its Remembrance Day ceremony in front of the new Maanjiwe nendamowinan building, while U of T Scarborough's service took place at The Meeting Place at the heart of the campus.
Here's how U of T marked Remembrance Day 2019:
---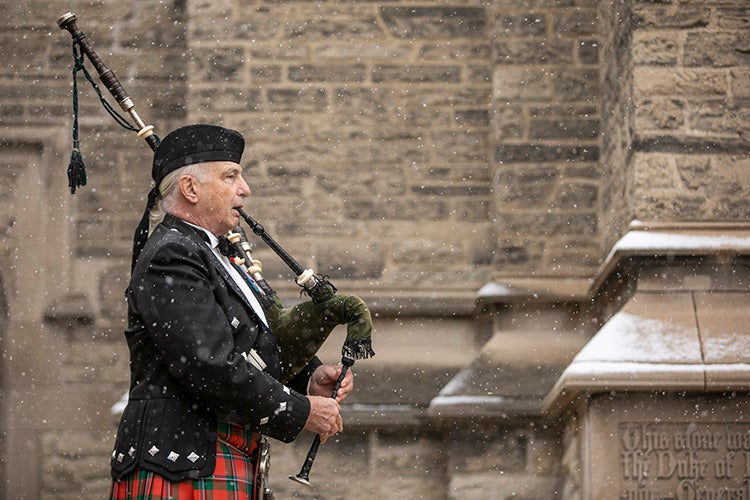 Piper Rory Sinclair plays the Lament during the Service of Remembrance on the St. George campus (photo by Nick Iwanyshyn) 
People gather to mark Remembrance Day services in front of the Maanjiwe nendamowinan building at U of T Mississauga (photo by Drew Lesiuzok)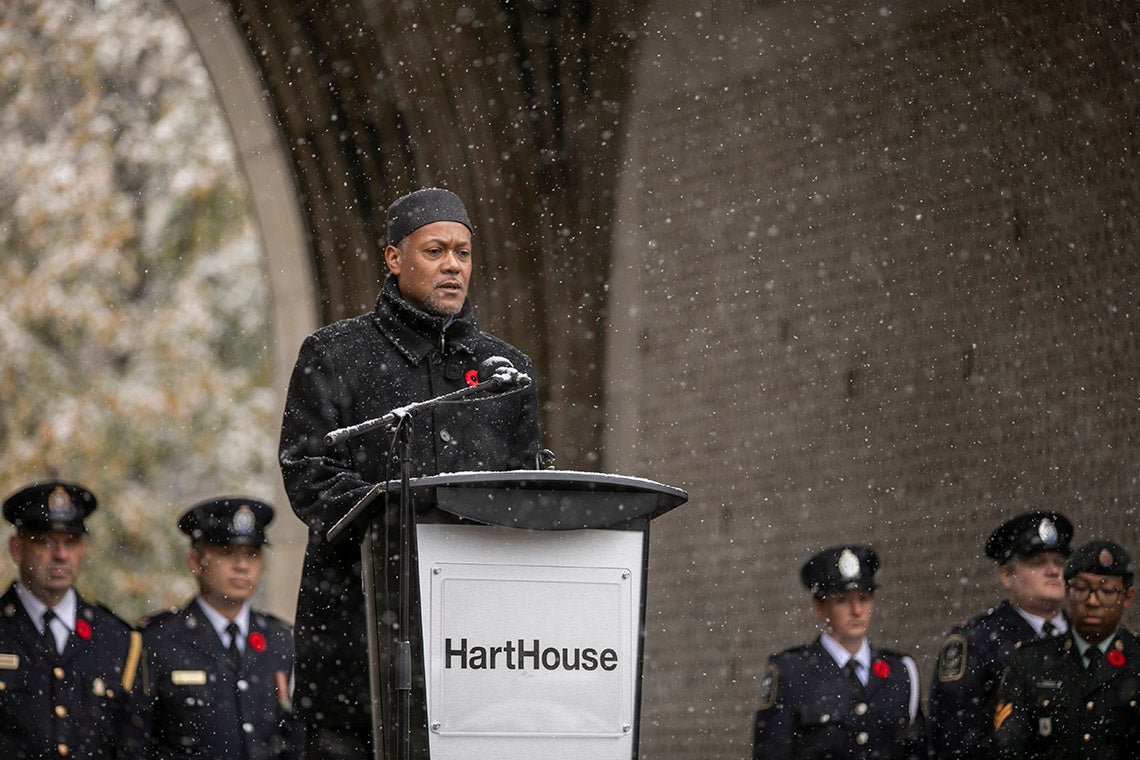 Imam Yasin Dwyer of the Muslim Chaplaincy of Toronto recited a memorial prayer during the Service of Remembrance on the St. George campus (photo by Nick Iwanyshyn)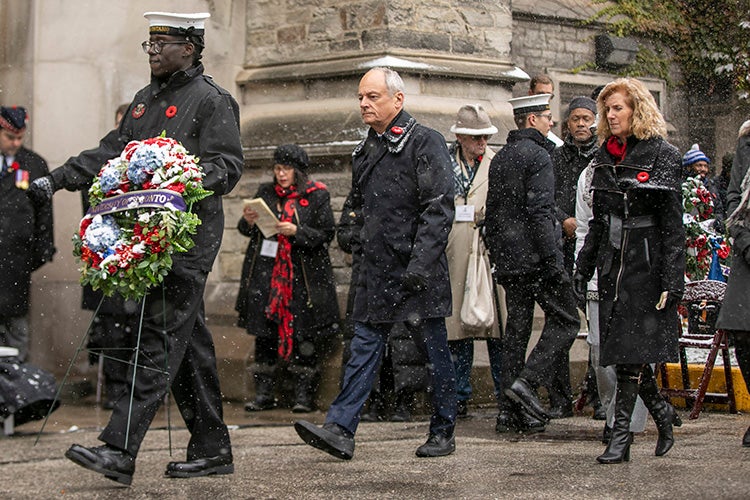 President Meric Gertler and Vice-President and Provost Cheryl Regehr lay a wreath on behalf of the university (photo by Nick Iwanyshyn)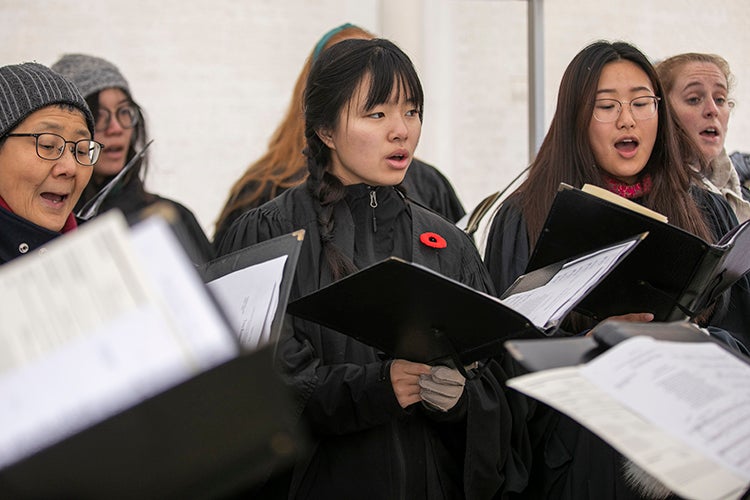 Members of the Hart House Chorus perform a hymn during the ceremonies that took place at Soldiers' Tower (photo by Nick Iwanyshyn)
There was a sea of poppies at U of T Scarborough's Remembrance Day ceremonies (photo by Matthew Wells via Twitter)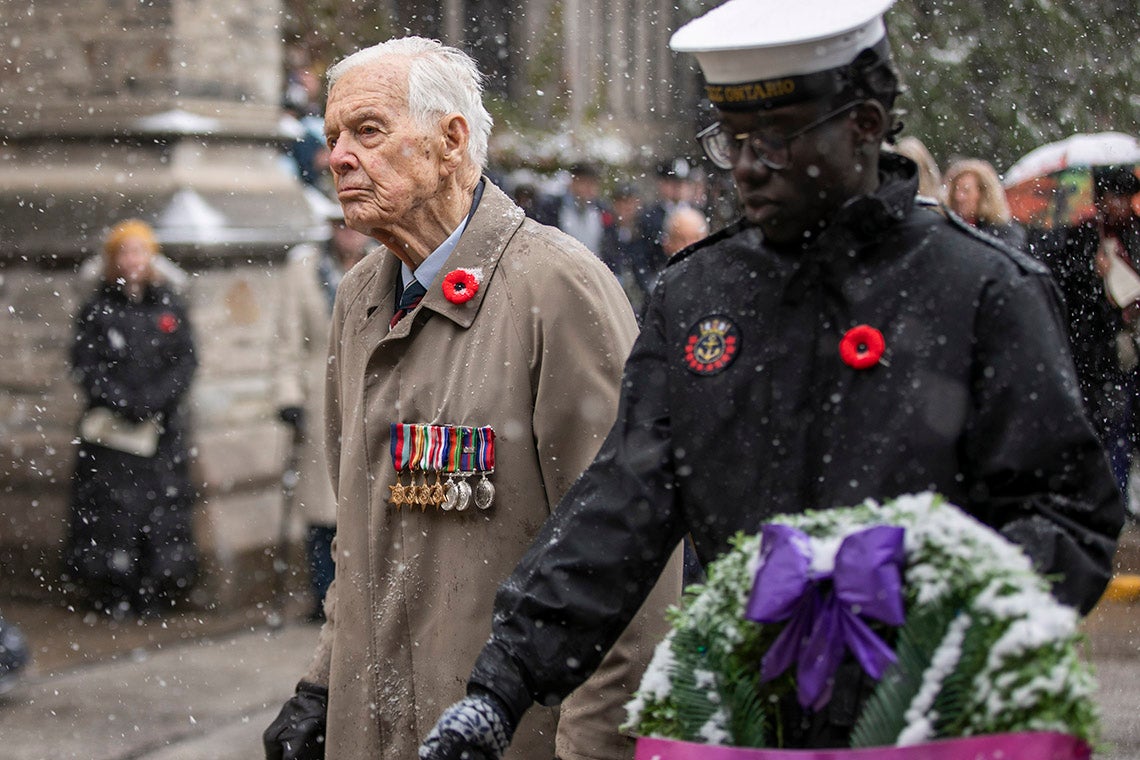 Flight Lt. (retired) James O'Brian is escorted by a cadet as he prepares to lay a wreath on behalf of the Old Comrades at Soldiers' Tower (photo by Nick Iwanyshyn)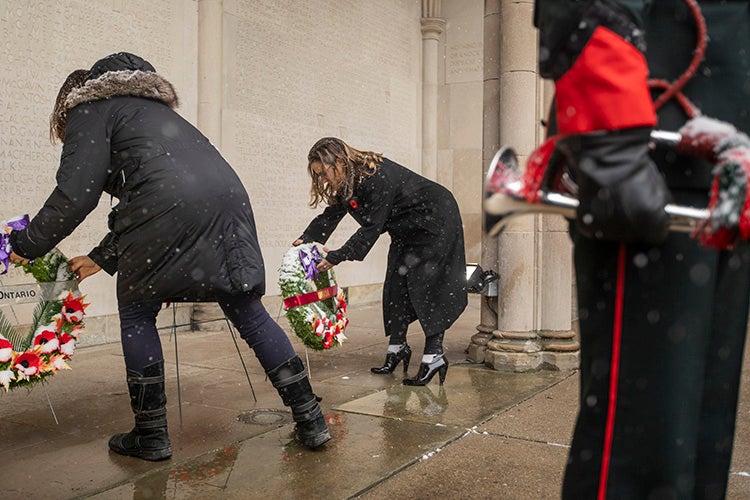 Chrystia Freeland (right), minister of foreign affairs and member of Parliament for University-Rosedale, and Jessica Bell, member of provincial parliament for University-Rosedale, lay wreaths on behalf of the government during the Service of Remembrance on the St. George campus (photo by Nick Iwanyshyn)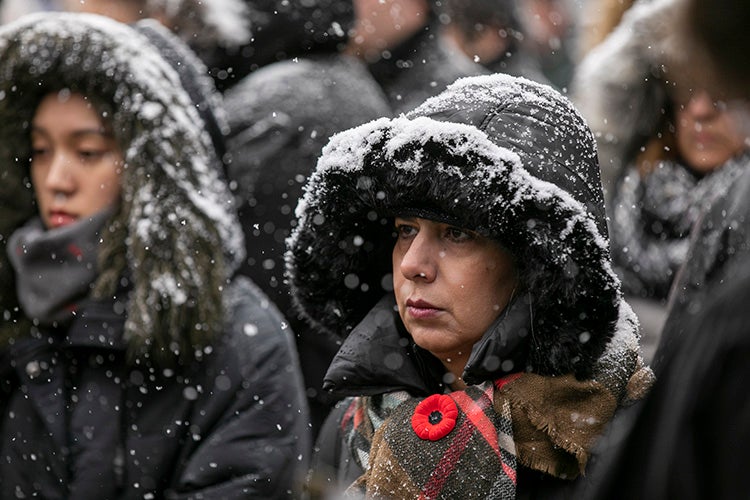 Attendees braved the cold and snow during the Service of Remembrance on the St. George campus (photo by Nick Iwanyshyn)
UTC