In photos: U of T community honours the fallen during virtual Remembrance Day ceremonies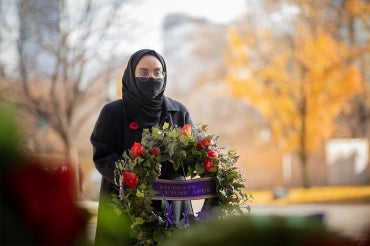 At the 11th hour, on the 11th day, of the 11th month, the University of Toronto community came together virtually to honour those who fell in the First and Second World Wars and other conflicts.
On the St. George campus, a physically distanced Service of Remembrance took place at Soldiers' Tower and was livestreamed to the public.
With the sun shining, U of T President Meric Gertler, Chancellor Rose Patten and Governing Council Chair Claire Kennedy joined representatives of U of T alumni, students and faculty in laying wreaths in honour of the fallen.
Ann Urquhart Knopf, daughter of alumnus Lt.-Col. Gerhard Knopf, also laid a wreath and delivered a moving recitation of the wartime poem In Flanders Fields, written by University College and Temerty Faculty of Medicine alumnus Lt.-Col. John McCrae.
Like many Remembrance Day events across the country, the annual services at U of T's three campuses were altered this year to respect public health guidelines and protect the health and safety of the community during the COVID-19 pandemic. The safety measures included masked attendees, Plexiglas barriers and pre-recorded hymns and anthems.
At U of T Mississauga, a livestream ceremony featured opening remarks by Vice-President and Principal Alexandra Gillespie, while U of T Scarborough's virtual service included Vice-President and Principal Wisdom Tettey as well as faculty, staff, alumni and community representatives. The archived ceremonies can be watched here (St. George, U of T Mississauga, U of T Scarborough).
Nearly 30 wreaths were laid in advance of the St. George ceremony on behalf of government representatives and campus community groups, including campus police, student unions and councils. A virtual wreath display was also created.
In honour of this year's 75th anniversary of the end of the Second World War, the St. George service paid special tribute to St. Michael's College alumnus Lt.-Col. John Anthony Clancy, a 1940 engineering graduate who was one of thousands of U of T alumni who fought overseas and distinguished himself in the fight for the liberation of Europe.
Here is a snapshot of how U of T paid its respects to the fallen while respecting COVID-19 public health guidelines:
---
Participants in the livestreamed Remembrance Day ceremony at Soldiers' Tower observe physical distancing guidelines (photo by Johnny Guatto)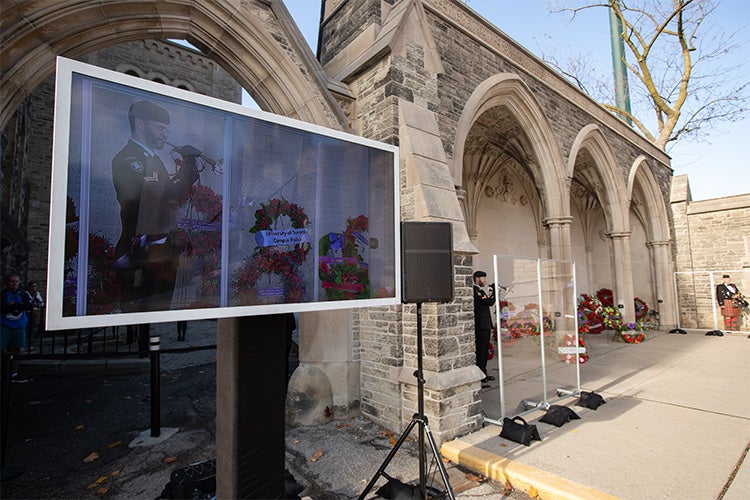 The Remembrance Day service on the St. George campus, although closed to in-person spectators, was livestreamed to the public (photo by Johnny Guatto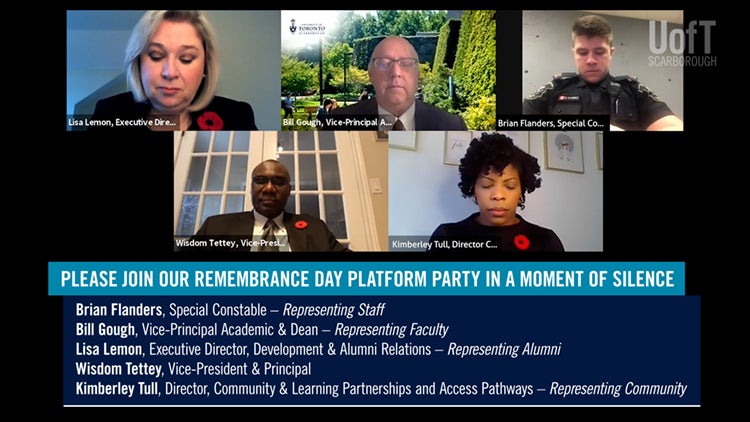 Participants in U of T Scarborough's virtual Remembrance Day ceremony observe a moment of silence (image via U of T Scarborough)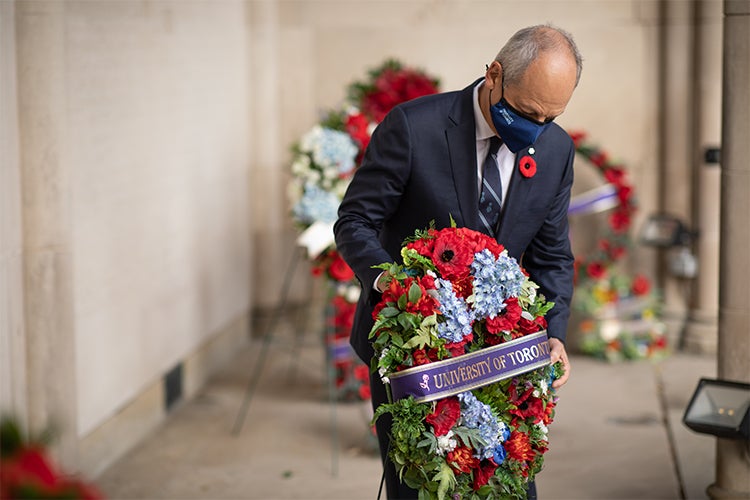 U of T President Meric Gertler lays a wreath at Soldiers' Tower on the St. George campus (photo by Johnny Guatto)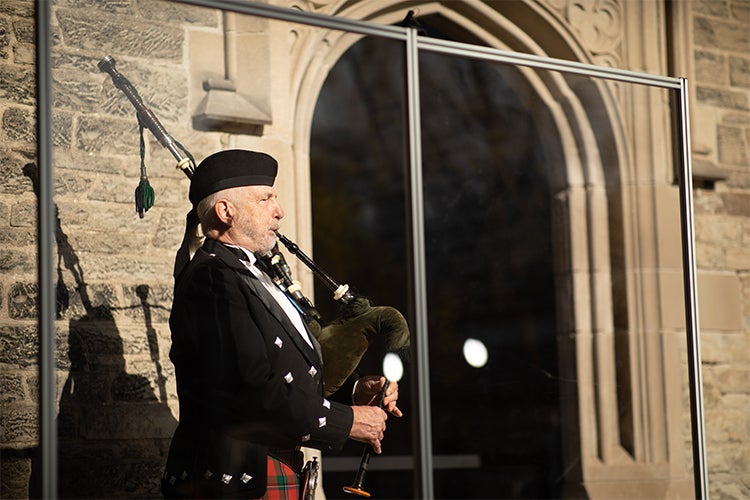 The bagpipes are played behind a Plexiglass barrier (photo by Johnny Guatto)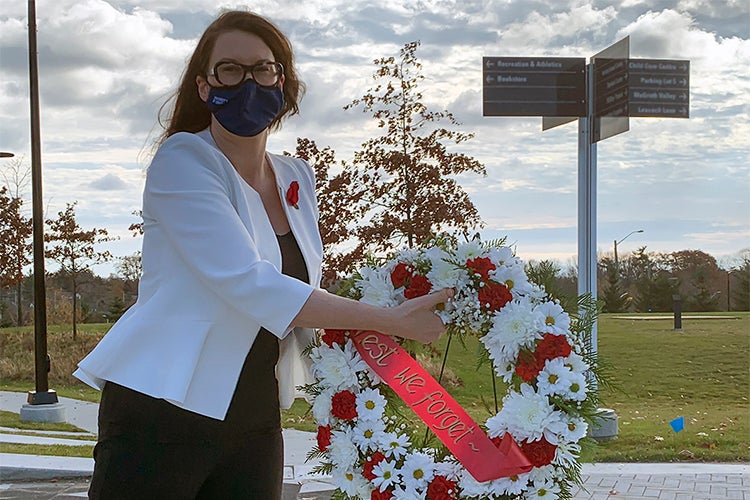 Alexandra Gillespie, vice-president and principal of U of T Mississauga, took part in a virtual Remembrance Day ceremony that was streamed on Microsoft Teams (image courtesy of U of T Mississauga)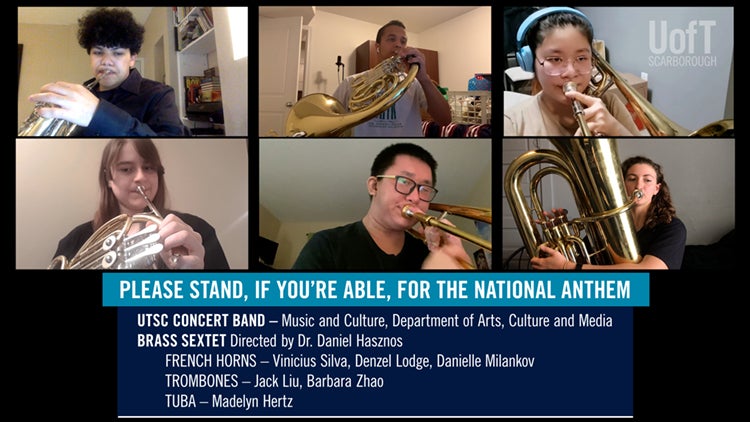 The national anthem is played by the UTSC concert band during at U of T Scarborough's virtual Remembrance Day ceremony (image courtesy of U of T Scarborough)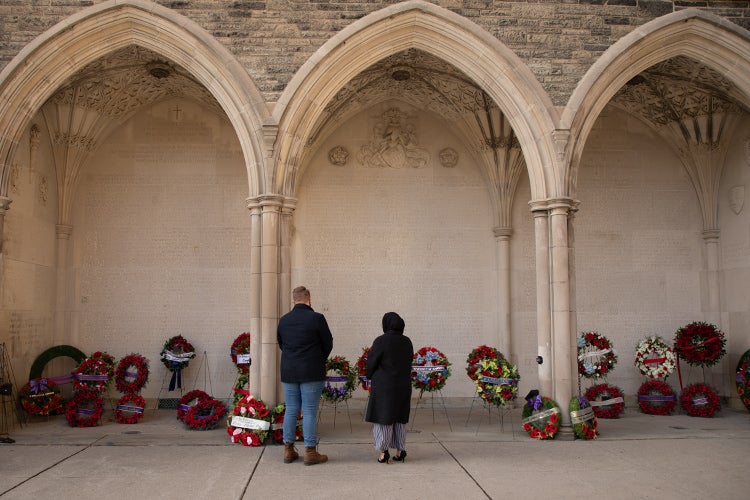 Nearly 30 wreaths were laid in advance of the St. George ceremony on behalf of government representatives and campus community groups (photo by Johnny Guatto)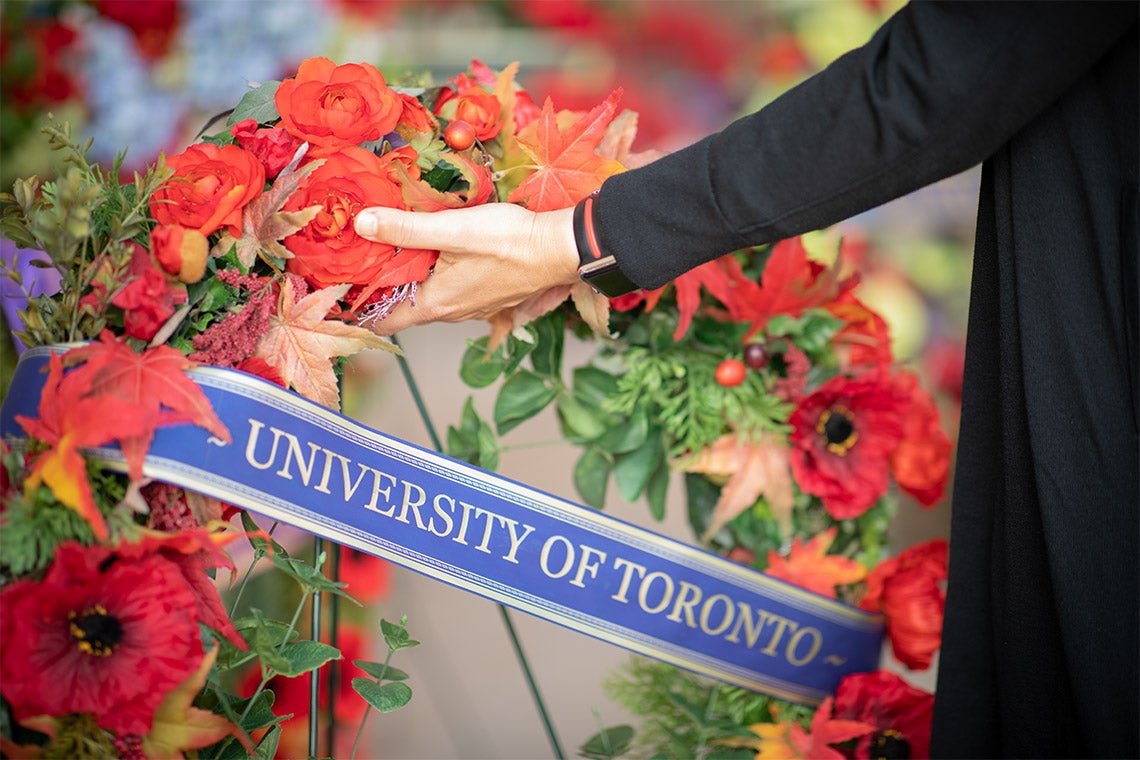 A wreath is laid on behalf of the University of Toronto community (photo by Johnny Guatto)
UTC