Philanthropist and social entrepreneur Dr. Michael Dan receives honorary degree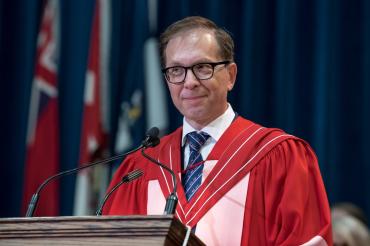 Canada's Indigenous Peoples face a litany of health problems, from higher rates of diabetes and smoking to malnutrition and infant mortality.
There's no simple solution, but researchers at the University of Toronto's Waakebiness-Bryce Institute for Indigenous Health are looking to make a difference. They have produced research on Indigenous mental health that has shaped public policy, and they have hosted symposia on Indigenous health, bringing together Elders, academics and frontline workers. 
The Waakebiness-Bryce Institute – the world's first privately endowed institute examining the health of Indigenous Peoples – started with a $10-million gift from Dr. Michael Dan, a neurosurgeon by training who received his MD from U of T.
Waakebiness, which means "radiant thunderbird from the south," is the ceremonial name given to Dan by the Lac La Croix First Nation in northern Ontario. Bryce refers to Dr. Peter Henderson Bryce, a U of T alumnus who as chief medical officer in the departments of the Interior and Indian Affairs was an early advocate for Indigenous children in residential schools.
Dan and his wife Amira made the donation to endow the institute on National Aboriginal Day, 2014. 
"The opportunity to do something about it is here," he told the Globe and Mail. "The university is ready to tackle something like this."
Dan is also the president and founder of Gemini Power Corp., a hydro-electric company with the goal "to develop economic and community self-reliance in a way that respects both the environment and First Nations' traditional values."
For his service to the community as a social entrepreneur and philanthropist, Dan received an honorary Doctor of Laws, honoris causa, on Thursday from U of T. 
Dan graduated from U of T's medical school in 1984 and went on to earn a PhD in experimental medicine from McGill University and an MBA from Tulane University in New Orleans. He left medicine in the 1990s to become the CEO of Novopharm BioTech, an early phase drug discovery company founded by his father Leslie L. Dan. 
Philanthropy runs in the family. In 2001, Leslie Dan donated $13 million to U of T's Faculty of Pharmacy, which now bears his name. 
After Novopharm was sold to an Israel multinational company in 2000, Michael Dan became more engaged in philanthropy. He established the Paloma Foundation, which supports Canadian charities in health, homelessness and human rights. The foundation has supported Covenant House, the Daily Bread Food Bank and U of T's Faculty of Medicine and the Dalla Lana School of Public Health, among others.
In 2013, Dan donated $2 million to establish the U of T Brain Tumour Bank, a tumour tissue and cell resource that will help develop personalized therapies for brain cancer. Dan and his wife have also support the Faculty of Medicine by supporting fellowships and professorships. 
A message to U of T grads from Dr. Michael Dan:
"Don't be afraid to drop everything you've worked so hard to achieve if you believe that by doing something else you'll have a bigger impact in the world."
UTC