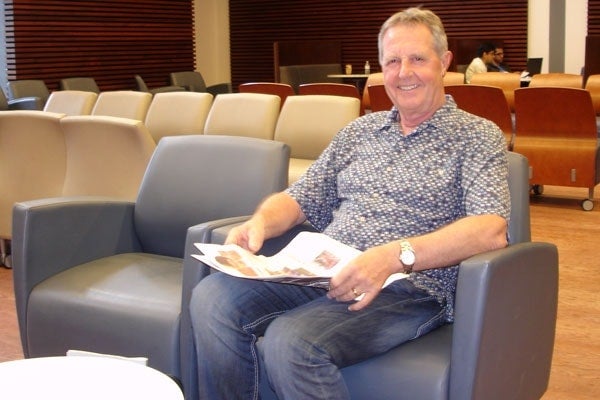 Passion for language brings retiree to U of T
Church eager to round out his education
Forget cruises and golf, the traditional retiree activities. Geoffrey Church would rather hit the books at the University of Toronto.
Church, who recently retired from a career in the real estate investment, development and construction industry, calls the typical retiree pastimes "a bit scary" and is much happier at the thought of earning an English degree.
"What I studied before was all business subjects: a lot of law and accounting and construction," said Church. "I always felt that I didn't have a proper education and I'm very lucky to be in a position where I can study for the sake of it."
He has chosen initially to take courses as a non-degree student through Woodsworth College's senior program. The program allows anyone 65 or older to take classes; there is no requirement to submit transcripts. If the student does well in the first four courses, he or she can be admitted as a degree student.
Church enjoys being in classrooms, "especially compared to work," and he is keen to learn from others who have knowledge to offer.
"They have information you can grab hold of and when people try to tell you things, all you have to do is listen," he said. "I've usually been on the other side of things, trying to get people to listen to me." He has a strong interest in writing and editing and is also a regular, if eclectic reader. He admits to a fondness for Canadian icon Margaret Atwood, "someone who [Toronto councillor] Doug Ford never heard of," but he also reads history and recently finished Dostoyevsky's Crime and Punishment.
"I've always read a lot, but there are large gaps in my education," he said. Church plans to take a full course load and intends to qualify for the degree program by the close of the academic year. "I want the challenge of a degree," he said. "I don't want it to be a trivial thing."
He admitted to some nerves when it comes to the work involved since he has also has a family and hopes to do some part-time consulting. He plans to spend a lot of time on campus doing homework, since there are fewer distractions. Being around twenty-somethings is nothing new to Church. He has two children, a son-in-law and three stepchildren. In fact, one of his stepchildren is also starting university this fall, so they will be able to compare notes.
"I know from discussions I have with my family that youngsters have no sober second thoughts," he said. "I may be able to help them think a little more and I will probably learn from their inquisitiveness."
The social aspect of university isn't a priority, however. It's the learning that matters. "I probably won't partake of much of university life apart from studying," he said. "I won't be going to the pub —I've done that."