As part of new course, U of T Engineering students work with global stakeholders to address key challenges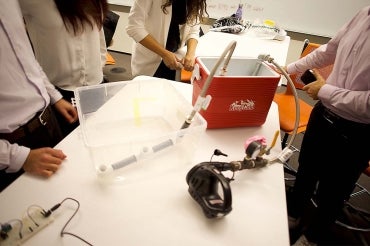 More than 200 third-year students in the University of Toronto's Faculty of Applied Science & Engineering recently presented collaborative solutions to a range of global challenges – from recycling plastics to clearing invasive plants from canal waterways – as part of a two-day showcase that was recorded for organizations around the world. 
The showcase was held in classrooms across the faculty and recorded for partners based in Nigeria, Ghana, Thailand, Uganda and South Africa. 
"Engineering is about people – it's about the human condition," says Philip Asare, an assistant professor in the division of engineering science and Institute for Studies in Transdisciplinary Engineering Education and Practice (ISTEP) who co-leads the course with Sasha Gollish, an assistant professor, teaching stream. 
"We want students to be able to see how technical work is influenced by all the human dimensions: the setting, the context, the people you are working with and the capacity you have." 
Held for the first time this year, the redesigned Praxis III course builds on the success of Praxis I and II – two first-year classes that introduce students to the models and tools of engineering design, including communication, teamwork and professionalism. Praxis III expands these learning opportunities to students in their second year while introducing a global element. 
This year's cohort collaborated with business students at Georgia State University as they designed and tested their functioning product prototypes, which propose solutions to the challenges faced by communities around the world. 
In one of the Ghana projects, Makafui Awuku, who is the founder and CEO of Mckingtorch Africa, invited students to look for novel ways to re-use plastic and sawdust in the creation of new building materials. Mckingtorch Africa recycles and upcycles plastic waste to create new products such as plastic mats, foodware and makeshift beds. The social enterprise is exploring the production of wood-like panels for construction made from recovered sawdust and plastic. 
"Each of the five teams decided to focus on a different part of the value chain, from acquiring sawdust to mixing it with plastic, to measuring properties of the produced composite wood/plastic panels," says Asare. "The collection of projects when viewed together provide a great overall value for Mckingtorch Africa."  
Students researched the local community, culture and practices to create designs that would provide benefit to the client while ensuring cultural sensitivity. 
"Empathy is introduced as a core concept in Praxis III," says Victoria German, a third-year engineering science student. "We had to do a lot of non-functional research to better understand the community we are serving." 
Instructors led students through reflection assignments, lectures, classroom discussions and hands-on building exercises that reinforced the importance of empathy in their designs.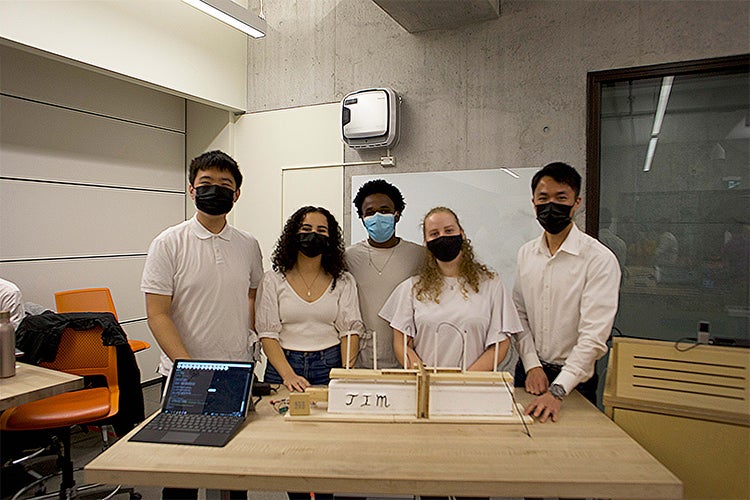 Students pose with their thermal testing system, called Jim (Just Insert Material), as part of the "The Potential of Recycled Plastics" project with Mckingtorch Africa (photo by Safa Jinje)
During their presentations, student teams also made an argument for why their designs would be relevant to the community that they were working with, through both the lens of United Nations' Sustainable Development Goals, and what they understood about the people and their needs.  
"We spent a lot of time on the conception of the design. It was really important for us to make sure we were meticulous at every stage," says third-year engineering science student Rasam Yazdi. "We definitely gained good experiences out of this from working with computer-aided design models to electrical work and the actual build." 
Praxis III is intended for second-year students, but this first iteration was introduced to third-year students due to pandemic-related delays. The next iteration begins in the winter term and will have close to 300 second-year students. 
"This course requires us to innovate in a number of ways, especially with supporting the hands-on technical work through our partnership with the Myhal Fabrication Facility," says Asare. 
"We've produced important systems and processes that support the course work from a parts and components perspective. We have also introduced a procurement process and tools and widgets to help students work well in their labs." 
Asare says the experience has been a positive one for his global peers. 
"The global partners are interested in these kinds of interactions with students; they have made it clear that they see value in it," he says. "Next term, we are introducing humanitarian settings with projects in Yemen."  
"As the course evolves, we want to experiment with structures that make it possible for students to continue to pursue their designs beyond the course. There are lots of interesting things to come."  
Engineering