Parks, planning and public spaces: Toronto can learn lessons from Jerusalem say U of T students
"Jerusalem is a city of neighborhoods."
"Only deputy mayors are paid in Jerusalem. What is the impact of city councillors being unpaid? Who can afford the position?"
"How to design public space - who is using it? Fence or no fence?"
"Unique street art creates aesthetically pleasing urban environments. Toronto, take note!"
Those were just some of the social media posts from Shauna Brail and nine U of T students during a recent trip to Jerusalem and Tel Aviv. (Scroll to the bottom of this story for more tweets about the trip.)
Brail, an associate professor (teaching stream) in urban studies and U of T's presidential adviser on urban engagement, led the undergraduate and graduate students – mostly from departments in the Faculty of Arts and Science – through different neighbourhoods in Jerusalem, studying urban regeneration, inclusive public spaces and place-making. The six-day trip, hosted by Hebrew University's Urban Clinic, was funded mostly through the Canadian Friends of Hebrew University endowment fund. The students did not receive academic credit for the trip.
Brail said she has been to Jerusalem many times, but learned a lot by seeing the city through the eyes of the U of T students. "They were just terribly insightful about challenges and issues. I was impressed with their maturity but also with their ability to understand."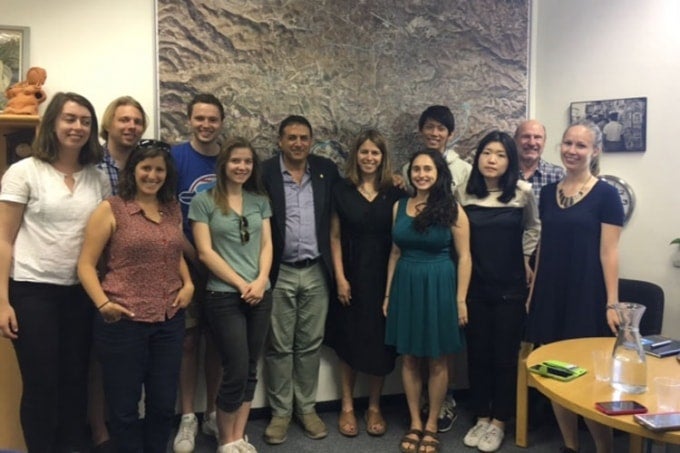 Back row: Michelle Kearns, Nathan Stuart, Andrew Althouse, Deputy Mayor of Jerusalem Tamir Nir, Shauna Brail, Jonathan Chow, Mark Fox Front row: Ella Gil (Hebrew University Urban Clinic), Izabela Molendowski, Tiferet Nashman, Jessie Ji Huang, Eliza Eaton
Michelle Kearns was one of those students. A master's student in planning, Kearns said she was struck by how well organized and clean Jerusalem was. "Bike lanes are always protected; pedestrians are completely separated from traffic, the LRT system was easy to use, and traffic lights are specific – with separate signals for pedestrians, cyclists and traffic."
Despite the many differences between the two cities, Toronto can learn from Jerusalem, Kearns said. "I would like to see Toronto take more risks with planning for transportation." She gave Jaffa Road, one of Jerusalem's major streets as an example.
"A few years ago, the entire street was redeveloped and turned into an LRT-only street, with an integrated pedestrian network. The curb separating traffic and pedestrians was levelled and the street turned into an open, flat, public space with the occasional bike and LRT running through. The planner we met spoke of huge opposition to the plan, since all parking and private cars were removed from the street. However, after the transit-only street was built, it turned into a huge success with businesses experiencing improved sales and many more people on the street."
Eliza Eaton, an urban studies undergraduate student, agreed that Toronto can learn some lessons from Jerusalem. In particular, she said, Jerusalem is good at planning for local residents. "We saw a lot of neighbourhoods and public spaces that really took into consideration the people who live there as opposed to just putting in something for the general population. The planners really considered the local populations in the neighbourhood."
Jerusalem is also better than Toronto in creating spaces for children, Eaton said. In Jerusalem, children are actually involved in planning playgrounds, she noted. "Kids are the real experts of public space."
But Jerusalem can learn from Toronto's experience in turn, Brail said. "We are definitely ahead of Israel in the way we treat our public housing," Brail said. While in Jerusalem, she gave a public lecture about Toronto's success in transforming public housing in Toronto's Regent Park.  "In Jerusalem, they are also struggling with an aging , declining stock of public housing. When public housing sites are redeveloped, residents are forced to either pay higher rents or find alternate housing in another location. Some of them were a little unbelieving that public housing residents were guaranteed equivalent housing at the same rental rate when Regent Park was redeveloped."
Both Eaton and Kearns said they were glad they went on the trip. "I would go back in a heartbeat," Kearns said. "I still have so much to learn in Jerusalem. It's a place of an incredibly complicated history and tension and I just barely scratched the surface during my time there."