Paralympian Kaley McLean found support to chase her dreams at U of T Scarborough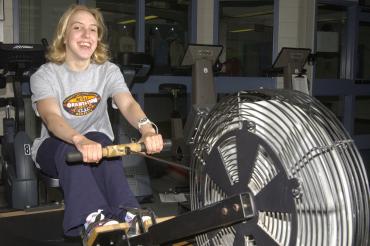 If anyone knows about the positive role sport can play, it's University of Toronto Scarborough alumna and former Paralympian Kaley McLean. 
McLean, who was diagnosed with cerebral palsy at age two, competed for Canada in three swimming events at the 2004 Paralympic Games in Athens. She says competing in the Paralympics was instrumental in shaping her identity.
"It allowed me to grow in confidence and believe in myself. It also helped me stay mentally strong and physically capable," she says.
McLean says her experience at the Paralympics was exhilarating – including the moment she heard the national anthem. While she didn't make it to the podium that summer, she later won gold and silver medals in the Cerebral Palsy International Sports and Recreation Association (CP-ISRA) World Championships held in Connecticut.
The Paralympic Games gives visibility to athletes with disabilities, challenges stereotypes and shifts the narrative towards a focus on people of different skills and abilities, McLean says. 
What became the Paralympics originated in Great Britain in 1948 with the Stoke-Mandeville Games.Dr. Ludwig Guttmann, a German-British neurologist and head of the Stoke-Mandeville Hospital's Spinal Cord Injury Unit, came up with the idea and organized the first competition for athletes using wheelchairs. The first official Paralympics took place in Rome in 1960. 
Now in its 16th summer, the Games bring together thousands of world-class athletes from around the globe to compete in 22 summer sports, including two new events in Tokyo this year: badminton and taekwondo. Canada sent 128 athletes to the current games in Japan, which began on Tuesday. The Team Canada roster includes Matthew Cabraja, a math and physical science major at U of T and Varsity Blues swimmer, who is competing in the S11 category of para-swimmers in Tokyo. 
McLean began her swim training in 1995 at the pool at Variety Village, a sports, fitness and wellness facility for people of all abilities, and supplemented her swimming with dry-land training at U of T Scarborough starting in 2002. She earned her bachelor of arts degree in 2007 from U of T Scarborough. In addition to downhill skiing, she still swims in her spare time and has a black belt in taekwondo.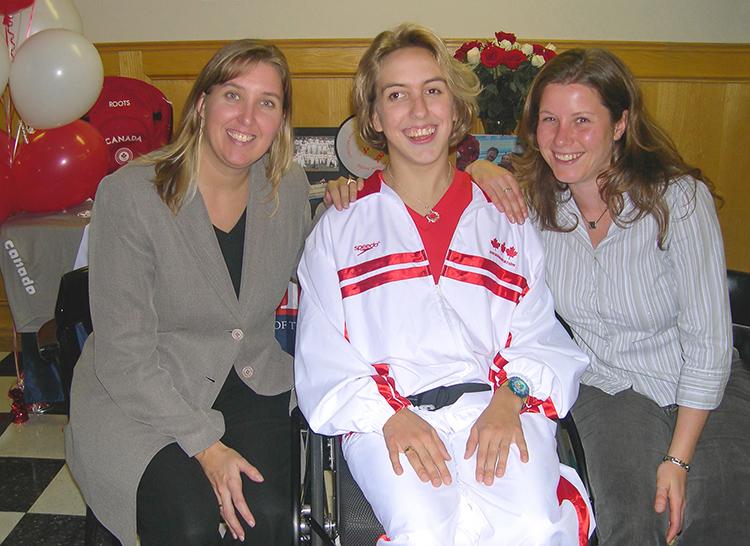 Kaley McLean (centre) visited Tina Doyle (left) when she first enrolled at U of T Scarborough to get information about UTSC athletic facilities and services. Laurie Wright (right) was McLean's personal trainer. (Submitted photo)
She initially enrolled at U of T Scarborough because it was an accessible and wheelchair-friendly campus, and says that the campus provided her with the support she needed to succeed in her educational and athletic goals. When she first enrolled, McLean visited Tina Doyle, the director of AccessAbility Services, to get information about the university's athletic facilities. 
Doyle acknowledges the importance of sports in students' physical and mental health, noting the department of athletics and recreation has many resources to help students of all abilities and athletic skills achieve their goals.
"It is important for our students with disabilities to see that having a disability does not have to limit them," Doyle says.
She adds that the determination, hard work and athleticism shown by McLean in becoming a Paralympian is something all students can be motivated by – and helps dispel stereotypes about people with disabilities.
McLean says AccessAbility Services was very supportive during her time as an undergraduate. "They made it happen. I was put in touch with (personal trainer) Laurie Wright, and she guided me to use the equipment available in the weight room," she says.
Wright, a fitness program co-ordinator at U of T Scarborough, said McLean was able to do only her dry-land training on campus at the time, but now with the Toronto Pan Am Sports Centre (TPASC), students can train in the pools. TPASC also houses the training centre for the men's and women's wheelchair basketball teams, who are currently 0-2 and 2-0 in Japan.  
"Now the university co-owns a track and a pool that students with all abilities can use quite easily," Wright says. "Both areas can be accessible for students using mobility devices as they are equipped with accessible change rooms, doors and lifts to assist. It's an amazing change."
Looking back at her time as an undergraduate student, McLean says that being involved in athletics and the support she received from AccessAbility Services helped her become the person she is today. 
"AccessAbility Services is an excellent resource. They helped me with my studies and my athletic endeavours from the beginning," she says. 
She encourages current students to find their passion, like she did, and make use of all available resources, especially those that can help you succeed.
"Find what you love to do. It could be sports, arts or writing – whatever it is, if you love it you will live it."
UTSC