'Our thoughts are with you': U of T mourns Beirut victims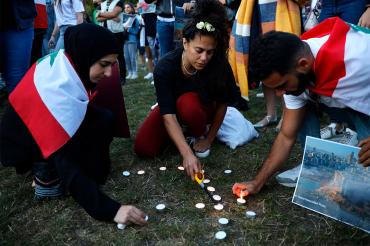 The University of Toronto community is mourning the victims of the tragic explosion in Beirut.
Flags on all three U of T campuses will be lowered to half-mast Friday, Aug. 7, 2020, as the university extends its sympathy and support to families and friends of those killed in the explosion in the Lebanese capital.
As many as 145 people were killed and 5,000 injured by the blast, which struck Beirut's port on Tuesday. Hundreds of people have been reported missing.
"On behalf of the University of Toronto, I would like to offer our deepest sympathies to all those affected by the explosion in Beirut, especially to the families and friends of those who were killed or injured, and to all those who have been displaced from their homes," said U of T President Meric Gertler.
"Our thoughts are with you, and with the members of the U of T community who have ties to Lebanon, at this extremely difficult time."
Over 160 U of T students have either lived in Beirut or hold Lebanese citizenship.
A few students have been directly impacted by the explosion, said Katherine Beaumont, senior director of global learning opportunities and international student success at U of T's Centre for International Experience (CIE).
"We want to support them as best we can given what's happened."
Beaumont said that the university has been in touch with U of T's two Lebanese student groups, the Lebanese Student Society (on the St. George campus) and Lebanese at UTSC.
"We typically follow the lead of student groups – who are very connected with local communities and students – and work in partnership with them based on what they feel their members need," Beaumont said.
"As we speak with student organizations, if there's interest or desire to have some kind of community gathering – which would likely be virtual at this point – then we will work with the Multi-Faith Centre to support that."
Staff and faculty have also come forward with suggestions on how to support those affected by the explosion, said Beaumont. She added that U of T leadership is listening to ideas and gathering more details on those affected by the tragedy as it determines how best to support them.
Beaumont added that any students experiencing distress over the event can access My SSP, the university's free, 24/7 virtual counselling service, which is available in multiple languages.
Feeling distressed? Find someone to talk to right now – and if there is an immediate risk, call 911.
Round-the-clock support:

Students can speak to a counsellor at any hour of the day.
U of T My SSP for students: call 1-844-451-9700 or download the app at the Apple App Store or Google Play. Immediate counselling support is available in 35 languages and ongoing support in 146 languages.  
Other 24-7 supports available include:
The following services are available to students on all three campuses:
Faculty and staff have access to 24-7 support through:
For those who wish to support humanitarian needs in Lebanon, the Canadian Red Cross is accepting donations.
UTC