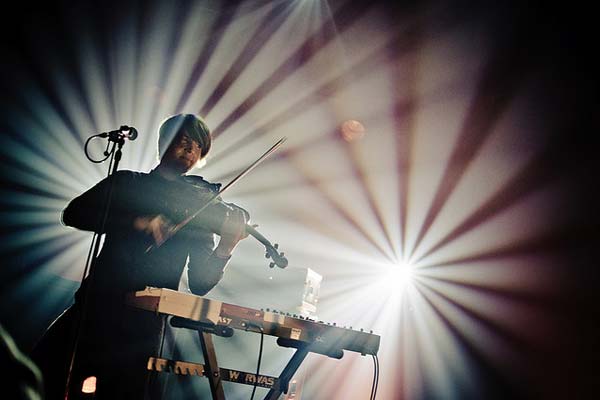 Oscar nomination for alumnus Owen Pallett, chamber-pop violin prodigy
Second nod for U of T music composition in two years
Indie-pop songwriter, prodigy violinist, and U of T Faculty of Music alumnus Owen Pallett received an Academy Award nomination on January 16 for his contributions to the score of Spike Jonze's feature, Her.
The film tells the story of a lonely man, played by Joaquin Phoenix, who falls in love with his computer operating system; the tale is set against a dreamy and exotic musical landscape.
"We are delighted to hear about U of T Music alumnus Owen Pallett's nomination," said Don McLean, dean of the Faculty of Music. "Owen's innovative cross-over from classical training to indie performance to film composition reflects an important directional trend showing where music studies are taking our creative entrepreneurial graduates."
Pallett, who graduated from the Faculty of Music in 2002, composed the nominated score with Will Butler from the Grammy-winning band, Arcade Fire – a group with which he frequently performs and collaborates, and is currently touring with in New Zealand.
Pallett is an internationally recognized composer and performer whose work spans genres from classical to rock and pop. The Globe and Mail's Brad Wheeler has described him as "a high-functioning prodigy who's as comfortable arranging strings for Arcade Fire and Grizzly Bear as he is creating orchestral works for world-class symphonies."
Pallett's credits include a win of the inaugural Polaris Prize in 2006 for a chamber-pop album; classical music commissions from London's Barbican and the Toronto Symphony Orchestra; and collaborations with country star Taylor Swift, indie bands including Grizzly Bear, The National, and The Hidden Cameras (fronted by U of T alumnus Joel Gibb); and even a video game soundtrack for Traffic Department 2192, written when Pallett was 13 years old.
"Owen was an extraordinary student with a remarkable background," said Gary Kulesha, an award-winning composer and one of Pallett's teachers at U of T. "His interests ranged everywhere. He was talented and focused, and never failed to challenge ideas if he had questions. Because of his amazing knowledge of traditional music, he actually played the onstage country fiddler in my opera, The Last Duel, in 2000. I am not at all surprised he has done well."
Growing up in Milton, Ontario, Pallett began violin lessons at the age of 3 and his interest in classical strengthened into his school years.
"I used to get into fights with my classmates because they wanted to listen to stuff like Def Leppard," Pallett told U of T Magazine in 2006. But after four years of his music degree at the University of Toronto, he began to shrug off the rules of classical music as he discovered creatively like-minded artists in Toronto's indie music community.  (Read the U of T Magazine story here)
"It had a much more accidental approach to making music, which really appealed to me," he told U of T Magazine. This community's playful attitude led Pallett to develop one of his characteristic techniques: plugging his violin into a sampler controlled by a foot pedal. This enabled him to loop back and layer melodic lines while singing his characteristically literary and provocative lyrics, as featured in the video below.
While racking up awards and collaborations with this quirky indie style of performance and songwriting, Pallett continued to create music in the classical genre. His commissioned Violin Concerto was premiered by the Britten Sinfonia in 2012 with a North American debut by the Toronto Symphony Orchestra a year later. (Read the Globe and Mail feature on the North American debut.)
Pallett is the second U of T Music Composition alumnus to win in the past two years. (Read about Mychael Danna's Oscar win)
"Following last year's Golden Globe and Oscar win for Mychael Danna (BMus 1986) for Life of Pi, who was our inaugural Louis Applebaum Distinguished Visitor in Film Composition in 2011, and our emerging presence in composition for film and media through the teaching leadership of Eric Robertson, as well as partnerships with the Sheridan College animation program, the Screen Composers Guild of Canada and other organizations, we are starting to feel on a bit of a roll," said Music Dean Don McLean.