The origin of monsters: U of T library exhibit explores sources of supernatural creatures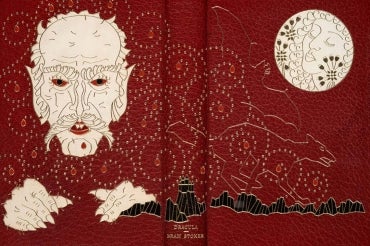 They give us goosebumps in movie theatres, make us check under the bed before we go to sleep, and provide endless material for spooky campfire stories.
But where do those creatures that go bump in the night actually come from?
University of Toronto's Thomas Fisher Rare Book Library's current exhibition looks at the origins of monsters – from biblical beasts to iconic literary creatures.
There's a universal fascination with monsters – across continents, religions and periods of time, says David Fernández, a rare book librarian at Fisher Library and the curator of De monstris: An Exhibition of Monsters and the Wonders of Human Imagination.
"We all have an interest in monsters," he says. "The more I delve into the topic the more I realize that they are an integral part of our shared cultural heritage and they 'exist' in almost every society."
The exhibition has artifacts on display dating back as far as the 12th century when creatures like the basilisk – a mythological serpent – were included in anthologies of natural history.

A basilisk is depicted in German author Eberhard Werner Happel's 17th century book Relationes Curiosiae.
To prepare for this exhibition, Fernández spent years reading books about monsters. He says he was surprised to discover authors who are so important to the literary canon had written about monsters in their influential texts.
"For example, Pliny's Natural History is the foundational text for the tradition of monsters as wonders of nature," he says. "And Aristotle influenced the tradition of looking at monstrosity from the origin of humans through reproduction."
Also included in the exhibition are some more recognizable monsters – including a first-edition of Bram Stoker's Dracula and early editions of Mary Shelley's Frankenstein.
The colour scheme on the 1897 first-edition copy of Dracula (pictured left) is meant to serve as the content warning of its day, used by publishers to alert readers that the content of this book was illicit.
Some of the most interesting texts in the exhibition, Fernández says, are those that weren't meant to have a long shelf life.
"Some of the more cheaply made items – like the broadsheets or almanacs or pamphlets – are quite striking because they're very visual and they tell you the story in a way that even today we understand as a popular language," he says. "They would be the tweets of those generations, or the Instagram stories. But they actually survive after so many years."
This includes Portuguese pamphlets published in the 18th century called literatura de cordel – or string literature. Fernández says these pamphlets were sold in book stalls, and were displayed hanging on strings.
"They all are formulaic stories that people consume," he says. "Some read them but others heard them as stories that people told and retold once they had access to the pamphlets."
Other items in the exhibition tell a darker story of human history – particularly that of colonization.
A set of engravings by Italian Giovanni Battista de'Cavalieri published in a 1585 book, for example, depict people who live in India and the continent of Africa as "monstrous," says Fernández. Stories of monstrosity were often used in the age of exploration as tools of the empire in reports written by explorers and navigators, he says.
"If you think of modern ideas of race and racism, we can trace them back to this notion of monstrous peoples from the Middle Ages and our notions or ideas of gender and sexuality are informed by the language of monstrosity of 18th and 19th century science and medicine," he says.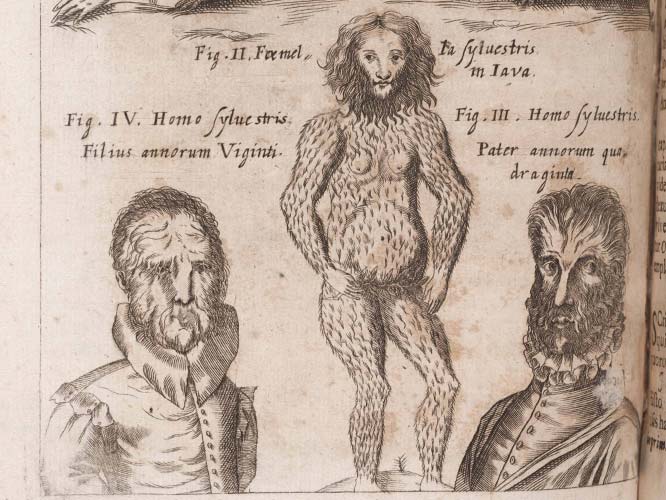 A page from Physica Cultura, a book by German scientist and Jesuit Gaspar Schott, published in 1662. In the book, he depicts mythical creatures but also humans (like those shown above) as monsters.
As Halloween approaches, we are reminded of our continued obsession with the monstrous, the grotesque and the supernatural.
"We remain fascinated by mythical creatures even until this day, and we keep producing new ones or interpreting the old ones," says Fernández.
"They make us think, they make us react and they provoke our most basic feelings – either horror or fear or just a sense of wonder. I think that's why they're still present in our culture."
You can view the exhibition at Fisher Library until Dec. 21.
UTC