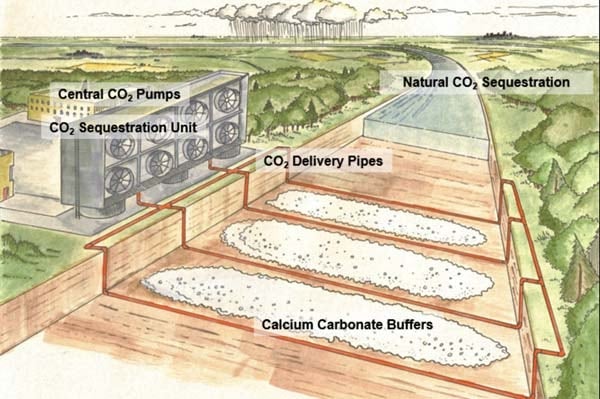 University of Toronto students win with Operation Carpageddon plan
They can jump, fly and eat a third of their body mass per day, but Asian Carp aren't superheroes – the invasive fish species pose an imminent threat to Ontario's aquatic biodiversity.
Currently, Asian Carp are in American waters, and there are channels they could use to sneak into the Great Lakes and Ontario's water system. But Operation Carpageddon, the winning U of T Scarborough student team at the recent Asian Carp Innovative Solutions Competition, has a plan.
"The idea was to have a Dragon's Den type competition to come up with innovative ideas to prevent Asian carp from coming into the Great Lakes," says U of T Scarborough Professor Nick Mandrak, an expert in aquatic ecology. Read more about the competition here.

The competition was organized by the Invasive Species Centre and advertised to various universities. When Mandrak heard about it, he created an assignment for his professional master's class to come up with solutions. Master's students Tisha Tan, Jacob Stone, Jacob D'Onofrio, Mieke Hagesteijn and Daniel De Ocampo worked together to create the winning project, Operation Carpageddon.
"Our plan was to pump in carbon dioxide along the Chicago area waterway system because they have a canal that links to the Great Lakes, where Asian Carp are located," Tan says. "Asian Carp, like any other living organism on Earth, can't live in an environment where there is a lot of carbon dioxide, because they breathe oxygen."
The plan is to carbonate a section of the canal at a high concentration to deter the fish, but also at a length that if any carp were to pass through they would lose consciousness before reaching the end of the barrier between the waterways.
The team added a buffer to control acidity that would result from carbon dioxide in water, as well as a carbon dioxide recycler. "We had a CO2 recycler that we would build in the area so that any carbon dioxide gas would be recycled and put back into our system to make it sustainable." Tan says.
"They had an excellent presentation, they had a very interesting idea with the use of carbon dioxide to prevent the carp from moving through the canal system just south of the Great Lakes and they thought it all the way through," says Mandrak.
D'Onofrio and Tan would love to continue developing the idea. "If they were to contact us and be serious about implementing it, we would be on board," says Tan.