Online platform launched by U of T researchers helps businesses, charities obtain COVID-19 protective gear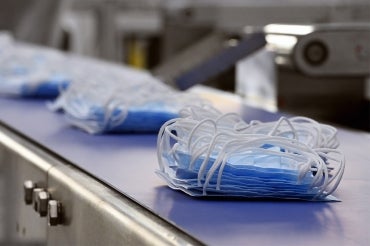 The arrival of COVID-19 presented an acute challenge for Canada's thousands of small businesses and charitable organizations: how to acquire sufficient masks, face shields, gloves and gowns amid a global explosion in demand.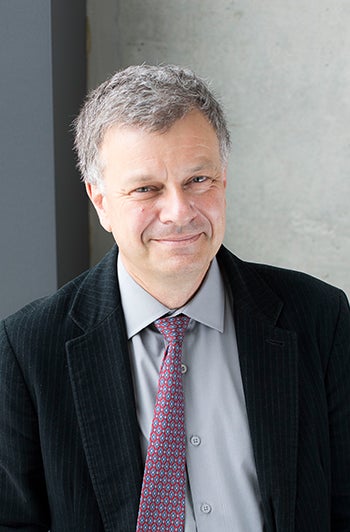 Dmitry Krass, a professor at the University of Toronto's Rotman School of Management, says the problem was rooted in a supply chain that wasn't built to withstand a heavy surge in global demand for personal protective equipment, or PPE, particularly from organizations that didn't previously have any need for protective gear.
So Krass and his colleagues at Rotman created a free online platform – CovidPPEHelp – to connect suppliers and consumers of PPE in order to better match supply with demand, remove barriers and create transparency in the supply chain. Fast-forward just over three months and CovidPPEHelp has over 1,200 users in more than 300 cities across Canada and has enabled numerous businesses and charities to access hard-to-secure PPE at low prices or, in many cases, free of charge. 
It's an easy-to-use platform that Krass says addresses serious problems in the PPE supply chain.
"When you go to a store and buy a can of soft drink, you're sending a signal to the supply chain that there's a shortage of this product on the shelf and more product is needed, and the supply chain usually responds very efficiently," says Krass, adding that consumers have come to expect that stores will always have what they want on hand.
"So how come this was not the case with PPE? People were going to drugstores and asking for face masks and gloves and none were available. Even hospitals were calling suppliers and saying 'We need facemasks, we need gloves' and the supply chain wasn't able to respond."
Upon investigating, Krass and his colleagues realized one of the main causes was "informational opaqueness" – customers who don't know who the source manufacturers are and vice-versa.
"Stores and retailers didn't have established sources of supply, so how would they connect to suppliers?" says Krass, who created the non-profit platform with fellow Rotman faculty members Philipp Afèche, Opher Baron and Ming Hu.
"At the same time, the province and the Government of Canada were trying to encourage new suppliers and lots of them jumped in. People who were producing t-shirts were willing to make face masks. Distillers who have ethanol on premises were willing to make hand sanitizer.
"But they had no way to connect to customers. They were new to this game and had no established supply chains, so you needed a mechanism where a supply chain could form on the fly, where customers could see the suppliers and vice-versa."
CovidPPEHelp fills the gap. Managed by Rotman MBA graduate Val Kobylianskii and a team of volunteers, CovidPPEHelp allows businesses and charities to register as customers and list their PPE needs, while manufacturers can register as suppliers. Individuals and companies can also donate money to subsidize or cover the cost of supplying a charity with PPE.
Krass explains that a manufacturer who's considering producing face masks – and wants to assess demand – can log on to CovidPPEHelp and view customer requests for the product.
"Similarly, if I'm a consumer – say, a dental clinic – and I need gowns, I can log on and see if anyone is offering them. If not, I can post my demand and send a signal to the market that somebody needs gowns, and hopefully suppliers will jump in to satisfy this demand," he says.
"And this is exactly what happened, so it's been very nice to see. It was a thought experiment, but it worked out very well in practice. It's been very interesting to see how quickly the market responds when given a chance."
CovidPPEHelp also invites donors to help organizations buy PPE at below-market prices.
"What we tried to do is establish a mechanism where three parties could connect – a charity that needs PPE, a supplier that's willing to supply at cost and a donor that's willing to underwrite the transaction," says Krass.
One of the many charities to receive PPE through CovidPPEHelp is Shelter Movers, an organization that provides no-cost moving and storage services to women and children fleeing domestic violence and abuse in Toronto.
"Sourcing and purchasing masks, gloves, disinfecting wipes and hand sanitizer – often at inflated prices – has been an overwhelming, time-consuming and expensive task," said Yael Schwartz, the NGO's director of operations, in a testimonial. "CovidPPEHelp.ca allowed me to easily request PPE for our organization and connected me with suppliers who were able to donate supplies and get them to us quickly and without the hassle."
Instances of gender-based violence have risen during the pandemic, so requests for Shelter Movers' assistance have also increased, Schwartz noted.
"Simplifying the process of acquiring PPE for Shelter Movers allows us to spend more time and funds focusing on helping our clients," she said.
CovidPPEHelp is also looking into ways to obtain PPE from overseas suppliers in bulk and distribute them to small companies and organizations in Canada.
"Many suppliers are located overseas and are only willing to deliver in bulk. It doesn't make sense for them to ship a hundred face masks to a dental clinic – they're only willing to send in a container with hundreds of thousands of items," says Krass.
"On the other hand, many of the customers are small organizations and they don't need a whole container. So what we're trying to do is create a virtual distributor – so get a whole bunch of small organizations together and say, if you subscribe to this bulk order, we can bring in a container of PPE from overseas and distribute it."
CovidPPEHelp is also in talks with a company that specializes in blockchain to explore ways to store information about the sources of specific PPE orders, so that any faulty equipment can be traced back to specific manufacturers and suppliers.
"The idea is to be fully transparent, remove all the middle layers and enable the classical marketplace," says Krass. "If you go to a live market, you see sellers lined up with their stalls and all the customers walking around – this is what we're trying to create for PPE."
He says feedback from the platform's users has been overwhelmingly positive.
"People have been extremely grateful for this mechanism, and a little bit disbelieving that they don't have to pay anything," says Krass.
"It's been great to see that so many different organizations, especially small ones, were able to secure PPE at a time when the supply was short. So this has been very gratifying."
UTC