Called Stories from a Distance, the virtual connection initiative invites participants to share stories, experiences, challenges, encouragement and resources with their peers at a time when U of T campuses are nearly empty (photo by Diana Tyszko)
With the COVID-19 crisis, physical distancing and the disruption of academic terms, many students have suddenly found themselves majoring in adjustment and minoring in worry.  
"But we can be more connected when we are forced to be apart," says Faculty of Arts & Science alumna Gabriele Simmons. "There's so much richness in hearing shared things because there are so many common threads."  
Simmons is part of a team that launched the virtual connection space, Stories from a Distance: Being Together While Apart, earlier this week. It was created by the Innovation Hub – a student-led initiative that works with university community partners to research and implement strategies for improving the campus experience.  
Taking place Monday to Friday from 1 to 2 pm through Zoom (a free communications app that can be downloaded on desktops, tablets or phones), Stories from a Distance is open to students of any year and faculty, as well as alumni. Participants are invited to share stories, experiences, challenges, encouragement and resources with their peers during the COVID-19 pandemic.  
There's no registration required, participants can join as many sessions as they want and the program is scheduled to be available for the duration of the physical distancing period. 
"Students are experiencing a number of challenges right now," says Julia Smeed, the Innovation Hub's manager. Being isolated, adjusting to new routines, seeking outlets to boost physical and mental wellness – everyone's facing challenges, she says.  
"Stories from a Distance is an opportunity for students to share ways that they're coping through storytelling, share how they're managing and get inspiration from other students and alumni," says Smeed. "We're hoping they find a sense of connection and feel like they're not alone."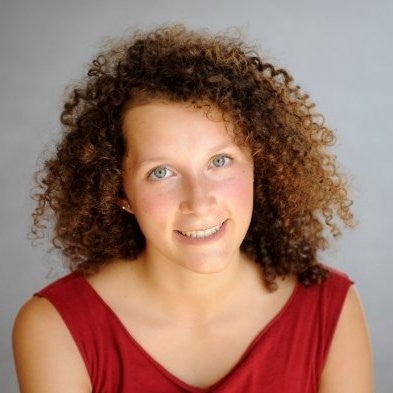 Being involved with Stories from a Distance is especially satisfying for alumni like Simmons, who, as a member of Victoria College, graduated with an honours bachelor of arts degree as a specialist in women and gender studies in 2017. 
"I have this great sense of paying it forward to students, alumni and other U of T stakeholders," she says. "The Innovation Hub magnifies that because of the work we do." 
Simmons (left), who is currently pursuing a master of arts degree at Ontario Institute for Studies in Education (OISE), knows her story is common among so many students. She had planned to visit her family in Guelph before leaving on a holiday to Europe. But because of the COVID-19 crisis, her trip was cancelled and she has yet to return to campus. She, too, is trying to make the best of a difficult situation but concedes it's a struggle sometimes.  
"My routine being unsettled has been challenging," she says. "I miss being mobile."  
But she's also trying to find ways to use this time to better herself. 
"This time has helped me to reflect on some of my less healthy habits, which come from having that sense of hustle as a recent graduate in my early career," she says, adding that she is embracing "those quieter times to regenerate and imagine where you want to go, whether that's the short-term of what your day looks like or in the future." 
She's hoping Stories from a Distance will have a similar calming effect. 
"For that hour, students can just pause and be with others in a relaxing atmosphere because we can sometimes over-program ourselves when we feel we don't have a lot of structure," says Simmons. "So I see this as being an opportunity and permission to really just be." 
The Zoom sessions will be led by a moderator who may pose an open question to generate discussion. They end each session with a good news story that's inspiring and uplifting.  
Simmons hopes Stories from a Distance will also be a launching pad for new connections and friendships. In addition to the online meetings, Stories from a Distance hosts a blog where students and alumni can share stories online. There is also a Facebook group where participants can extend their discussions beyond the daily sessions.  
Simmons sees this program as a way for upper-year students to support younger students and pass on useful insights.  
"This is an opportunity for students across disciplines and years to communicate with each other and alumni as well," she says. "What a first-year is going through can really be informed by a third-year's experiences. This could be such a rich interdisciplinary inter-year exchange."