One Spadina, once the home of Knox College and Connaught Laboratories, now houses the John H. Daniels Faculty of Architecture, Landscape, and Design (photo by John Horner)
Hidden gems are scattered across the University of Toronto campuses – not just in quiet corners of the university but under the drywall.
When heritage architects from ERA Architects were exploring One Spadina ahead of its large-scale renovation, they noticed big circular cut-outs in the walls of one of the rooms. They soon realized that hidden within those walls were large hammer beam trusses – a remnant of the building's first use as the site of Knox College.
"It was called convocation hall, and it was their big assembly hall – a three-storey space that had an overlooking balcony," says Andrew Pruss, a principal at ERA.
During the 1940s, the hall was converted into three separate storeys when the space was used by Connaught Laboratories where, following the discovery of insulin, research and manufacturing of insulin took place.  
"The room was a process of stripping back and revealing, and that was certainly a very exciting aspect of the renovation," says Pruss.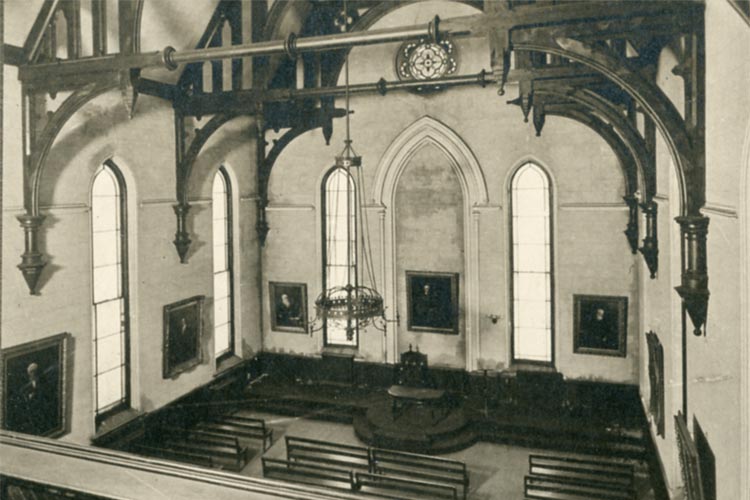 The original site of Knox College's convocation hall in One Spadina (photo courtesy of The Presbyterian Church in Canada Archives)
U of T has 56 heritage buildings located on all three campuses, with all but six of these located on the downtown Toronto campus. An additional 30 heritage buildings on the downtown campus are owned by the federated colleges. Maintaining, conserving and updating these buildings is no easy task – but it's one the university takes very seriously.
"U of T has a responsibility to preserve its heritage as Canada's premier institution and one of the oldest institutions in Ontario," says Scott Mabury, U of T's vice-president of university operations.
"We are responsible for ensuring that they remain an asset for the mission of the University of Toronto – of teaching and learning, research and discovery," he says. "It's a connection to our past, and our past is very much influencing where we are today as such a globally-recognized university."
U of T works closely with the City of Toronto in the conservation of its historic buildings, in accordance with the city's official plan and with the federal Standards & Guidelines for the Conservation of Historic Places in Canada.
"The heritage consultants we bring on board for projects look to these standards and guidelines when they are making heritage recommendations," says Christine Burke, director of campus and facilities planning.
When a building is listed as heritage, its attributes are identified and any building alteration needs to consider these appropriately and with sensitivity, says Burke. But within the parameters of these guidelines, there is no one-size-fits-all solution for how a heritage building is conserved or updated, she says.
"Many of our projects require that combination of conservation and adaptive reuse, but really each project is unique and each has a different context," says Burke. "The St. George campus has been built over time, in layers, and our heritage buildings are located in a variety of contexts that are considered as part the process."
University College, U of T's oldest and arguably most iconic building that opened in 1859, is undergoing renovations this year. The revitalization project is focused on transforming interior spaces, making them more accessible and student-friendly.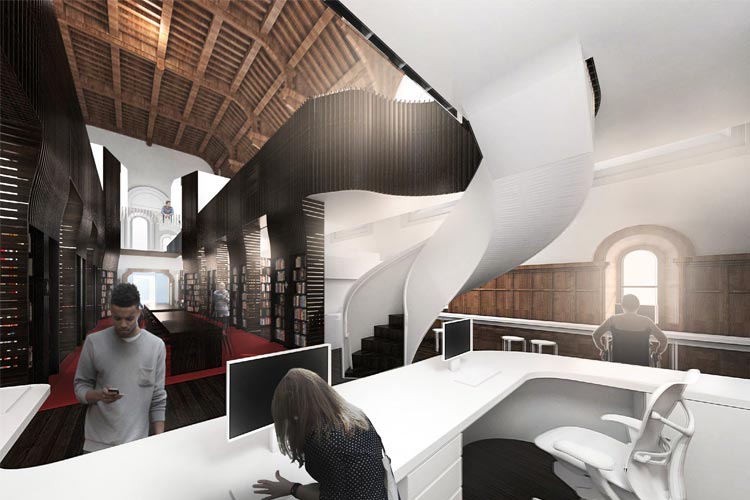 The University College library is part of the large-scale reviltalizaiton project (rendering by Kohn Shnier Architects and ERA Architects)
Accessibility is a big challenge for some of U of T's oldest buildings, says Burke.
"In so many of these buildings, the ground floor is raised, sometimes by half a floor. Internally, there's narrow stairs, different levels and no elevators," she says.
Part of the UC revitalization includes installing ramps inside the building and an elevator that will be visible from the courtyard.
"If you were to add the elevator inside the building, you would essentially damage the fabric of the interior, but bringing it outside is a creative solution – that's opened up an amazing opportunity for UC to become accessible. It was also important that the view of UC as photographed from King's College Circle wasn't altered, so the addition of the elevator was tested to make sure it wasn't visible from that vantage point," says Burke.
Preserving the historic core of U of T's downtown Toronto campus also means making sure the area around the buildings appears welcoming to faculty, staff, students and visitors. The Landmark Project aims to do this by making a portion of the campus pedestrian-only and adding more green space.
"It envisions removing the ring of surface parking in this historic area to bring about a much more pedestrian-oriented, accessible space, and dramatically improve the landscape setting of this collection of our oldest buildings," says Burke.
It's not just U of T's older buildings that require TLC. Last year, the exterior of the Thomas Fisher Rare Book Library, also a heritage building, underwent serious renovations to protect its invaluable collection of books from humidity damage.
When the library was built in 1973, "the building science around high humidity in environments in Canada wasn't fully understood," says Christopher Borgal, principal at Goldsmith Borgal & Company Ltd. Architects, which led the renovation project alongside structural engineering firm RJC.
"The problem is that to keep these very important books intact, they had to keep the temperature and humidity at a very stable rate all year round. Unfortunately in winter, when we have a fairly high humidity level inside a building, if the exterior envelope of the building isn't working properly, then you start having significant issues with condensation and water flow inside the building," he says.
The solution? The exterior was encased in a special kind of foam and new concrete cladding was installed – matching the original architectural aesthetic while avoiding having to relocate the books.
"Modernist architecture has its own problems," says Borgal. "One wants to keep the best of the past as well as the best of the recent past so this library has been an interesting project for us."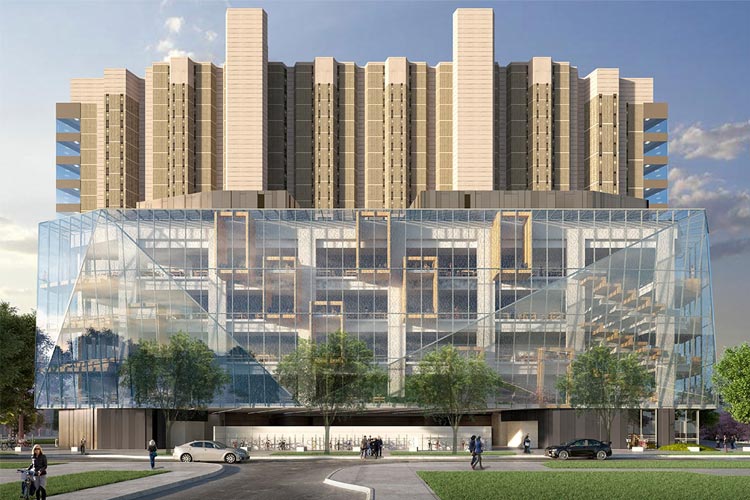 The Robarts Common expansion is set to open in 2019 (renderings by Diamond Schmitt Architects)
Construction is also underway to build an addition to Robarts Library that will add 1,200 new study spaces.
As new buildings are built on campus with sustainability in mind, U of T is also looking at how to make its older buildings more energy efficient, says Burke.
"Our standards are rising as sustainability and greenhouse gas emissions become a bigger challenge that we're all trying to grapple with," she says. "When we do retrofits, we're looking to increase building energy efficiency but there are challenges to doing that when working with heritage buildings."
Burke says the university has selected the physical geography building on St. George Street as a test case.
"We are looking to see if there's a way to restore this building and attain a first as a net-zero heritage building in Ontario."
Back at One Spadina, which re-opened its doors in 2017 as the home of the John H. Daniels Faculty of Architecture, Landscape, and Design, architects including Pruss have found a way to create a space in the location of the convocation hall that pays homage to its former glory.

One Spadina's Mediatheque (photo by John Horner)
The room, now called the Mediatheque, features high ceilings, exposing the original beams, and a viewing platform, similar to the original balcony, on the third floor.
The building has been praised by architects and critics alike – with good reason, says Burke.
"It responds so sensitively to its context and in conserving the former Knox College building, which is a landmark in the city and a gateway to the university," she says. "The two buildings – the old and the new – complement each other so well without competing. It seems like a perfect resolution for that project."
Buildings like One Spadina have a lot to offer in the way they inform and inspire new uses, says Pruss, who was reminded of a quote by the late, prominent urban thinker Jane Jacobs:
"Old ideas can sometimes use new buildings. New ideas must use old buildings."