'One of our most successful deans ever': U of T celebrates Faculty of Applied Science & Engineering's Cristina Amon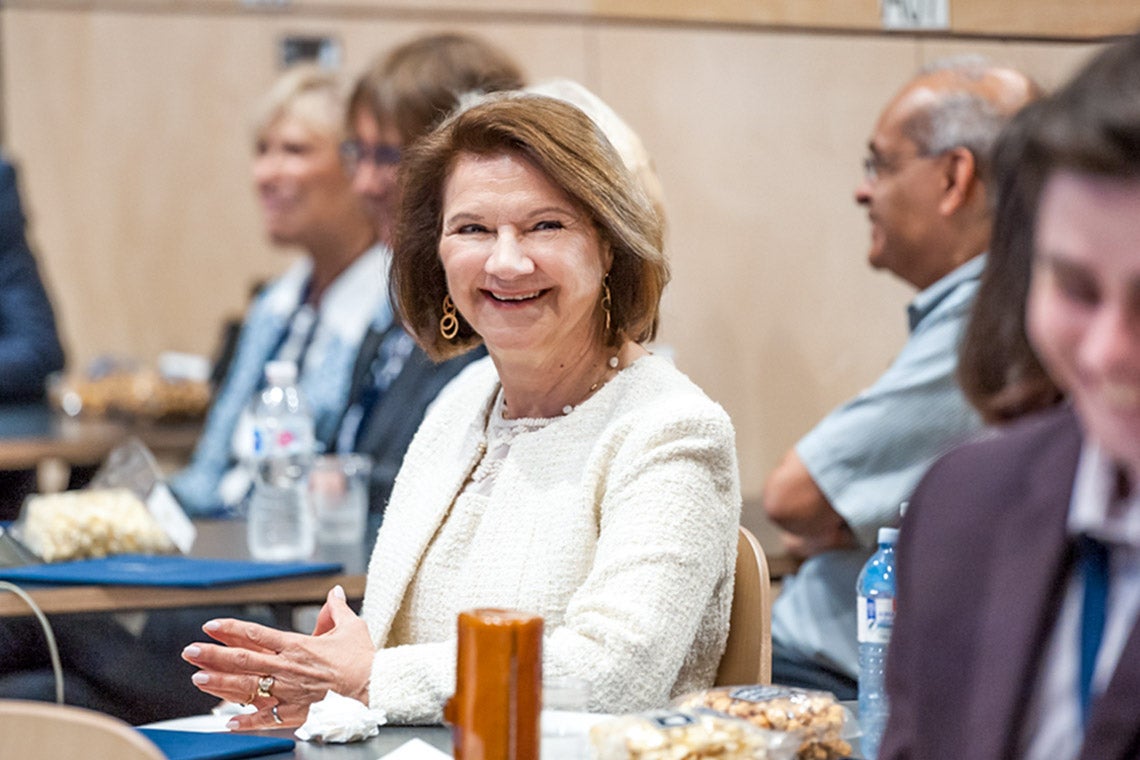 More than 400 professors, staff, students and alumni recently gathered at the University of Toronto to reflect on the lasting impact of Cristina Amon, who was the longest-serving dean of the university's Faculty of Applied Science & Engineering in the last half-century.
Under Amon's leadership, the faculty became a global leader in multidisciplinary research, education and innovation.
It also nearly tripled the number of women faculty members (from 20 to 57) and was successful at recruiting outstanding undergraduate women, with incoming classes over the past three years consisting of more than 40 per cent women.
"The past 13 years have been a remarkable journey – one we have taken together," said Amon at the event held at the Myhal Centre for Engineering Innovation & Entrepreneurship.
"I find myself moved to have arrived at this momentous occasion in our faculty's history. Through our collective will, we have built a strong and vibrant community and elevated our standing as Canada's top engineering school, and truly one of the very best in the world.
"I am tremendously proud of all we have accomplished."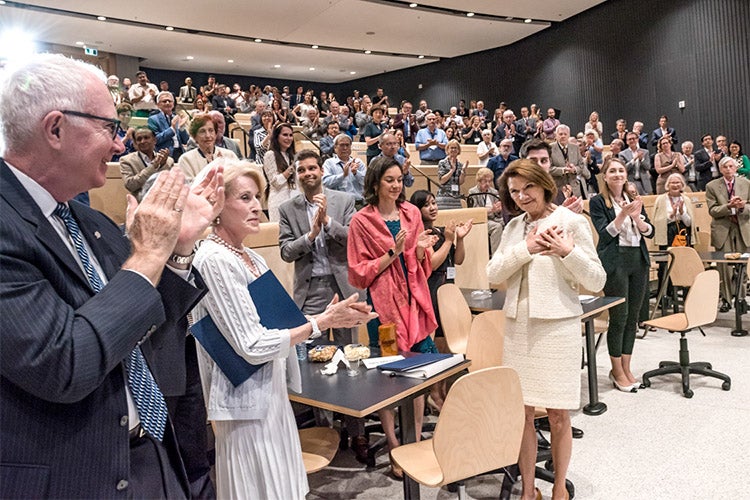 More than 400 professors, staff, students and alumni recently gathered at the Myhal Centre for Engineering Innovation & Entrepreneurship to celebrate Cristina Amon's leadership and legacy (photo by Lisa Sakulensky)
In recognition of Amon's impact, Paul Cadario, a distinguished fellow in global Innovation at the Faculty of Applied Science & Engineering and the Munk School of Global Affairs & Public Policy, announced the creation of the Cristina Amon Decanal Chair in Innovation, an endowed chair to be held by all future deans of the faculty that will seed innovative projects in perpetuity. That includes Christopher Yip, who assumed the role of the faculty's dean on July 1.
"What a brilliant run for Cristina – not only the longest serving dean in the last half-century of the University of Toronto's stellar Faculty of Applied Science & Engineering, but one of our most successful deans ever," said University Professor of philosophy Cheryl Misak, who is a former vice-president and provost.
During Amon's tenure, the engineering faculty strengthened international and industrial partnerships and established two startup accelerators – The Entrepreneurship Hatchery and Start@UTIAS – which provide a comprehensive suite of programs to both undergraduate and graduate students.
Amon also enriched experiential, collaborative and active learning opportunities, and evolved the faculty's undergraduate and graduate programming to cultivate new generations of makers, innovators and leaders.
Under Amon's direction, the faculty created opportunities for students to build on their technical foundations by developing professional competencies such as leadership, entrepreneurship and global fluency. It also created 19 undergraduate minors and certificates on topics ranging from engineering business and advanced manufacturing to global engineering, music performance, robotics and artificial intelligence. And the faculty introduced five new majors in engineering science, including the latest in machine intelligence – the first undergraduate engineering program of its kind in Canada. 
U of T's engineering faculty more than doubled graduate enrolment during the same period, launching new graduate programming from the PhD in clinical engineering and the master's degree in city engineering and management, to the 12 professional master's degree emphases, from the ELITE (Entrepreneurship, Leadership, Innovation in Technology and Engineering) to the most recent in analytics.
One of the many hallmarks of Amon's deanship has been her unwavering commitment to increasing diversity and creating an inclusive environment.
"Dean Amon has had a lasting impact on me, both as a U of T student and as a young woman in engineering," said Shivani Nathoo, president of the Engineering Society, 2018-2019.
"Through her amazing leadership, she has shown what it means to stand up for your beliefs and make a difference. U of T Engineering today looks very different from when she started, and it's credit to her hard work and dedication towards students and the student experience."
At the event, Professor Emeritus Ron Venter unveiled a portrait of Amon that will hang in the foyer of the Myhal Centre. The centre was envisioned and spearheaded by Amon as a world-class facility for the 21st century engineer. The building elevates engineering experiential education and research through technology-enhanced active learning spaces, prototyping facilities and design studios where students, faculty and external partners can exchange ideas and launch new ventures.
The Myhal Centre is also home to leading multidisciplinary research centres and institutes created in recent years, including the Centre for Global Engineering, the Institute for Water Innovation, the recently relaunched Robotics Institute and the newly established Centre for Analytics & Artificial Intelligence Engineering. 
"Dean Amon has led extraordinary growth and change at U of T Engineering," said Yip, who was previously U of T's associate vice-president of international partnerships.
"Through her inspired efforts and engagement, we now have the unparalleled talent – from students to staff and faculty – innovative educational programming, as well as the facilities and partnerships in place to drive the innovations, technologies and industries that will come to define our future."
Engineering