Once a teenage refugee, new graduate Omer Malikyar is now a powerful voice for the world's displaced
After escaping Afghanistan, Malikyar set his sights on a post-secondary education at U of T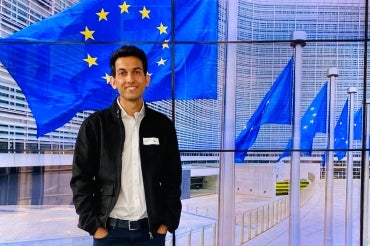 University of Toronto student Omer Malikyar will never take education for granted.
On the road to his graduation with a degree in political science and Canadian studies from the Faculty of Arts & Science, Malikyar has had to summon courage and perseverance that is almost difficult to imagine.
He was born and raised in Ghazni, a trading and transit hub in southeastern Afghanistan. His father, a school principal, has spent the past 25 years operating a school for girls. Under the country's extremist regime, the students are forbidden from pursuing formal learning past the Grade 6 level.
"Education has always been really important to my family," Malikyar says. "Back home, we children spent most of our time studying and I did really well. So when I came to Canada, it was always a dream to attend a good school."
Escaping to the West, while difficult, was an absolute necessity for Malikyar. During his high school years, he was involved in activities that unfortunately caught the eye of Islamic extremists.
"My friends and I created a summer camp where we taught girls and guys about their rights – how women can contribute to society, about gender equality and that sort of thing. It was [considered] scandalous, and we received threats. It became really scary for me after that. We were told that we were promoting Western values in an Islamic country."
So in 2018, Malikyar made his way to New York state, enrolling in a summer camp for international students. But summer ended quickly.
"By that time, Ghazni had been taken over by the extremists, and all I was hearing was bad news," he says.
As the Trump administration began enacting stricter policies toward undocumented immigrants, the teenager knew that neither his new home nor his old one would be open to him. He managed to cross into Canada at Roxham Road, a well-known entry point on the Quebec border that was used by many refugees until its closing in March of this year.
Finally, after an arduous and solitary journey to Toronto, Malikyar set his sights on post-secondary study.
"I found out about U of T and really wanted to study here. I went to UTSC and took a campus tour – I wished I could enroll, but it wasn't that easy because I didn't have the requirements."
Malikyar was frustrated – he had been an excellent student at home, and had already completed a year at Kabul University, one of the most prestigious in the country. But he did what he had to, returning to high school and completing his Grade 12 year. After entering Woodsworth College through the Diploma to Degree program, he was finally able to realize his dream: enrolling at U of T.
With his educational path set, he next turned his energies toward helping others.
As a volunteer with Children Without Borders, he has helped children in Afghanistan receive educational opportunities. With the Afghan Youth Development and Engagement Initiative, he currently mentors young refugees as they navigate new lives in Canada.
And while at U of T, Malikyar managed to realize yet another ambition.
"I wanted to re-establish the Afghan Students Association at the University of Toronto, and I was so happy that we were able to create it as a charter student club this year," he says with pride.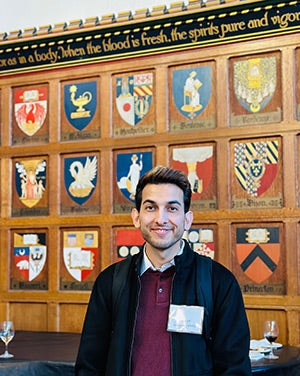 This spring, the club convened students from a variety of different cultures to celebrate Eid al-Fitr, the holiday marking the end of Ramadan.
"Most of the students in our club were born and raised in Toronto," Malikyar says. "It's been really great to share my experience with them, and to learn from them as well."
In addition to his activities at U of T, Malikyar has taken advantage of travel opportunities to further his interests in refugee issues and the politics of forced migration. He took part in the U of T Summer Abroad program in Germany, taking extra time to meet and speak with Afghan refugees in Europe; he also attended talks at the European Union commission in Brussels to learn about that organization's approach to migration and refugee accommodation.
For his academic and extracurricular efforts, Malikyar was recently selected as a McCall MacBain Regional Award recipient. He also received the Master of Global Affairs Fellowship Award from the Munk School of Global Affairs & Public Policy, where he will be pursuing graduate studies in the fall.
"My goal is to work with an organization such as the United Nations, or with the government of Canada," he says.
His internship last year with the United Nations High Commissioner for Refugees, where he raised funds for refugees from Ukraine and Afghanistan, was a stepping stone to building such a career.
But although Malikyar's future in Canada is secure, he will always have an eye on those seeking escape from his home country, as well as those languishing in refugee camps in Iran or Pakistan. He notes that even before the extremists' return to power in 2021, they retained a stranglehold on activities in the cities and towns outside Kabul.
Right now, there is no end in sight – in particular, Malikyar underscores the plight of women and girls in Afghanistan today.
"Girls cannot go to secondary school. They don't have any rights," he says. "They cannot walk outside without male company."
Prior to the regime's ban on higher education for girls, his sister studied math at university in Ghazni.
"She is still teaching," he says. "But I'm really concerned about what would happen to her if they banned all school for women and girls."
Education is a basic human right, but in many places it is one that is far from guaranteed. Omer Malikyar's long and difficult journey to convocation is a powerful reminder that learning is a precious resource – and one well worth fighting for.
Arts & Science