Olympic athletes disproportionately white and privately educated, U of T researcher finds
"A major barrier to participation in many sports is access to wealth"
White and privately educated Olympic athletes – particularly Winter Olympic Games athletes – are over-represented on Olympic teams from Canada, the United States, Great Britain and Australia, a University of Toronto researcher has found.
It's the first international study to examine sociodemographic profiles of individual athletes.
"Public funds are heavily subsidizing Olympic teams that are composed primarily of white and privately educated elite athletes in Canada and in high income countries globally," said Dr. David Lawrence.
The study's lead author, Lawrence, is a master's student in epidemiology at U of T's Dalla Lana School of Public Health and a staff physician at the David L. MacIntosh Sport Medicine Clinic.
Olympic sports and athletes receive significant financial support from the publicly funded federal budget, an investment that is intended to promote health and physical activity, Lawrence said. The Canadian federal government provides approximately $197 million annually to Sport Canada, most of which is directed towards elite and Olympic athletes.
A former university rugby player and member of the Canadian Health Services Team last summer in the Rio de Janeiro Olympic Games, Lawrence decided to pursue a public health degree after practicing for two years as a sports medicine physician so he could critically evaluate this so-called "trickle-down effect" of elite sport to increase physical activity at a population level.
"Not only is the evidence linking elite sports and population health weak, our study found significant access and equity issues that restrict individuals from a lower socioeconomic status, creating a participation parity barrier," said Lawrence, who received his medical degree from U of T Medicine in 2013 and trained in sports medicine at St. Michael's Hospital.
In the study, 'Sociodemographic Profile of an Olympic Team,' published this week in Public Health, Lawrence and his team collected sociodemographic data from publicly available resources for all athletes representing Canada, the United States, Great Britain, and Australia at the 2014 Sochi Winter Olympic Games and the 2016 Rio Summer Olympic Games. 
The research team studied information on 568 winter and 1,643 summer athletes, using the Olympic committee database, sport organizations' database, school-specific (University, College, or secondary school) databases, personal biographies, media reports and social media profiles. Researchers subjectively classified each athlete as white or non-white based on their photo, determined their secondary school (private, public, or home schooled), and compared the prevalence of white, privately educated athletes with the prevalence in the general population.
They found that the percentage of the elite athlete population that is white was much larger than that of the general population. Privately educated athletes constituted 30.3 per cent, and 32.7 per cent of winter and summer athletes, respectively. They found 94.9 per cent of winter, and 81.7 per cent of summer athletes were white.
From a Canadian perspective, the prevalence of privately educated Canadian athletes was significantly higher than in the general population for both the Canadian Winter and Summer Olympic teams. The prevalence of white Canadian athletes was significantly higher on the winter team, but not for the summer team.
While Summer Olympic athletes demonstrated greater diversity in ethnicity and affluence, athletics (track and field), basketball, gymnastics, taekwondo, table tennis and judo were sports found to exhibit the most ethnic and wealth diversity. However, certain sports – such as equestrian, sailing, cycling, and rowing – consistently favoured white and privately educated athletes.
"I think that Canada and other countries that emphasize elite sport through the diversion of public resources should re-evaluate this practice," said Lawrence. "We know funding elite sport does not provide societal benefit, so governments must invest in strategies to promote health in the general population, such as community runs, access to green space and community centres.
"There have been many anecdotal reports highlighting the potential disparity in participation, but no one has formally studied it. I think the degree to which race and wealth play a role in elite sport might be surprising."
Lawrence said he hopes the study will shed light on how to reduce barriers to participation and advancement within sport.
"A major barrier to participation in many sports is access to wealth. Participating in many sports is costly and the financial burden only increases with advancement – whether it's equipment, access to facilities or time requirements for both parents and the children."
"Initiatives aimed at increasing physical activity in the general population should target the general population, including increasing access to green space, recreational facilities and public programming," Lawrence said. "I want to start an honest discussion about the value we place on Olympic sports and explore more effective ways to get people moving."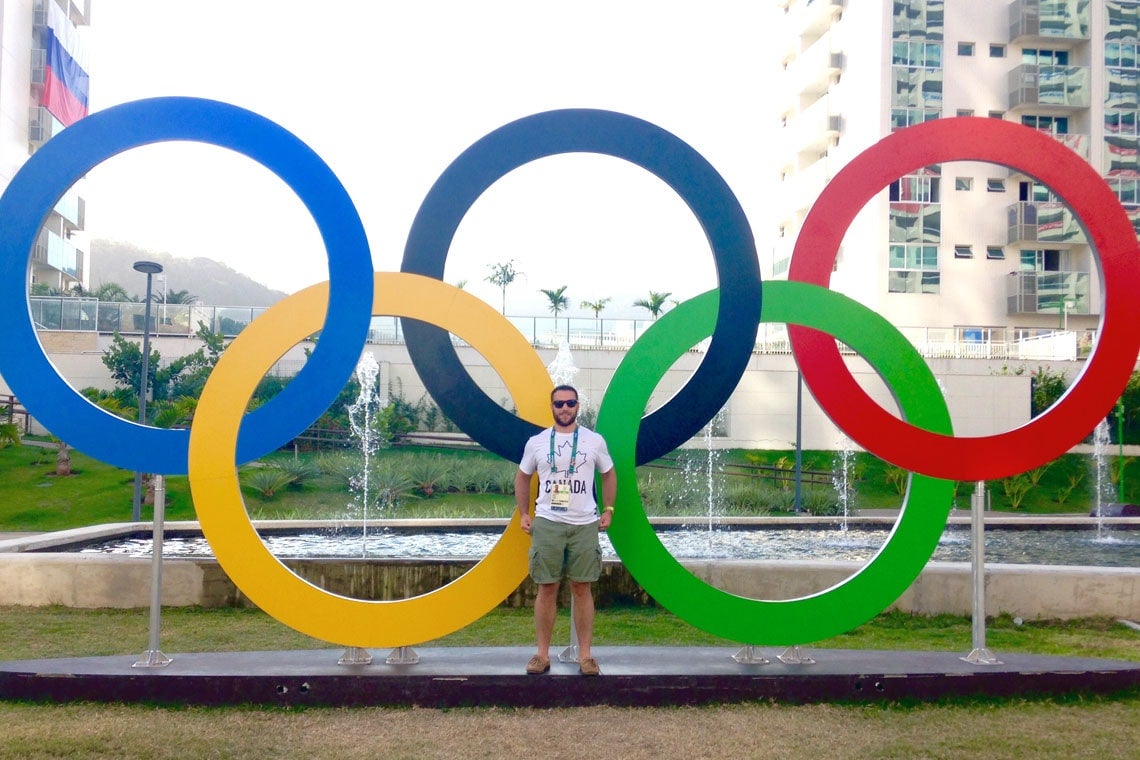 (photo of Dr. David Lawrence at Rio Games courtesy Dr. Lawrence)
Dalla Lana School of Public Health