OISE librarians Nailisa Tanner and Jenna Mlynaryk digitized and published recordings of interviews between famous Canadian politicians and Richard Alway, then a graduate student in history at U of T (photo by Johnny Guatto)
For decades, reel-to-reel tapes of conversations with some of the leading Canadian politicians of a generation sat in a corner of the Ontario Institute for Studies in Education, all but forgotten. 
But this summer, librarians at OISE have digitized and published the recordings to give the public easy access to wide-ranging interviews with leaders including former prime ministers John Diefenbaker and Lester B. Pearson; Tommy Douglas, the Saskatchewan premier and former NDP leader who's recognized as the father of universal health care; and Judy LaMarsh, a former secretary of state and the second woman to serve in federal cabinet.
The tapes were made in the early 1970s, shortly after the centennial of Confederation, to enliven Canadian history and civics classes in response to a blistering report on the state of education in these subjects. Edited versions of the tapes were sold through OISE until the early '80s for classroom use. The full recordings have never been available in their entirety, until now.
Nailisa Tanner, the collections and outreach librarian at OISE, and Jenna Mlynaryk, a master's student in library and information sciences, put the unedited tapes online, along with transcripts and links to further reading. The originals will go to the University of Toronto Archives at the Thomas Fisher Rare Book Library for safekeeping.
The recordings – which range in length from 45 minutes to three hours – offer insights into these historical figures' personalities that can't be gleaned from a textbook, including the sound of their voice and manner of speaking. 
"There's a lot of information that's difficult to convey in writing," Tanner says. Through the OISE tapes, "we get more of a candid sense of who these politicians were. For example, we get a sense of the way John Diefenbaker was a really great storyteller, very animated and charismatic."
The interviews were recorded in reaction to an indictment of Canadian history and civics education in the mid-to-late 1960s by A.B. Hodgetts, a teacher at Trinity College School in Port Hope, Ont. He and his staff carried out extensive research involving questionnaires, interviews with students and teachers, and direct observation of classes in 247 schools in cities across the country. They found the courses to be almost universally "antiquated" and "dry-as-dust," emphasizing rote memorization over actual learning.
OISE, then in its infancy, published the Hodgetts report under the name What Culture? What Heritage? and it became an unlikely bestseller. 
Richard Alway, then a graduate student in history at U of T and an assistant at OISE, undertook an ambitious project: to record interviews with some of the top history-makers of his day to enrich Canadian studies classes.
"Here we are basically five decades, half a century, later," says Alway, now 79 years old, in a video interview. "Therefore now they [the tapes] have another role. Indeed they are history themselves, they are part of the record." 
Alway later became the first lay president and vice-chancellor of St. Michael's College at U of T. 
Listeners should think critically about the interviews, he says, as they would other historical documents.
Take the interview with Diefenbaker, for example. "One of his great attributes and, I think, attractions for people was that he was such a terrific storyteller," Alway says.  
"All storytellers tend to embroider, at least around the edges if not even more centrally, on the theme that they're portraying," he adds.
Many of the conversations are significant today for different reasons than they were decades ago when they were recorded, Alway says. 
In 1973, when he interviewed LaMarsh, one topic of conversation was a health plan by the Pearson government. But contemporary listeners may be more interested to hear her views on being a woman in politics and the law, which still resonate. 
LaMarsh tells Alway that the media treated her as "a kind of a freak." 
"Things that a man could say, out of my mouth sounded unladylike and sort of un-soft and un-gentle, and it startled people and accordingly I was considered to be a hybrid." 
LaMarsh tells Alway that Pearson was less than enthusiastic about a proposal to hold a Royal Commission on the Status of Women. "He was not in favour of it – he was very irritated at me by my constant references to it and constant agitation for it," she says. 
The commission was nevertheless established in 1967. Three years later, it produced a report with 167 recommendations to reduce gender inequality.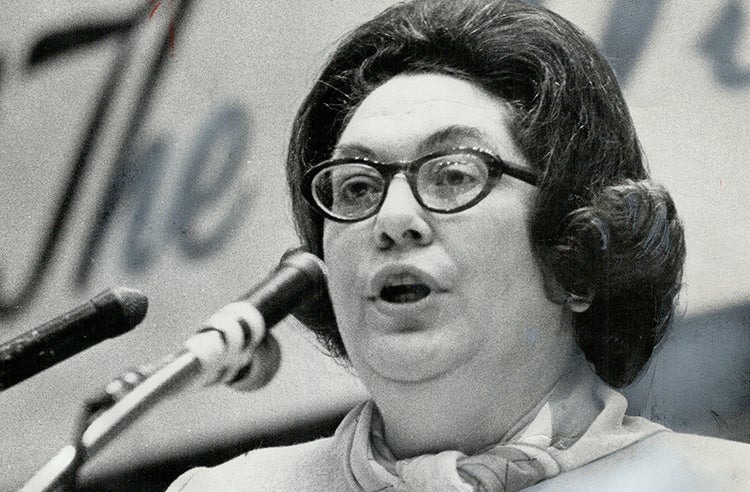 Judy LaMarsh, one of Alway's interview subjects, in 1969 (photo by Reg Innell/Toronto Star via Getty Images)
Tanner says the LaMarsh interview stood out to her. "She talks about being perceived by the media as too loud, too shrill, not feminine enough – these are all things women in public still hear today."
Robert Bothwell, the May Gluskin chair in Canadian history at U of T and author of The Penguin History of Canada, says the interviews may be useful to historians. "What you've got here is effectively eyewitness testimony," he says. 
The recordings can be helpful resources for teachers who want to bring the past to life. Bothwell has consulted videos of former prime minister Mackenzie King on YouTube, he says, just "to hear how the old boy sounded" so he could imitate him in lecture and get a chuckle out of his students.
Rose Fine-Meyer, in OISE's department of curriculum, teaching and learning, says the criticism of history teachers in the 1960s wasn't entirely fair. At the time, few teachers had access to resources beyond textbooks and encyclopedias, she says. But times have changed. 
"If someone today is using a textbook and following it chapter by chapter, that is shocking," she says.
History teachers have a wealth of resources at their disposal, including trips to museums or archives and sites with lessons plans. She adds that modern textbooks represent a wider array of voices and perspectives, some of which have been previously overlooked, such as those of Indigenous Peoples, Black Canadians and women. 
The OISE tapes are one more arrow in teachers' quiver, she says – including her own. She plans to use the interviews in classes meant for aspiring high school history teachers. 
"I'm going to see what they craft out of [them] as lessons that they could use themselves and then I'm hoping they can put those into practice," she says.