"I can change the world": OISE grads on life inside and outside the classroom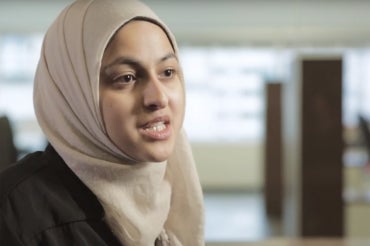 Aisha Khaja is host of the talk show, Let the Quran Speak and a senior policy analyst with the Ontario government. 
Shaun Chen is the Member of Parliament (MP) for Scarborough North. 
Tamara Mitchell is an elementary school teacher.
What do they have in common? All three graduated from the University of Toronto's Ontario Institute for Studies in Education.
"OISE is extremely well-known for its teaching programs, and we're extremely proud of our work in those areas," says OISE Dean Glen Jones. "But our grads have long had a broader impact than some may realize. 
"It's fantastic to see the impact OISE has not only in teaching, but in many other professions and around the world." 
Students see OISE as a powerhouse for education but also a stepping stone for a career that extends far beyond the classroom, Jones says, adding the Institute has just released a series of videos that celebrate its alumni's diverse range of careers.
Khaja, whose parents moved to Canada to give her a better education, pursued a master's degree from OISE in leadership, higher and adult education.
"I knew that social justice and public speaking was something that I wanted to meld together. OISE gave me that chance," she says.
"OISE really laid a foundation for me, it gave a platform to experience and explore areas that I may not have considered," she says. "If it wasn't for those professors at OISE, I don't think I would be where I am today."
Chen, a Scarborough native, graduated from OISE's social justice education program.
The Member of Parliament says OISE gave him the opportunity to make a difference in his community and in the world.
"Being at the federal level now…I'm able to draw on the things I learned at OISE. I'm constantly thinking about the ways that we as policy makers and decision makers can create a more just society."
Far-reaching impact
Jones says it's been interesting to follow the paths of graduates over the years and see many of them popping up in settings outside of education.
"It's fascinating to see the many ways our graduates are applying the knowledge and experience they gained here at OISE." 
OISE will continue focusing on teacher education programs as a core commitment to "being the best at producing outstanding educational leaders," Jones says, adding one such example is Mitchell, who graduated from OISE with a master's of education.
"Because of my background in music, one thing I do differently than most teachers is bring a lot of that to the classroom," Mitchell says. The Toronto District School Board teacher says OISE professors fostered her desire to think outside the box.
"That was really important to me."
OISE will also continue to foster and develop pathways into other sectors, Jones says, including policy, private-sector training, organizational development, international development, law and more. 
"This broad understanding of education and human development makes OISE unique. As you can see from the three grads in these videos, OISE is a place that gives students the chance to achieve their dreams, no matter how varied they may be."