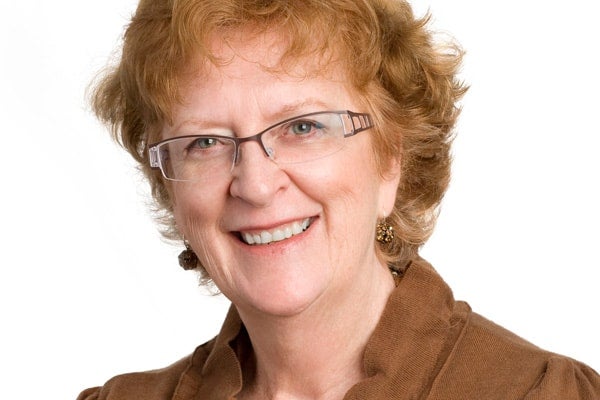 Nursing researcher talks about her work, childbirth and labour
Hodnett served as Heather M. Reisman Chair in Perinatal Nursing Research
Professor Ellen Hodnett has just completed her third and final term as the Heather M. Reisman Chair in Perinatal Nursing Research. For almost 20 years, Hodnett served as an editor of the Pregnancy and Childbirth Group of the Cochrane Collaboration. Susan Pedwell caught up with her recently to ask some questions about her career and about childbirth and labour.
Q: What sparked your interest in childbirth?
Hodnett: I've always loved labour and delivery. One of my first jobs was as a labour and delivery nurse, and then I was the unit manager for five years.
As a novice, I had a wonderful mentor on the unit. We observed that on admission, a lot of women would tell us, "My contractions were strong and every three minutes at home, but they seem to have gone away." My mentor would say, "Don't worry about it. After we finish our admission routine and you settle in, your contractions will come back." And in those days, the admission routine included a perineal shave and an enema; it was quite unpleasant.
For most women, the contractions did come back. For some women, though, the contractions didn't return. They were the ones who developed complications and ended up needing a caesarean or other intervention. I began to wonder why. In retrospect, my entire career has been guided by these initial observations on how women are affected by the environment in which they labour.
Q.: How do you feel the birth experience is for women now?
Hodnett: It is an unnecessarily high-tech experience. In North America, the caesarean section rate continues to rise with no demonstrable benefit for the babies and added risk to the mothers.
Continuous labour support is the only known intervention to reduce the chance of a caesarean in normal, healthy women. But our large international trial of almost 7,000 women showed that the benefits of labour support are overpowered by the effects of routine medical interventions, such as continuous IV oxytocin and epidural alternative birth settings to typical hospital labour wards have shown that calming, home-like settings increase the rate of a spontaneous birth. The birth environment has a powerful effect; and for most North American women, the birth environment is far from optimum.
Q: How important is the father's presence during birth?
Hodnett: If the father wants to be present and his partner wants him there, of course he should attend. It's his partner giving birth and their baby being born. But fathers are not a substitute for labour support by a professional. What training have most fathers had? A few prenatal classes? And fathers need support as well.
What did the Heather M. Reisman Chair in Perinatal Nursing Research enable you to do?
Hodnett: Holding the chair meant I had time to lead and be involved in many studies simultaneously. I set up a randomized controlled trials (RCT) unit, which I think was the first one for nurses in North America. On the RCT unit, experienced trials staff, senior and junior investigators, and students could work together.
Q.: How have you made a difference?
Hodnett: My Cochrane Review of Continuous Labour Support led to national practice guidelines in North America and the U.K. It also led to two federal laws, in Brazil and Uruguay, which give women the right to support during labour. The fact that any country needed a law to allow women to have somebody with them during labour says a lot about the status of women in some societies.
I've been fortunate to have had a number of firsts in my career. For example, I  was the first nurse to chair the randomized controlled trials peer review committee of the Canadian Institutes of Health Research. At the time, efforts were being made to broaden the research mandate to include all of health care research, not just medical research.
I was also the first nurse to be appointed to the scientific and technical advisory group of WHO's reproductive health research program. The majority of the group's members are from low  income  countries, where nurses have little status and power. And our RCT unit has been the training ground for the best nurse trialists in North America. I like to think I've helped pave the way for many nurse investigators to achieve great things in the future. It has been hugely satisfying to mentor the best PhD students, several of whom have launched important research programs in Canadian universities, including here at U of T.
Q.: What will it take for more of your research knowledge to translate into practice?
Hodnett: Trying to persuade people through practice guidelines and educational workshops is a waste of time and energy. Practice guidelines are a necessary but insufficient condition for change. To change behaviour, you have to pay attention to
everything that influences it. When you change the environment to make it easy to provide evidence-based care, it's much more likely to happen.
Q.: How would labour and delivery be different if men gave birth?
Hodnett: That's a trial I'm not willing to do! As a species, I think we'd pretty quickly become extinct.
This interview first appeared in Pulse, the magazine of the Lawrence S. Bloomberg Faculty of Nursing.