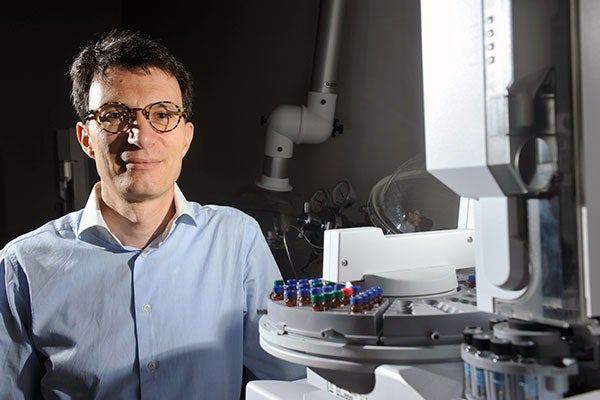 NSERC invests $5.3 million in U of T research
Better, cheaper mercury detection among 12 funded projects
The Natural Sciences and Engineering Research Council of Canada (NSERC) has awarded more than $5.3 million to 12 University of Toronto research projects. 
The objective of NSERC's strategic project grants program is to increase research and training in targeted areas that could strongly enhance Canada's economy, society and/or environment within the next ten years. The program is aimed particularly at funding early-stage, high-risk projects that might otherwise have trouble attracting the funds needed to carry out their research.
One of the winning projects is helmed by Professors Frank Wania and Carl Mitchell of the department of physical and environmental sciences at U of T Scarborough. The pair has developed a simple, inexpensive technique for sampling mercury in the atmosphere.
A neurotoxin that accumulates in the food chain, mercury finds its way into fish and sea creatures and ultimately threatening human health. Measuring mercury's prevalence in the air helps us understand where it's coming from.
"Right now we have very good machines to measure mercury in the atmosphere," said Wania. "But they are complicated and expensive machines that need trained personnel to set up, operate and maintain. That limits where such measurements are made. Most of the measurements are made in rich countries, and even there the spatial coverage is really small."
Wania and Mitchell already have a prototype built; the NSERC funding will allow them to calibrate and test it. They'll be looking at how quickly their tool takes up mercury, and how it's affected by forces like wind and temperature. 
"These 12 projects have the potential to bring great benefit to society in coming years, and we are extremely grateful to NSERC for championing this kind of work, and for its continued investment in U of T research," said Professor Vivek Goel, U of T's vice-president of research and innovation.
Other recipients of NSERC Strategic Project Grants are: 
D. Grant Allen, chemical engineering and applied chemistry, "Developing biofilm-based microalgal bioreactors for the efficient production of fuels, chemicals and clean water." 
Ya-Huei Cathy Chin, chemical engineering and applied chemistry, "Catalytic conversion of methane from alternative feedstocks to higher value products."
George V. Eleftheriades, electrical and computer engineering, "Field-discontinuity metasurfaces for electromagnetic wave manipulation."
Ramin Farnood, chemical engineering and applied chemistry, "Developing novel electro-spun nano-fibre membrane absorption systems for water treatment."
Peter Herman, electrical and computer engineering, "Quantized structuring of transparent film and plates with ultrafast laser interference and filamentation."  
Charles Jia, chemical engineering and applied chemistry, "High performance, low-cost porous carbons from oil sands petroleum coke."
Ryan Johnson, computer science, U of T Scarborough, "A novel system architecture for online operational analytics."
Frank Kschischang, electrical and computer engineering, "Error control for terabit links: spatially-coupled staircase codes."
Kiriakos Kutalakos, computer science, "Computational and optical processing architectures for next-generation mobile cameras."
Gerald Penn, computer science, "Articulatory speech synthesis for natural user interfaces."
Konstantinos Plataniotis, electrical and computer engineering, "DREAMs: Enhancing  driver interaction with digital media through cognitive monitoring."