'Not just about history': U of T marks National Day of Remembrance and Action on Violence Against Women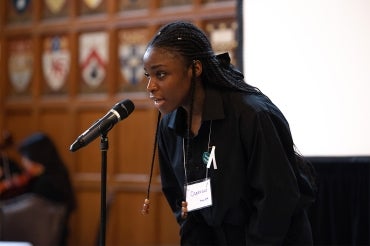 Members of the University of Toronto community gathered Tuesday to remember the 14 women killed in the anti-feminist massacre at the École Polytechnique 33 years ago – and honour the lives of those taken and affected by gender-based violence.
Students, faculty, staff, librarians and alumni came together at Hart House for the in-person commemoration of the National Day of Remembrance and Action on Violence Against Women, while others attended virtually by livestream.
Fourteen women died in the attack on Dec. 6, 1989. Another 10 women and four men were injured.
In a memorial led by the Faculty of Applied Science & Engineering, students walked across the stage to say the name of each woman killed: Geneviève Bergeron, Hélène Colgan, Nathalie Croteau, Barbara Daigneault, Anne-Marie Edward, Maud Haviernick, Barbara Klucznik-Widajewicz, Maryse Laganière, Maryse Leclair, Anne-Marie Lemay, Sonia Pelletier, Michèle Richard, Annie St-Arneault and Annie Turcotte.
The tribute was followed by a moment of silence for the lives lost.
"If these women survived, they would have been women leaders, entrepreneurs and change agents many of this generation would have been inspired by," said Marisa Sterling, the assistant dean and director, diversity, inclusion and professionalism in the Faculty of Applied Science & Engineering. "Until violence against women has been eradicated, we will remember these 14 women and their families and bring awareness for the need for further actions every year.
"Today's memorial is not just about history. It matters to current students."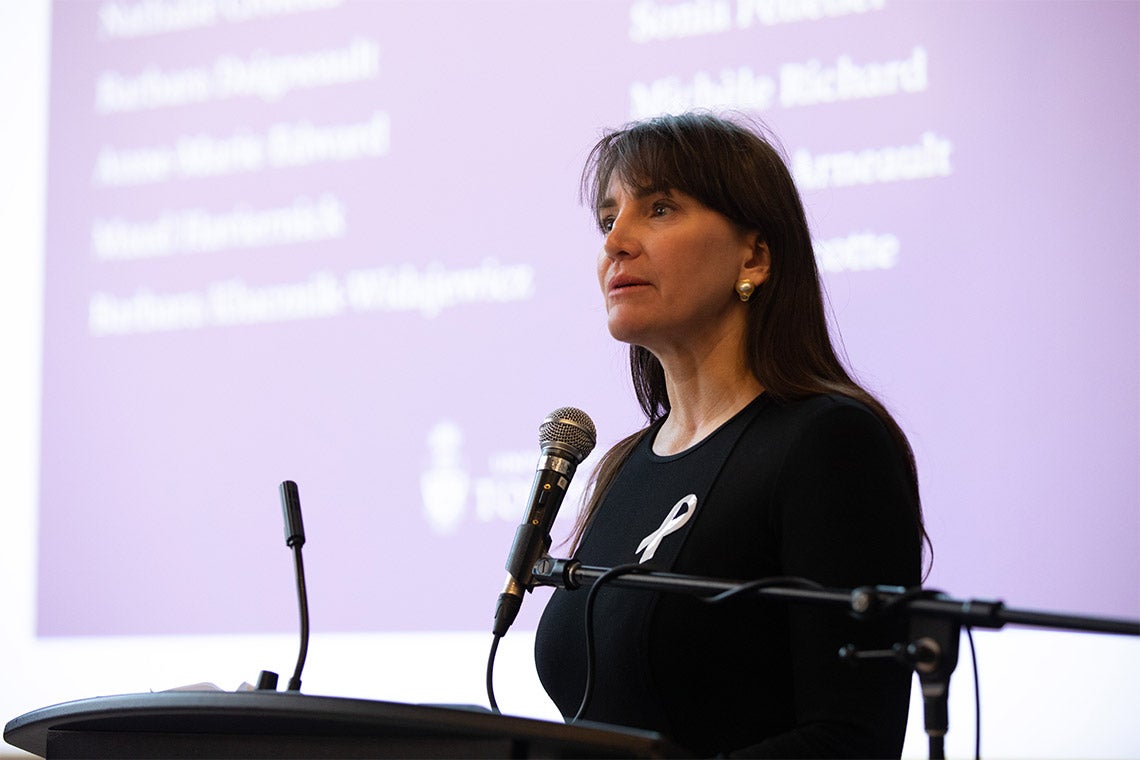 Marisa Sterling, assistant dean of diversity, inclusion and professionalism, U of T Engineering
More than three decades after the Montreal massacre, the threat of femicide and gender-based violence persists across Canada, and statistics suggest the issue has become even more pressing in recent years, Kelly Hannah-Moffat, U of T's vice-president, people strategy, equity and culture, said in a statement.
From 2019 to 2021, killings of women and girls have increased by 26 per cent, according to a report by the Canadian Femicide Observatory for Justice and Accountability. Indigenous women and girls experienced the highest rates of all forms of gender- and sex-based violence, Hannah-Moffat noted, and police-reported data find that people who are racialized, 2SLGBTQ+ or living with a disability are more likely to be victimized.
"The National Day of Remembrance and Action on Violence Against Women urges all of us – citizens, institutions, and governments – to oppose and prevent gender-based violence through our words and our actions," Hannah-Moffat said.
"At the University of Toronto, this work is ongoing and requires substantial progress on a wide range of commitments: from creating more robust policies to improving our pathways for disclosure and reporting, and from pursuing corrective actions to promoting a culture of active consent across our three campuses."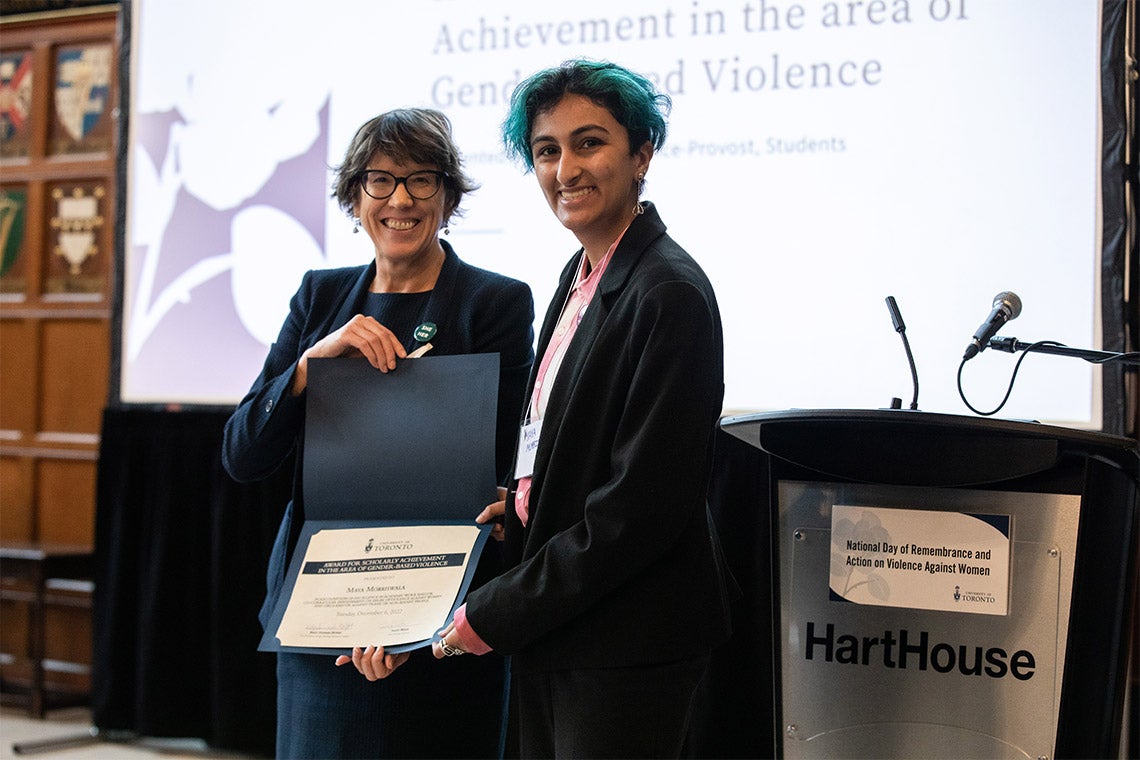 Vice-Provost, Students, Sandy Welsh, with award-winner Maya Morriswala
Three U of T students were recognized at the event for their exceptional commitment to issues of violence against women, girls, transgender and non-binary people. Sandy Welsh, vice-provost, students, announced this year's winners of the Award for Scholarly Achievement in the Area of Gender-Based Violence:
The undergraduate recipient was Maya Morriswala, a fourth-year student in the Faculty of Arts & Science, who is researching digital dating abuse in transgender and non-binary populations, as well as among women in queer relationships.
Hayley Brooks, a PhD candidate in social justice education at the Ontario Institute for Studies in Education, was one of the two graduate winners. Brooks is part of a research team investigating how international students and staff on Ontario campuses perceive their universities' sexual violence and prevention initiatives.
The other graduate recipient was Rebecca Lennox, a PhD candidate in sociology at the Faculty of Arts & Science, whose research focuses on cisgender and transgender women's fear of violent crime in urban public places.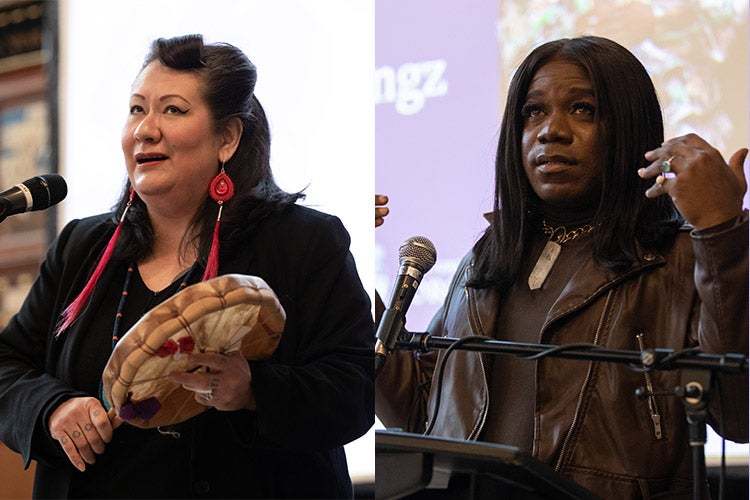 Jenny Blackbird and Ravyn Wngz
The event also featured a musical performance by Nehiyaw/Finnish-Canadian multi-disciplinary artist Jenny Blackbird, resource centre and programs co-ordinator at First Nations House Indigenous Student Services, and a poetry reading by Ravyn Wngz, an empowerment movement storyteller and activist with Black Lives Matter.
Rounding out the proceedings was a panel discussion between Shahrzad Mojab, a professor in the department of leadership, higher and adult education at the Ontario Institute for Studies in Education, Brenda Cossman, a professor in the Faculty of Law and lawyer Deepa Mattoo, executive director of the Barbra Schlifer Commemorative Clinic.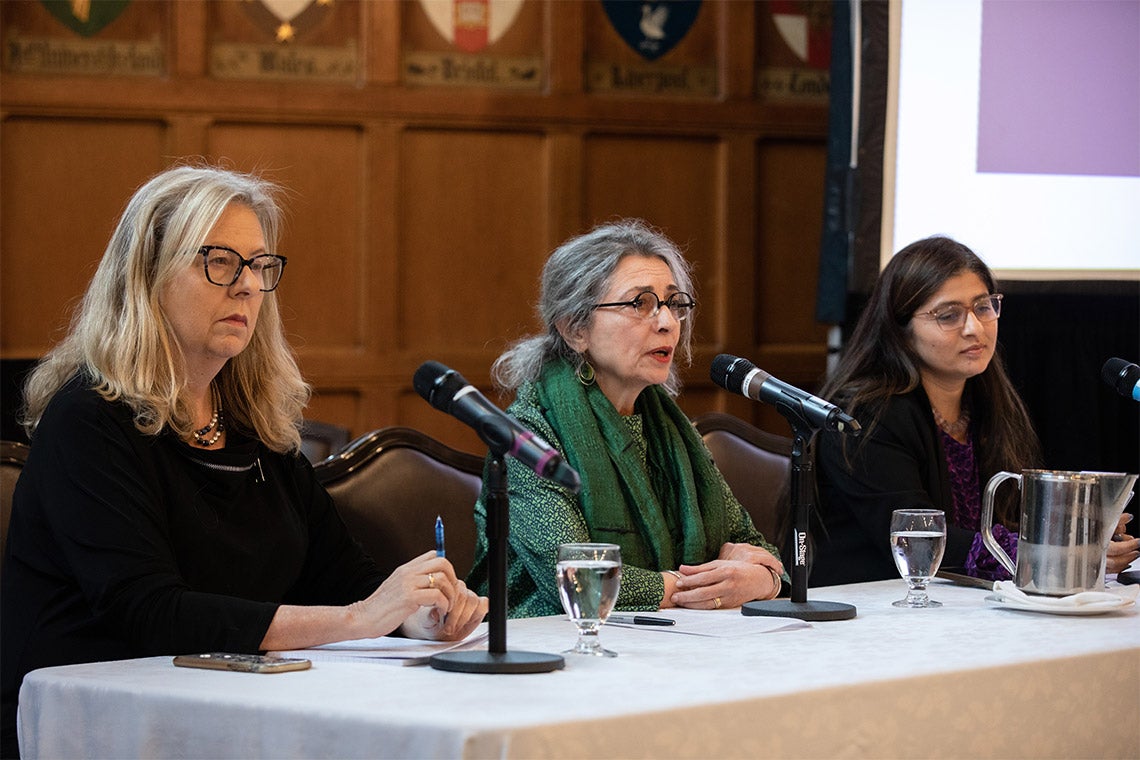 Left to right: Professor Brenda Cossman, Professor Shahrzad Mojab, Deepa Mattoo
The panellists discussed what global action on gender-based violence can look like through an intersectional lens, accounting for shifting legal, social, medical and economic considerations.
Tuesday's event was co-hosted by the Anti-Racism & Cultural Diversity Office; the Community Safety Office; the Equity, Diversity & Inclusion Office at University of Toronto Mississauga; the Equity, Diversity & Inclusion Office at the University of Toronto Scarborough; the Faculty of Applied Science & Engineering; Hart House; the Division of People Strategy, Equity, & Culture, the Sexual & Gender Diversity Office; the Sexual Violence Prevention & Support Centre; and the Institutional Equity Office.
Following the event, a group of female engineering students planned to unveil a monument outside the Galbraith Building featuring 14 clear, life-sized silhouettes – each inscribed with the name of a victim – standing around a fleur-de-lis. Those gathered at Hart House, meanwhile, were provided with paper to make their own white rose tributes to the victims.
UTC