No more nasal swabs? U of T researchers are developing an accurate, five-minute COVID-19 test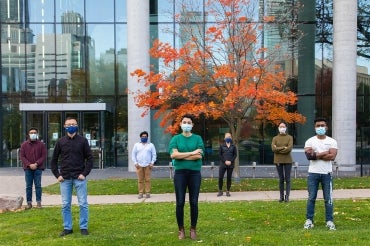 Amid a rise in positive COVID-19 cases – and a reported backlog to book tests and receive results in Ontario – Health Canada has approved four rapid-testing devices that could return results within 15 minutes. University of Toronto researchers, meantime, are working on an approach that could produce results in five.
The project is a collaboration between researchers at the Faculty of Applied Science & Engineering, Leslie Dan Faculty of Pharmacy and the department of chemistry in the Faculty of Arts & Science. It is being supervised by University Professors Ted Sargent and Shana Kelley.
Currently, the standard method of testing in Canada is based on a process called polymerase chain reaction (PCR), which detects the RNA of SARS-CoV-2. The PCR test, administered through a nasopharyngeal swab, is considered highly accurate, identifying positives nearly 100 per cent of the time.
However, PCR requires the use of specialized devices such as thermal cyclers, which are only available in certain lab facilities. This creates a bottleneck, along with the logistics of transporting the samples to the labs, that means results can take up to four days to produce.
"We are trying to get away from the cotton swab," says explains Surath Gomis, a PhD candidate in the Edward S. Rogers Sr. department of electrical and computer engineering. "Although the nasopharyngeal swab test is efficient, in addition to being slow it's also invasive. And there is currently a need for rapid testing for a large subset of the population that is cost-effective and sensitive." 
Rapid point-of-care tests such as an antigen test, which detects virus proteins instead of RNA through a fluid sample, are considered less accurate than PCR. An antigen test developed by Abbott Rapid Diagnostics in Germany, for example – the first antigen test to be approved by Health Canada – has a reported a 93.3 per cent sensitivity rate.
The U of T team's device is also based on antigen tests. It detects specific virus proteins and intact viral particles through a positive patient's saliva sample, which is taken via a thermometer-like sensing probe placed in the mouth. The U of T team says their sensor is a more sensitive antigen-testing approach than what is currently available.
Once saliva is collected, the probe's antibodies, which are specific to SARS-CoV-2, will recognize the virus and bind to it. This simple electrochemical binding event creates a distinct signal that can then be detected via a measuring apparatus that is attached to the sensing probe.
"We can measure an electrical current that would look different if there is a virus attached, versus if there is no virus attached," says Gomis.
Furthermore, their mechanism doesn't require sample pre-processing, making the platform easy to administer and user friendly.
"Our saliva test is simple and quick," says Jagotamoy Das, a senior research associate at the Faculty of Pharmacy. "After taking the sensor out and a five-minute incubation, we can detect if you have the virus or not."
The team says the level of accuracy with antigen testing comes down to the quality of the antibodies.
"We've been fortunate to have access to high-quality antibodies for our device, and we've seen a very high accuracy rate, allowing for sensitive and specific detection of the SARS-CoV-2 virus," says Hanie Yousefi, a PhD candidate at the Leslie Dan Faculty of Pharmacy.
The team started working on the sensor two years ago with the goal of detecting biomarkers for diseases such as heart failure and cancer, but pivoted to COVID-19 diagnostics at the onslaught of the pandemic.
The team has tested patient samples and hope to find an industry partner to further develop the technology.
"PCR testing on nasopharyngeal swabs has been the gold standard, but studies have been coming out showing that saliva samples have a comparable load of viral particles," says Yousefi. "Now is the time to use saliva samples as a reliable source."
UTC