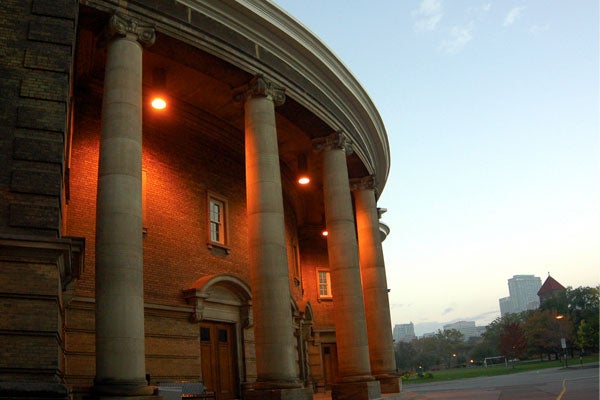 Newsweek names U of T one of top three schools outside U.S.
In good company with Oxford and Cambridge
The University of Toronto is one of the top three schools in the world outside the United States – behind only the University of Cambridge and University of Oxford – in one of the latest releases of the 2011 rankings season.
The Newsweek College Rankings Report 2011 includes four Canadian universities among what it calls "the best halls of higher learning outside America's borders."  The University of British Columbia ranked eighth in the Newsweek report, McGill University 13th and McMaster University 15th.
 
The recently released Newsweek report is one more installment in a rankings season that began last month with the release of Shanghai Jiao Tong University's annual Academic Rankings of World Universities. The prestigious Shanghai report places U of T first in Canada and 26th in the world. The QS World University Rankings which followed a few weeks later puts the University of Toronto 23rd among the world's top universities.
QS also ranks U of T among the very top universities worldwide - and first in Canada - in academic reputation and in all five subject areas: arts and humanities; natural sciences; life sciences and biomedicine; engineering and IT; social sciences. Within those categories, QS ranks many U of T departments among the world's top ten. U of T's English department ranks seventh in the world as does its Philosophy department. Statistics and Operational Research ranks eighth, Modern Languages is ninth, and Computer Science and Information Systems ranks 10th.
The Newsweek rankings are based on data from the Times Higher Education World Rankings, Webometrics, Consejo Superior de Investigaciones Científicas in Spain, and the Shanghai Ranking Consultancy. The Shanghai report examines indicators for academic or research performance including: alumni and staff winning Nobel Prizes and Fields Medals; highly cited researchers; articles published in Nature and Science; articles indexed in major citation indices, and the per capita academic performance of an institution.
 
For information about the Newsweek rankings: www.thedailybeast.com. For the Shanghai rankings: www.shanghairanking.com and for the QS rankings: www.topuniversities.com