As new writer-in-residence, Gary Barwin brings lifetime of creative energy to U of T Scarborough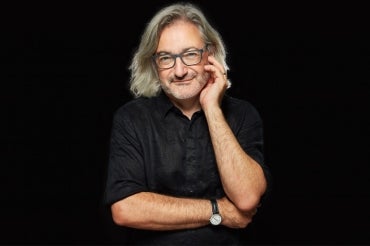 Gary Barwin has a passion for creativity – wherever he goes.
Whether as a writer-in-residence at a local public library, or researching Jewish pirates during the Spanish Inquisition for a novel, exploring the creative process has always been one of his great interests.
Now, Barwin is looking forward to adding the University of Toronto to his lengthy resume as U of T Scarborough's writer-in-residence for 2020.
"I've heard so many great things about the creative writing program here," says Barwin. "It encourages participation and really helps writers to explore what's essential and authentic to their individual voice."
He's an artistic polymath in the true sense of the word, having authored 23 books during his career including novels, works for children and young adults, chapbooks, pamphlets and books of poetry. He's also a multimedia artist working in visual poetry and he's composed music for computers, live performances and sound works, to name a few.
"I'm still involved in many of these different things," says Barwin, whose book Yiddish for Pirates won the 2017 Stephen Leacock Medal for Humour and was shortlisted for the Scotiabank Giller Prize.
"I think that being creative is about exploring and taking risks – it doesn't matter what medium you're using. I'm always trying to discover new outlets for creativity."
Barwin also brings considerable experience as a teacher and mentor, having spent time in writer-in-residence roles at the Toronto, London and Hamilton public libraries, as well as McMaster University, Wilfred Laurier University and Western University. He's also taught creative writing at King's University College (Western), McMaster and Mohawk College.
He says he's constantly amazed by the creative energy he encounters in these roles, having seen "astounding poetry" written by mathematicians and discovered a collaborator for a writing project – fellow poet Tom Prime, who he met during his time at Western. 
Barwin hopes to connect with aspiring writers and artists at U of T Scarborough throughout the semester, while also looking forward to the chance to work on his next project.
"This means that I'm going through the same kinds of experiences of exploring, struggling, finding inspiration and bewilderment that aspiring writers are going through," he says.
"I think it's useful to be practicing writing while being a mentor because it means you have to be humble, and hopefully the discussions will resonate even more."
Started in 2013, U of T Scarborough's writer-in-residence program brings students into contact with accomplished writers. The writers hold regular office hours, run in-class workshops and host a weekly creative writing group. Past writers-in-residence include Miriam Toews, Nino Ricci, Helen Humphreys, Zoe Whittall, Aisha Sasha John and Carrianne Leung.
UTSC