U of T Mississauga course turns lens – and virtual reality headsets – on East Asian cinema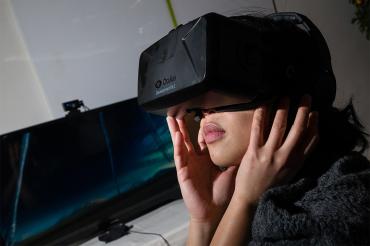 Elizabeth Wijaya is one of the rare scholars who can claim a listing on IMDB, the Internet Movie Data Base.
The new assistant professor of East Asian cinema at U of T Mississauga studies the transnationality of cinema – how stories and people cross borders throughout Asia. She also has credits as a writer, director and producer with E&W Films, the film production company she runs with partner and U of T Mississauga sessional lecturer Lai Weijie.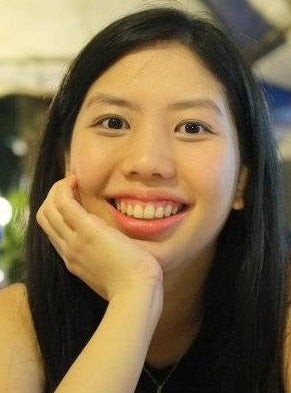 Since joining U of T Mississauga's department of visual studies in January, Wijaya (left) has introduced virtual reality technology, a filmmaker-in-residence program and established a new archive of short Asian films at the U of T Mississauga Library.
Associate Professor Alison Syme, chair of the visual studies department, is enthusiastic about the additions Wijaya has made to the cinema studies program.
"We have high demand for cinema production courses from students who want to produce their own films," Syme says. "Because Elizabeth is a practitioner and is involved in a production company, she brings hands-on knowledge to the classroom that our students love."
Wijaya's second-year undergraduate course introduces students to different ways of thinking about East and Southeast Asian cinema with a syllabus that includes movies from Hong Kong's New Wave and Second Wave periods, and films set or produced in China, Taiwan, Japan, Korea, Singapore, Malaysia and Cambodia.
"The course offers a mix of independent films and canonical films that I think students should know, but might not be on their radar today," Wijaya says. "I want students to have a historical awareness of Asian film, but I also want them to have curiosity and excitement about what is happening now."
Not all cinema takes place on the big screen, which is why Wijaya is also interested in how emerging technologies, including virtual reality, can push storytelling into new territories.
Working with U of T Mississauga's new Collaborative Digital Research Space, Wijaya has secured four Oculus Quest virtual reality headsets for cinema students to watch Only the Mountain Remains, a dramatic VR film that debuted at the  Venice International Film Festival in 2019. The film, produced by E&W Films, follows migrant Thai workers as they attempt to flee Taiwan in a harrowing 30-minute drive along a twisting mountain road.
The Oculus headsets put the viewer in the centre of the car with a 360-degree view of the action. "I want students to consider how this technology affects their analysis of the film, and what is the impact of watching this with a 360 (-degree) point of view instead of a conventional view," Wijaya says
In February, Wijaya will welcome French-Cambodian filmmaker Davy Chou for a weeklong filmmaker-in-residence program. Chou will host public screenings of his documentary Golden Slumbers at U of T Mississauga, and his feature film Diamond Island at a second event on the St. George campus. He will also lead a graduate studies workshop to discuss the practicalities of film production and financing.
"There is not a lot of understanding of recent changes in Cambodian cinema," Wijaya says "I wanted to really open up discussion about independent filmmaking in southeast Asia today."
Wijaya is also working with the U of T Mississauga Library team to establish a new Asian short film archive that will be available to stream for U of T library users.
"I'm tremendously excited about working with the library to start and grow this collection," Wijaya says. "Short cinema is often neglected in academic study, but it's important for independent filmmakers who make a lot of short films before they can make feature films. This collection will be a valuable resource for research and teaching."
UTM