For new U of T grad Medha Arora Wadhwa, public speaking is key to creating change
For new Faculty of Arts & Science graduate Medha Arora Wadhwa, university was a time to grow and give back.
Arora Wadhwa earned her honours bachelor of commerce, specializing in management with a focus on marketing, while also completing minors in drama and economics.
After graduation, Arora Wadhwa plans to pursue her passion for art history, studying in Spain through U of T's Summer Abroad program. When she returns, her aim is to find full-time work consulting in media and communications.
Over the past four years, Arora Wadhwa was involved with the Rotman Commerce Arts Group and Rotman Commerce Toastmasters. Most recently, she was vice-president external for the Toastmasters club, where she launched the RCT x RCPA: Roaring '20s Speakeasy, an arts incubator that created a safe space for the creative exploration of issues that are difficult to discuss or rarely spoken about.
Arora Wadhwa was also a student leader at Woodsworth College, where she was a residence advisor.
For her efforts, Arora Wadhwa earned a University of Toronto Student Leadership Award as well as the Director's Award for Equity, Diversity, and Inclusion from Rotman Commerce.
She spoke with Faculty of Arts & Science writer Coby Zucker about her passion for public speaking and how it was helpful during her time at U of T.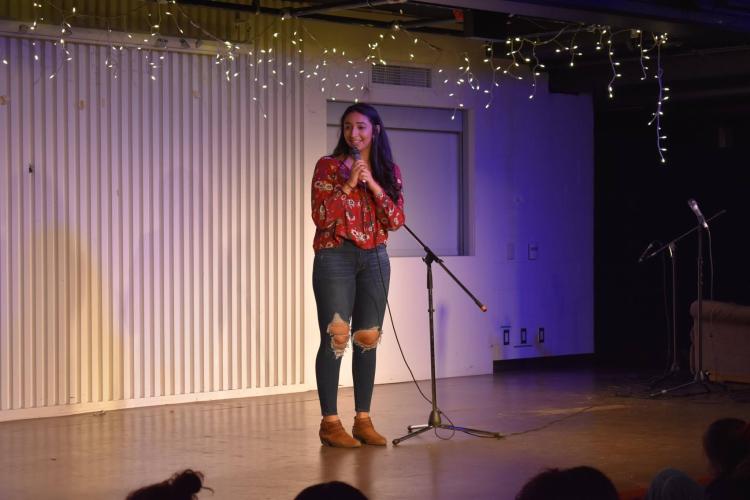 First, there's the element of public speaking, which is so helpful to anyone in a professional and academic setting. I really developed my skills through the club. The other thing was being given a bit of freedom. I had a vision to create an arts incubator where people could speak about issues that are very rarely spoken about – like pride, feminism, diversity and body dysmorphia.
Through Toastmasters, you're given so much support for any idea that you have. To be able to see something like that come to life showed me that's something I want to do in the future, for a career.
You worked as a public-speaking tutor. What was that like?
I work with a lot of students who are English-language learners and to see their confidence grow, especially in a language they're not comfortable with, is just really beautiful.
What makes public speaking so important?
It's such a valuable skill to be able to communicate effectively, and to be able to get what you need to say across in a clear and effective way. And taking it a step further, being able to communicate with a big group of people in an effective way can help create a lot of social change.
It also doesn't have to be at the macro level – it's also on the micro level. It's speaking up for yourself in a meeting or communicating your ideas on a project. Those are the small wins that public speaking gets you. Having that confidence and comfort with speaking can really transform people's lives.
What is the value of public speaking for groups that are often underrepresented in public discourse?
Public speaking is especially tough for any minority. Women historically have been told not to speak up. It's a very recent societal change that we've had where we're encouraged to. For people with disabilities or any kind of minority, you're taught your entire life through society that your voice doesn't have that much significance.
So public speaking is especially important for any kind of minority to advocate for themselves. To be confident in speaking is to create change for yourself and a bigger group of people.
What advice would you have for someone who is considering studying at U of T?
Don't lose your individuality. It's really easy to see the path or the direction all your peers are taking and then feel like you're doing something wrong, or feel like you're not successful enough by those standards.
If you can leverage your own individuality – whatever it is you love or that makes you unique – whether it's dance or acting or a certain sport you play or maybe having a disability, that's who you are.
I'd say own that, because that's what makes you unique – and that's what's going to take you further.
Arts & Science